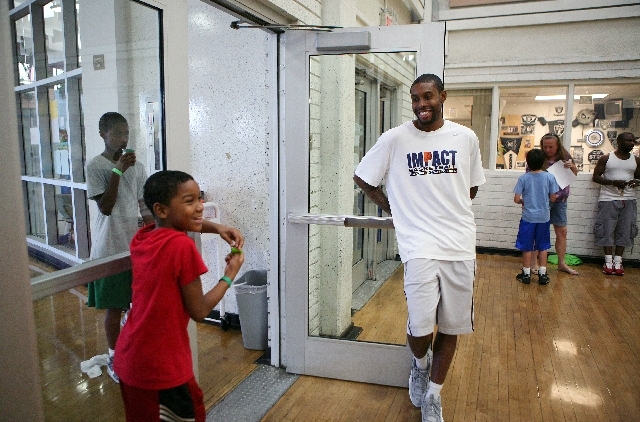 He was standing against the wall of the gymnasium at Doolittle Community Center on Friday morning, waiting to get on the court. It must have been a flashback of sorts for C.J. Watson, who first started doing that when he was in second grade.
Except now he is 29, has grown to 6 feet 2 inches, sports a closely cropped beard and has played in the NBA for six seasons.
It was 2.9 miles to Doolittle from the apartment where Watson grew up at Bruce Avenue and Maryland Parkway. Perhaps that seemed like a long way when he was in second grade. But it's a lot farther for an undrafted free agent to go from Bipop Carire Reggio Emilia in the Italian league, and PAOK B.C. in the Greece pro league, and the D-League's Rio Grande Valley Vipers, to the NBA.
Playing pro ball in Italy and Greece and with the Rio Grande Valley Vipers of Hidalgo, Texas, is also sort of like standing against the wall and waiting your turn.
After spending the 2012-13 season as the Brooklyn Nets' backup point/combo guard, Watson opted out of his contract and signed with the Indiana Pacers, where he is expected to back up George Hill on the point.
The former Bishop Gorman and Tennessee star was sitting in the office of Pacers president Larry Bird when it became official and C.J. became that little kid standing against the wall again.
Wrote Watson on July 10 on his Twitter account: "Sitting and talking to Larry Bird might go down as one of the best moments in my life!!! He's telling me stories and his thoughts of the league now."
Watson hashtagged his tweet #Knowledge #LivingLegend #Priceless.
He'll get no argument here, or from Marv Albert.
On Friday, the soft-spoken Watson was holding court, or at least waiting to get on it, as the youngsters at his annual Hoops for Hope camp scrimmaged in both Doolittle gyms. He still was talking about going one-on-one with Larry Bird in Larry Legend's office.
"It's always been a dream to meet someone like him," Watson said before speaking to the camp kids about the value of the crossover dribble, and also about the value of staying in school and getting a quality education.
Watson said he and Bird chatted for about 90 minutes. So it wasn't like a cursory handshake and we'll see ya' when training camp starts, and could you get me a beer on your way out, kid?
"To sit down with him and have a regular conversation, to talk about basketball, talk about life — him tellin' me stories about Jordan and all the days he played basketball — was pretty cool," Watson said.
This was the 11th year of the kids basketball camp at Doolittle founded by C.J.'s mother Cathy, a senior youth program director for the City of Las Vegas, and his father, Charles, who owns a janitorial business called Cleaner Than Clean, and C.J., whose jump shot from 3-point range also has been called cleaner than clean.
Charles and Cathy Watson have been married 30 years. Their other son, Kashif, who played basketball at Idaho and is trying to catch on with his second D-League team, also helps out at Hoops for Hope as an instructor. As do about a dozen other Watsons.
Cathy Watson is an outgoing woman who offers visitors something to drink and a piece of chilled fruit from the walk-in freezer in back the moment they walk through the door. Because as well as being extremely outgoing, she's also extremely generous.
Her son C.J. is not outgoing at all — thus the name of his foundation, Quiet Storm. He is extremely generous, though. Just like his mom.
The camp at Doolittle is free, and the kids also get fed. Last year on the final day, it was Raising Cane's Chicken. The kids seemed to enjoy the chicken fingers even more than they did the documentary about C.J. that came out last year, before he put on a parka and handed out food and other supplies to the victims of Hurricane Sandy, "one of the most real-life things I've ever had to deal with."
"Out here in Vegas we don't have hurricanes and tornadoes (though it did rain pretty hard Friday night). Seeing people lose their homes, having family, having kids and not being able to work and provide for the kids — and pretty much losing everything — really hit home," Watson said.
C.J. said he saw those people walking the streets, saw those hopeless expressions. No lights were on.
So like his mom taught him, you give back a little. You bring supplies, you bump a few fists. Offer a word of encouragement. And when the rain stops and the season is over, you stand on the wall at the gymnasium before giving a little more back to the kids from the tough part of town, kids who had the same dream you did when you were their age.
You watch the kids run up and down the court with their little tongues wagging like Jordan's. And after the city councilmen speak, and the firemen and other role models from the community speak, and the anti-bullying talks are made, and the life skills seminars are over, you speak to the kids.
You speak about the crossover dribble, and about playing against LeBron, because that's what the kids want to hear. And you also talk to them about staying in school and getting an education, because that's what your mom wants to hear.
Las Vegas Review-Journal sports columnist Ron Kantowski can be reached at rkantowski@reviewjournal.com or 702-383-0352. Follow him on Twitter: @ronkantowski.