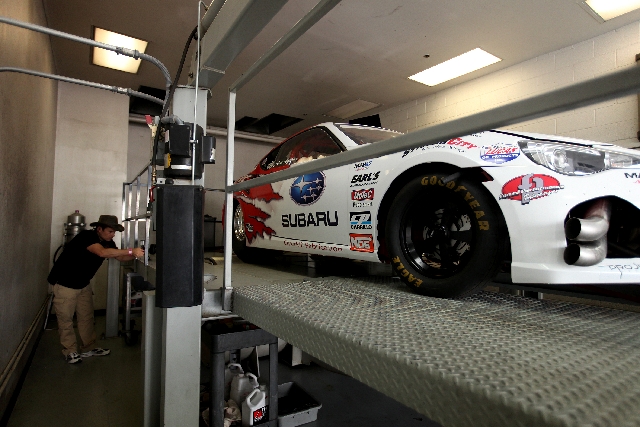 The first car I owned in Las Vegas was a pre-owned 1983 Subaru GL sedan. Its official color was Extra Black. When I signed the cocktail napkin/lease, its unofficial color was Sunbaked Gray. Never buy a car with an Extra Black paint job in the desert.
When I finally gave away that Subaru, it had a giant pre-owned crease in the left-front fender, the window tinting was peeling like a bad case of sunburn, and the rearview mirror was dangling from the windscreen. The speedometer had turned over once or twice.
But that old Subaru still was running.
It was not, however, the World's Fastest Subaru. It mostly made a putt-putt sound when you turned the key and/or smacked the steering column really hard with your fist to engage the starter.
The World's Fastest Subaru — or at least the World's Fastest Subaru (In Waiting) — was at Las Vegas Motor Speedway on Sunday morning. For some reason, I wanted to see it.
I guess I was intrigued by the concept. World's Fastest Subaru. It seemed a bit incongruous. Like being crowned Best Blues Guitarist in Cheyenne. Or Smartest Bob Huggins Basketball Player.
I believe one of those Swedish drivers, or a Finn, won the 2003 World Rally Championship driving a hopped-up Impreza. But to me, Subarus are more renown for reliability than speed. Which is why mine kept running even when the mirrors all but fell off. Manny, Moe and Jack were amazed the one time I brought it in for an oil change.
I had been briefed that the World's Fastest Subaru (In Waiting), a 2013 BRZ equipped with power-ups and retrorockets, would hit the dragstrip around 10 a.m. But when I arrived, the BRZ still was on the dynamometer in the Kroyer Racing Engines shop at the speedway industrial park. It looked more like the World's Quietest Subaru.
See, what usually has to happen before a Subaru can go from zero to 180 in under eight seconds is that everything under the hood has to be wound very, very tight. And then sometimes something pops loose. Like a hose fitting or something.
So it was decided when replacing those hose fittings to go over the car with a fine-tooth comb, though I noticed when the Subaru mechanics emerged from a strategy meeting, none was wielding a fine-tooth comb. Some were wielding wrenches and metric screwdrivers.
In a way, the delay was good, because this gave me time to chat with the owner of the World's Fastest Subaru (In Waiting), an affable and fascinating fellow named Ali Afshar.
Which is all it says on his business card. Ali Afshar. And a phone number and a little ESX logo, which is what he calls his production company.
He also is an actor who had a small role in the Jennifer Aniston/Scarlett Johansson movie "He's Just Not That Into You" — he was one of the gay guys in the "gay signals" scene. He often plays the bad Middle Eastern guy, or the bad Middle Eastern-guy-turned-informant-guy in Chuck Norris movies. Or on that TV show "JAG."
Ali Afshar grew up in Petaluma, Calif., which is the World Wristwrestling Capital of the World. But the outskirts of Petaluma is where Harrison Ford and the guy who played John Milner raced hot rods and deuce coupes in "American Graffiti." And that is how Ali Afshar became a car guy.
He also became an amateur wrestler. As an 84-pound freshman, he wrestled in the 98-pound class and went 1-38. But as a senior at Casa Grande High School, he qualified for the state finals at 112 pounds. Then he and buddies cruised the boulevard and dragged main some more.
Charlie Bogel, the pal he has known since fourth grade in Petaluma, told me Ali's first car was a 1967 Camaro that could burn rubber and would have blown the doors off Toad's borrowed '58 Impala in "American Graffiti." It might even have beaten Darryl Starbird's Superfleck Moonbird.
So now Ali Afshar lives in a ranch home in the Hollywood Hills, right under the big "H" in the Hollywood sign, and he owns 17 cars. (It was 18 until he recently sold his bitchin' '55 Chevy.) He has a three-car garage, a four-car driveway, and he keeps the other 10 cars in trailers and whatnot, so the homeowners association stays off his case.
But he does not own the World's Fastest Subaru. Not yet, anyway. The crew tightened those hose fittings so hard that when the car finally got on the track, it had way too much engine torque and shot sideways.
There is no world record for shooting sideways in a Subaru, or even an Isuzu, so the attempt was postponed.
Las Vegas Review-Journal sports columnist Ron Kantowski can be reached at rkantowski@reviewjournal.com or 702-383-0352. Follow him on Twitter: @ronkantowski