Gordon: Pacquiao Jr. charts path to pros with fight in Las Vegas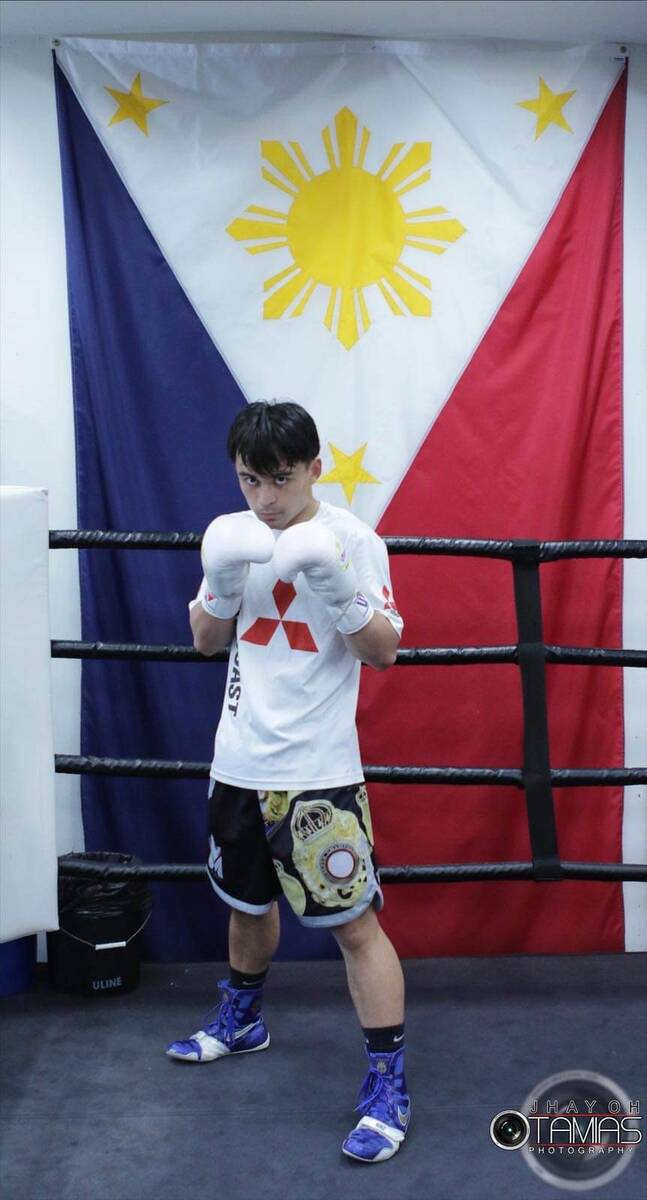 He was nervous "probably 90 percent of the time" he watched his father fight, hoping he wouldn't be seriously harmed by the bigger men he often battled in the boxing ring.
So, of course, Emmanuel Pacquiao Jr. understands why Manny Pacquiao, the sport's only eight-division world champion, wouldn't want him to pursue such a dangerous profession.
"Watching him fight like that, I could imagine what he would feel too if he was to watch me go pro," said Pacquiao's namesake, who goes by Jimuel.
His family supported Manny's decision to be a boxer.
"I asked him to do the same for me," Jimuel said, "because I really love this sport."
With his father's support secured, Pacquiao Jr. is paving his own path toward a professional career — and journeying through Las Vegas, where he'll fight as an amateur Saturday at one of the ballrooms at the Westgate.
He'll cap a charitable card billed as "Fights of Fury" and fight for the first time in the city that helped solidify his father's status as a superstar.
"It's pretty cool, man," said Pacquiao Jr., 22, "and I just want the fans to enjoy the show."
'A dangerous sport'
The elder Pacquiao fought 22 times in Las Vegas, scoring signature victories over champions such as Erik Morales, Marco Antonio Barrera, Juan Manuel Marquez, Oscar De La Hoya, Ricky Hatton, Miguel Cotto and Shane Mosley.
Pacquiao's wins over Timothy Bradley and Keith Thurman were also impressive, but Jimuel's favorite fight of his father remains the 12-round beating he administered to Antonio Margarito on Nov. 13, 2010, in Dallas.
"Watching that, one of the best fights in my opinion," Pacquiao Jr. said by telephone, noting that the triumph he felt amid his father's victories would also double as relief.
Pacquiao demonstrated that night his historical dominance — and the inherent dangers of boxing from which he tried to shield his son, breaking Margarito's right orbital en route to the WBC's 154-pound world title.
"He didn't want us to follow in his footsteps because he knows how hard the sport is. He (didn't) want us to go through all the hardships and the hurt," said the younger Pacquiao, who was born in General Santos City, Philippines, and raised in the city of Makati.
But natural curiosity would consume Pacquiao Jr. By 16, he would find a coach at Mataki's Elite Boxing Gym, begin to train and become a fixture within its four walls. He debuted as an amateur at the age of 18, fighting five times in the Philippines before relocating in 2021 to Los Angeles, where he works out at Freddie Roach's Wild Card Boxing Club, where his father trained.
He also studies nutrition at a local community college to satisfy the wishes of his parents, having previously studied business at De La Salle University in the Philippines.
"Anything can happen. This is a dangerous sport," the younger Pacquiao said. "I need something to fall back on."
Charting his course
Make no mistake, though: Pacquiao Jr. wants to become a prize fighter — trusting his team to tell him when the time is right to turn professional. That team includes Pacquiao, who cheers his son from afar, offering advice as he sees fit and public support via social media before the 11th bout of his son's amateur career.
And first in Las Vegas.
Boxing legend @MannyPacquiao is pumped for our upcoming "Fights Of Fury" event next Saturday night at @WestgateVegas & can't wait for his son to get in the ring! #vegasstronger #neverquit #MannyPacquiao #boxing #knockout #boxinglife #boxingnews #healthandfitness #cleanandsober pic.twitter.com/ARZmkQzUiE

— Vegas Stronger (@VegasStronger1) January 29, 2023
"Every time we're on the phone, it's always about training and boxing and all that stuff," Pacquiao Jr. said. "We do the usual thing. We ask each other how we are. But man, it transitions to boxing really, really quick.
"I'm lucky to have him as a dad. He's an eight-division champion and a champion in four decades," he added. "I'm lucky to have that mentorship. I just try to take in whatever I can."
Contact Sam Gordon at sgordon@reviewjournal.com. Follow @BySamGordon on Twitter.