Sports could use even more lockouts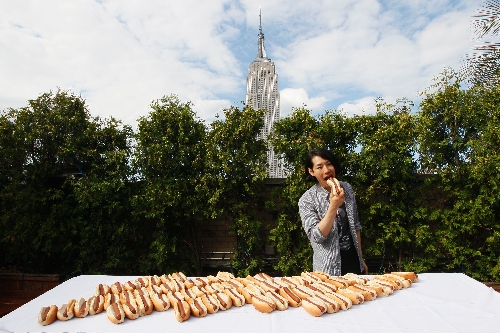 The NFL lockout has been going on for months, and the NBA lockout could drag on even longer. The word lockout itself is becoming an unwelcome addition to bar room debates across the country.
But maybe lockouts aren't such a bad idea after all. Imagine what would happen if we locked out some of these sports figures:
n BUBBA WATSON: Take away this guy's passport before he gives new meaning to the term Ugly American. Watson's grand adventure in France last week began with him wondering out loud what the Arc de Triomphe and the Louvre were, then somehow got worse. The golfer complained about everything but the food after missing the cut in the French Open, and said it might be his last time playing in Europe. Watson later reconsidered after being told the British Open — one of golf's four majors — was in England.
n DEREK JETER: I understand the need to instinctively bow to the greatness that is Derek Jeter, but even he should be embarrassed to be starting at shortstop for the American League in the All-Star game. Hold a parade for him if you want when he reaches 3,000 hits, but save the starting job for someone really having an All-Star season, like Jhonny Peralta of the Tigers or Asdrubal Cabrera of the Indians.
n GRUNTING WOMEN: Wimbledon is usually such a civilized place, with the queen dropping by occasionally and everyone slurping down strawberries and cream. Then the women take the court, and it starts sounding like some deranged animals have escaped from the London Zoo. The beginning of the great grunting craze is generally credited to Monica Seles, but players like Maria Sharapova and Victoria Azarenka have elevated it to new decibel levels. Things got so bad that the BBC introduced a noise-reduction tool online this year to tone down the primeval sounds.
n DAVID HAYE: A lot of people thought Haye would bring excitement back to boxing's heavyweight division. A lot of people were wrong. Haye pulled off one of the biggest frauds in boxing by hyping himself as the next great heavyweight champion to get a lucrative fight against Wladimir Klitschko, only to forget to fight once he got there. If that wasn't embarrassing enough, Haye blamed it all on a broken toe, leading to a bizarre scene at the news conference afterward when he took off his shoes and stood on a table for all to see.
n NIKE: Michael Vick, signed to a new endorsement contract. Enough said.
n HOT DOGS: Here's a lockout that needs to end. Six-time champion Takeru Kobayashi remains banned from the Coney Island Fourth of July hot dog-eating contest because he refuses to sign a contract with Major League Eating. Without Kobayashi, big eating Joey "Jaws" Chesnut is favored to win a fifth straight championship, but surely eating aficionados everywhere would have relished the thought of more mustard flying between these two icons.
n SCOREBOARD OPERATORS: They can figure out time left to the tenth of a second in the NBA, and overturn a call by the length of a fingernail in the NFL. Yet the scoreboard operator in Seattle has trouble counting to four. The Mariners lost a game Saturday when San Diego's Cameron Maybin drew a walk on what was really only the third ball and came around to score.
n TIGER WOODS: Take away his parking spot at the British Open. Ban him from the champion's locker room at the PGA Championship. Last seen Sunday with new facial hair and without his clubs at the tournament his foundation sponsors outside of Philadelphia, it's time for Woods to admit the obvious and give up on yet another lost season. Besides, after what Rory McIlroy did in the U.S. Open, who needs him anyway?
n CHIP KELLY: The Oregon football coach should be locked out of his office if he doesn't come forward and explain why the university paid $25,000 to become the first client of a Texas scouting service run by a man who was a mentor to a top running back recruit who, coincidentally, signed just before the payment was made.
n LANCE ARMSTRONG: Actually, he's already locked out of the Tour de France, the only bike race most Americans care about. That leaves us free this year to enjoy watching one rider we've never heard of who swears he's not doping chase another rider we've never heard of who swears he's not doping through the French countryside.
And, finally, maybe it's time to lock out Mr. Lockout. David Stern has now presided over two lockouts at the behest of owners who pay him millions to make them even more millions. If this one costs the league a full season as some fear, then it should cost Stern his legacy as the commissioner who rescued the NBA.
Tim Dahlberg is a Las Vegas-based national sports columnist for The Associated Press. Write to him at tdahlberg@ap.org or http://twitter.com/timdahlberg