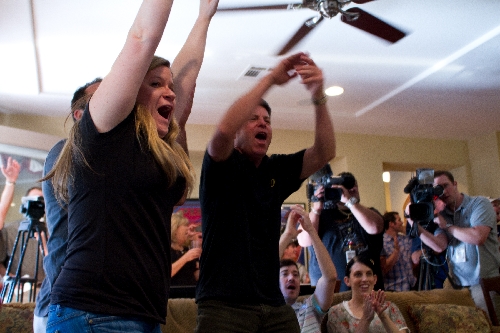 In the morning hours before the baseball draft, John Anderson took his son Tyler golfing at Palm Valley Golf Course on Monday.
"We went just to take it easy with each other," John Anderson said. "I said, 'We'll go out, ride around and it'll calm you down,' and (Tyler) goes, 'It's the other way around.' "
As it turned out, neither had much to be nervous about.
Tyler Anderson, a junior left-hander from Oregon, was chosen by the Colorado Rockies with the No. 20 overall pick.
The 2008 graduate of Spring Valley High School was immediately surrounded by family members eager to hug the new first-round pick. Dozens attended a celebration for Anderson at the Summerlin home of his uncle Tio DiFederico.
"It's awesome in so many different ways," Tyler Anderson said. "My family sacrificed so much to get me to the point for this to happen."
Tyler Anderson solidified his professional stock as a sophomore at Oregon, and he soared into the first round as a junior.
The 6-foot-4-inch Friday night starter went 8-3 with a 2.17 ERA this season on his way to Louisville Slugger All-America second-team honors.
Anderson said he throws four pitches consistently, including a fastball that reportedly reaches 93 mph, along with an above-average changeup.
"Nothing is super overpowering, but I just try to throw pitches for strikes and move it around the strike zone a little bit," he said.
Anderson, 21, arrived at Oregon as an important piece in the Ducks' rejuvenation, recording the win in the school's first game in 28 years in 2009.
He leaves the same way, holding school records for strikeouts in a season (114 in 2011) and career (285).
"He basically became the face of Oregon baseball," John Anderson said.
Literally. Tyler Anderson's face appears on a billboard promoting the program in Eugene, Ore., although you wouldn't know it from talking to him.
While experts broke down his game and a taped interview from his time with Team USA in 2010 sprawled across the TV screen Monday, Tyler Anderson didn't even seem to notice.
"Those are the exact things he was raised on, to be humble and always team first," John Anderson said. "That's what he's done."
Anderson's mother, Mary, said Oregon's coaching staff couldn't have developed Tyler any better.
"We could not have handed our son over to better hands," she said. "They taught him to grow as a player and a human being.
"I'm just so proud of him. I'm proud of all my kids, but this is his day. I hope it's a day he'll never forget."
Though Anderson is considered likely to sign a professional contract, he said "it's up in the air" whether he'll sign with Colorado or return to college.
The deadline to decide is Aug. 15.
"Oregon is an awesome place," said Anderson, a political science major. "The best decision I've made in my life to this point was going to Oregon."
Contact reporter Tristan Aird at taird@reviewjournal.com or 702-387-5203.