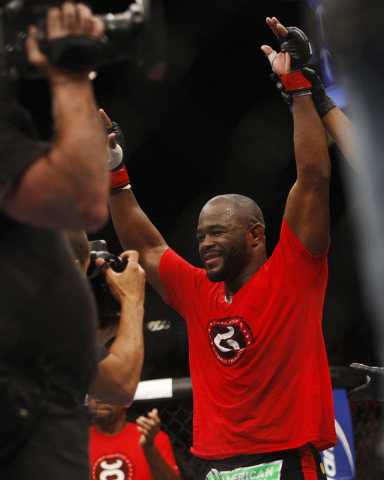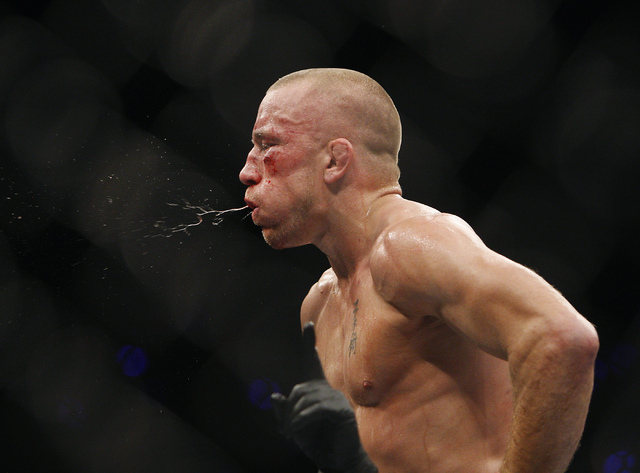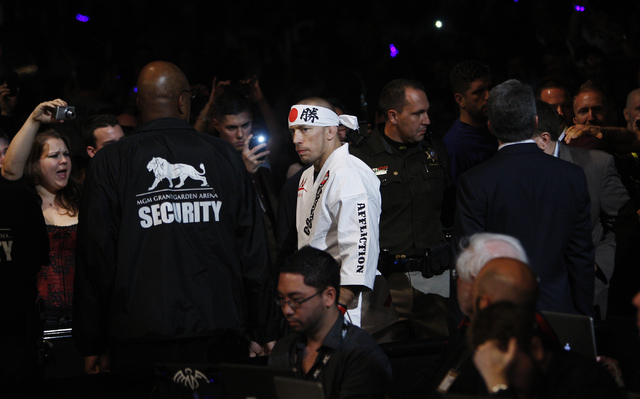 As soon as the bell rang signifying the end of the fifth and final round of his Ultimate Fighting Championship welterweight title bout against Georges St. Pierre on Saturday night, Johny Hendricks celebrated as if he knew he had just taken the belt from the long-reigning champion.
Hendricks euphoria lasted only until the scores were revealed as a split-decision victory for St. Pierre in the main event of UFC 167 at MGM Grand.
"I thought I clearly won the fight. Georges is a great guy, but I'm pretty sure I won," Hendricks said. "It sucks, but I'm coming back. I'll get my belt.
"I want what was taken away from me. I swear to God that won't happen again."
St. Pierre's face was a bloody mess after the fight after withstanding the power shots of Hendricks for much of the night. The champion, who became the all-time wins leader in the UFC with his 19th victory, did just enough to defend his belt for the ninth straight time, including seven straight by decision.
"He really messed me up. I need a vacation right now," St. Pierre said through the boos of fans who were disappointed in the decision. "I wasn't surprised (by the decision), but I lost a little bit of memory of what happened."
St. Pierre wasn't finished talking. There had been a great deal of speculation that he may retire after the fight. St. Pierre stopped short of using the word, but did say he would be taking a temporary leave from fighting.
"I have to go away for a little bit at least," St. Pierre said. "I have some personal things happening. I want to say thanks from the bottom of my heart to the UFC and the fans for everything."
UFC president Dana White was livid afterward, railing against the judging and the Nevada Athletic Commission.
Of the judging, White said: "I'm blown away that Georges won that fight. I want what's fair and that wasn't fair."
Then White blasted the NAC.
"I'm (expletive) scared to come back here and do fights. I am afraid of this state. Not many people think St. Pierre won that fight," he said.
"I think (NAC) is atrocious. I think the governor needs to step in immediately and fix this incompetence before they destroy this sport like they did boxing."
St. Pierre narrowly avoided major trouble several times. Hendricks landed a couple of good shots in the first and second rounds before St. Pierre finally started to land his jab and get the fight a bit under control.
The champion won the third and fifth rounds on all three scorecards. It was the fifth in which he was in complete control as Hendricks appeared to believe he was comfortably ahead and might have been coasting.
Hendricks biggest success came early in the second and fourth rounds, which he won on all three cards. The left-handed power shots he threw liberally throughout the fight landed a few times in those rounds and had St. Pierre in trouble.
In the end, it was actually the back-and-forth first round that decided the fight. St. Pierre got an immediate takedown after ducking a left hook and the fighters traded good shots as they settled into the fight. Two judges saw it for St. Pierre and the third for Hendricks, leading to the split decision.
Ex-light heavyweight champion Rashad Evans won for the second straight time after a two-fight losing streak with a first-round knockout of Chael Sonnen.
The friends and studio partners on Fox UFC broadcasts tussled against the cage in the opening minutes before Evans took Sonnen to the mat. Evans landed a big elbow that forced Sonnen to cover up. Evans mounted Sonnen's back and alternated punches with his right and left hand until the fight was stopped at 4:05 of the opening round.
"Man, he hit me so hard in there. I couldn't believe the amount of power he was able to generate," Sonnen said.
Robbie Lawler, a nearly 4-1 underdog who first competed in the organization at UFC 37 in 2002, won a split decision over welterweight contender and St. Pierre training partner Rory MacDonald.
Tyron Woodley added his name to the crowded mix of welterweight contenders with a crushing first-round knockout of Josh Koscheck. Late in the round, Woodley landed a perfectly placed right hook to the chin as Koscheck moved forward and then followed with a right as Koscheck fell to the mat, prompting the stoppage at 4:38.
Flyweight Ali Bagautinov won his tenth straight fight and improved to 2-0 in the UFC with a unanimous decision over Tim Elliott in the card's first fight.
Bagautinov is the latest in a series of Russian Sambo fighters to transition into mixed martial arts with great success.
The undercard was highlighted by a spectacular performance by lightweight Donald Cerrone, who submitted Las Vegan Evan Dunham late in the second round after battering him with knees, kicks and punches for the first round-and-a-half. It was the second consecutive loss and third in four fights for Dunham.
Thales Leites, Erik Perez and Rick Story all picked up unanimous decision victories on the televised portion of the undercard.
Gian Villante, a training partner of middleweight champion Chris Weidman, knocked out Cody Donovan in a light heavyweight bout on the preliminary card.
Also, Sergio Pettis and Jason High picked up unanimous decision victories. Pettis, the younger brother of lightweight champion Anthony Pettis, was making his UFC debut.