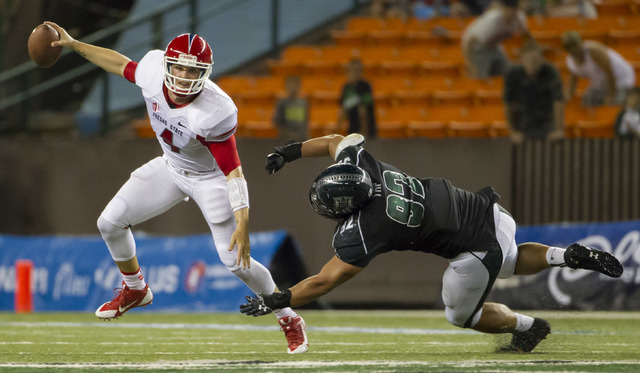 Getting out of bed last season often was a five-minute process for Derek Carr, the pain so great from the abdominal tear he suffered in training camp that just beginning the day was a grueling process.
Then in August and September of this year, he dealt with a much different kind of pain, watching his infant son undergo three surgeries and spend most of his first month on Earth hospitalized.
Be it physical pain or emotional agony, Carr never lost his focus on the football field, quarterbacking Fresno State to a share of the Mountain West title last year. A season after being named the conference Offensive Player of the Year, Carr is on top again, the senior leading the Mountain West with 372.8 yards passing per game and leading the Bulldogs to a No. 17 national ranking.
"I think it speaks well to the kind of character that he has," Fresno State coach Tim DeRuyter said. "There could be outside distractions or internal distractions when you're physically not 100 percent. He finds a way to overcome those. I think that's the mark of any true competitor. It's never going to be perfect for you.
"You've got to be able to compartmentalize and be able to push through. He's doing it at as high a level as anybody I've been around given the fact he's had these external things going on."
UNLV coach Bobby Hauck, whose Rebels (4-2, 2-0 Mountain West) play at Fresno State (5-0, 2-0) at 7 p.m. Saturday, called Carr as talented a quarterback as his team will face this season.
Few ever doubted Carr's ability. He was one of the nation's top-rated quarterbacks coming out of Bakersfield (Calif.) Christian High School, following in older brother David's footsteps to Fresno State. David Carr won the Johnny Unitas Award in 2001, and then became the first overall pick of the NFL Draft the following April.
But perhaps few knew about the 6-foot-3-inch, 218-pound Carr's courage. He wears No. 4 in honor of Brett Favre's ability to play hard no matter the circumstances.
That was Carr last season after tearing his abdominal and playing with a pain only his wife, Heather, coaches and trainers knew about.
"It hurt to sneeze, let alone play football," Carr said.
Somehow, Carr went on to complete 67.3 percent of his passes for 4,104 yards, with 37 touchdowns and seven interceptions.
If Carr's resolve was tested last season, it would be even more so this year.
His son, Dallas, was born Aug. 5, and he quickly was diagnosed with intestinal malrotation, according to The Fresno Bee.
"Part of the small intestine and the large intestine are attached to the back wall of the abdomen," Judy Davis, a pediatric gastroenterologist, told the Bee. "If that tracking down doesn't occur in the right spots, they can turn and twist within the abdominal cavity and potentially interrupt blood flow,".
"There's lots and lots of people running around with malrotation who never have a problem."
Dallas wasn't so fortunate, and he was sent to Children's Hospital Central California north of Fresno, undergoing two surgeries. A third procedure was performed in mid-September.
Carr said Dallas is getting stronger and his appetite improving.
"He's making sure that we keep feeding him at night," Carr said. "He looks great. It's nice to know he's getting better and that he's not helpless. He's not just sitting in a hospital bed and there's nothing that I can do for him. Now I can actually feed him a bottle, whereas he was getting fed through a tube for a while."
Yet, Carr found a way to focus while on the field. He enters this weekend having completed 70.7 percent of his passes for 1,864 yards, with 19 touchdowns and four interceptions, and is closing in on several Fresno State career records.
Carr credited his Christian faith for being able to concentrate enough to succeed, and by placing those beliefs and his family ahead of football, he said that put the sport in proper perspective.
"My priorities will never change," Carr said. "Football is just what I do. So I spend my time at home and do those things, but when I come here, it's football, and I'm going to give my best to it. That's how I stay grounded."
■ NOTES — Fresno State will honor legendary ex-UNLV basketball coach Jerry Tarkanian in the first quarter. Tarkanian, who was inducted Sept. 7 into the Naismith Basketball Hall of Fame, played at Fresno State from 1954 to 1955 and coached the Bulldogs from 1995 to 2002. … The Royal Purple Las Vegas Bowl agreed to a six-year extension with the Mountain West, matching its length of contract with the Pac-12 Conference.
Contact reporter Mark Anderson at manderson@reviewjournal.com or 702-387-2914. Follow him on Twitter: @markanderson65.