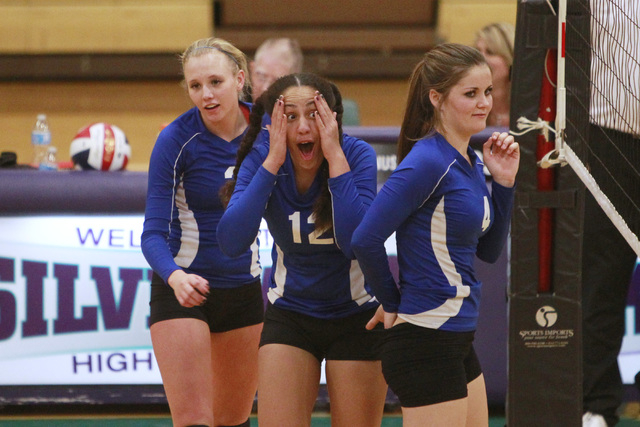 In the eyes of Basic girls volleyball coach Robin Wood, Tuesday's first-round match in the Sunrise Region tournament was way too close for comfort.
The third-seeded Wolves rallied for an 18-25, 25-19, 24-26, 25-19, 17-15 win over No. 2 Las Vegas at Silverado, but the victory did not come quite the way Wood and her players expected.
"I didn't think it was going to be that close," the coach said. "We thought we were going to do better than that, but the girls came out a little timid tonight."
Kim Austin did her part, logging five of her match-high 17 kills in the final set, but her strong performance was barely enough. In the end, it was a matter of which team would stay more focused in that final set.
"Our team made less mistakes," Wood said. "We made more than we usually make, and that's what we talked about in our timeouts."
Wood's final timeout, with the score tied at 15 in the fifth set, paid off, as the Wildcats hit the final two points into the net to provide an ending consistent with the rest of the match.
Las Vegas struck first, surviving four lead changes and using an 11-4 run to pull away in the first set.
The second set, which featured five lead changes, was decided down the stretch when the Wildcats committed five consecutive errors to allow Basic to tie the match 1-1.
Neither team led the third set by more than two points, but a late Basic error and a kill by Las Vegas' Aileen Morales provided the winning margin.
The Wolves overcame an early fourth-set deficit before taking over with a 9-4 scoring spurt, setting the stage for Austin in the fifth.
"Kim is a senior, and she gets fired up," Wood said. "When she gets fired up, she starts knocking them down. She's the one player on the team who stays confident no matter what."
With the Wildcats leading 11-10 in the final set, Austin had three consecutive kills to give her team a two-point lead. Las Vegas survived match point at 15-14 with a Basic error, but Wood's timeout squelched that momentum.
Azure Werner helped the Wolves (23-8) with 13 assists and 10 kills. Teammate Christina Kelley had 27 assists, eight kills and four service aces, and Kali Weires added nine kills and two blocks.
Samantha Remer led the Wildcats (13-18) with nine kills, while teammate Tajanae Davis had eight blocks and two kills.