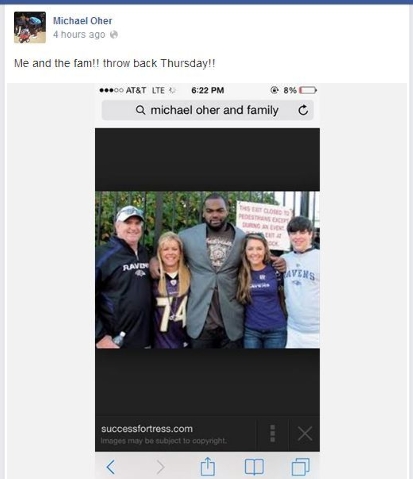 Tennessee Titan offensive tackle Michael Oher decided to participate in Throwback Thursday this week … but his attempt failed.
Well, kind of.
Oher posted a photo on his Facebook page of him and his family. Sounds normal enough, right?
But it's where he got the photo that gave people a good laugh.
He took to his iPhone and did a Google search for "michael oher and family" to find a picture of him and his family.
And he posted the screenshot of his Google search with the caption, "Me and the fam!! throw back Thursday!!"
Facebook users quickly noticed and started commenting on the fact that he used Google as his photo album.
"You had to look up a pic of your family…?," one commenter said.
Others, though, thought it was cool.
"Everyone's complaining about you googling a pic of your family … I think it's awesome! How many people can do that? Not many," another fan commented.
Contact Kira Terry at kterry@reviewjournal.com. Find her on Twitter: @kiraterry