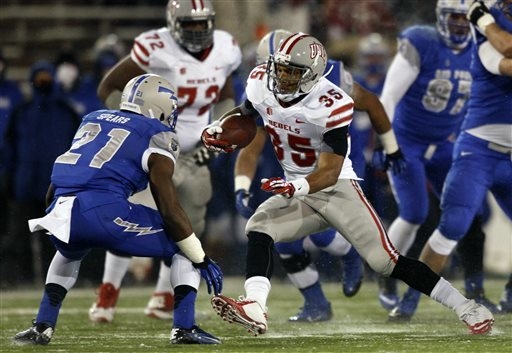 After three attempts, UNLV reached the six-win mark on Thursday with a 41-21 road win over Air Force in Colorado Springs, Colo..
UNLV(6-5, 4-3 Mountain West) is now bowl eligible for the first time since 2000. Air Force fell to 2-9 and remain winless in conference play.
Here are some of the top performers for each team on Thursday.
UNLV
Caleb Herring – UNLV's quarterback ran for two touchdowns and had 56 rushing yards on the game. He also threw for 141 yards and completed 15 of his 18 passes.
Tim Cornett – The Rebels' star running back ran for 220 yards and managed four touchdowns. His longest run was a 46-yard sprint in the fourth quarter to give UNLV its final score of the game.
Devante Davis – While the running game was UNLV's main weapon on Thursday, Davis caught six passes for 75 yards. This effort gave him more than half of the Rebels' passing yards on the game.
David Greene – Greene provided a special teams highlight on the first drive of the game when he blocked a Falcon punt in Air Force territory. UNLV scored on the following drive.
Tim Hasson – The UNLV defender recovered a fumble late in the first quarter, which led to the Rebels scoring their third touchdown of the game.
Air Force
Anthony LaCoste – The Falcons' running game made up most of the team's offense (228 of 298 total yards came on the ground) and LaCoste led the team with 75 yards.
Alex Ludowig – This receiver came up with 31 of Air Force's 70 passing yards. His biggest contribution was a 31-yard reception that got the home team its first points of the game.
Jon Lee – Air Force's second-leading rusher on the night picked up 66 yards on seven carries, including a 31-yard run.