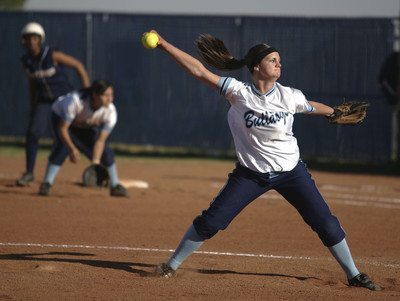 The element of surprise never has been a significant part of high school softball in Southern Nevada.
For years, each season has begun with one or two favorites to win regional titles, and rarely have those powerful teams failed to dominate.
But this season could be different. For the first time in years, it's safe to say there are three or four teams on each side of town that could end up with championships.
It's not that the perennial powers have wilted. Instead, several growing programs finally have risen to the point where they can compete at the top.
Throw all the quality teams into one pool, and you'll have the makings for an unusually unpredictable season as action begins this week.
Foothill proved last year that no one is unbeatable. The unheralded Falcons stepped up in the postseason to storm through regionals and into the state tournament. Though Foothill coach Tom Mayes lost several key players to graduation after the season, he doesn't doubt this year's squad could be just as competitive.
"I think you always have a chance," he said. "We just don't worry about nonleague games. Instead, we use those games to play as many kids as possible to see who we want to play when league (play) starts."
In the Falcons' case, that league is the powerful Southeast Division. But throughout town, more and more coaches are beginning to think that their squads have a realistic chance of making the playoffs.
"There was a lot of parity last year, and there's even more this year," Mayes said. "It could come down to who wins the last two or three games."
Several traditional Sunrise powers — Silverado, Coronado, Green Valley and Las Vegas — should remain strong. But Foothill can't be counted out, and neither can Rancho.
"We plan on taking it pretty far this year," said Rams coach Elizabeth Thatcher, whose program showed significant improvement last season. "I've got nine seniors, and I've had all of them for the past three years. Our goal is to make it through regionals and possibly get to state. We just need to take one more big step."
The Sunset could get even wilder. The traditional elites — Sierra Vista, Centennial and Palo Verde — remain early favorites. But Durango looks equally strong, as does Arbor View.
Then there's Shadow Ridge. After spending several seasons working their way to the top, the Mustangs finally earned the right last year to be considered one of Las Vegas' elite programs. They'll be back with an abundance of talent this season, and thus will open as the front-runners in the Sunset.
Though she's nervous about her squad's status as the team to beat, Mustangs coach Cindy Winter knows she has the talent necessary to go deep into the postseason.
"We're definitely going to be competitive, but it's going to be tough," she said. "We took third at state last year, and we've got a lot of that nucleus coming back. I definitely feel this is going to be one of our elite teams, but I don't feel we're quite there yet."
Indeed, it's possible that teams such as Sierra Vista and Las Vegas are enjoying the diversion of attention. But those coaches also acknowledge that nothing can be taken for granted this year.
"You just can't predict anything," said Wildcats coach Tresa Schilder, whose team lost in the state championship game last year. "You never know who's lost key players and who's getting new players. Things should be competitive throughout the city."
PLAYERS TO WATCH
Arbor View — Chelsea Venable
Centennial — Johnna Brown, Lauren Lynds
Clark — Jordyn McDonald
Coronado — Sarah Detwiler
Durango — Jaexie Balilea, Melissa Bako, D.J. Richardson
Eldorado — Jasmine Pickett
Foothill — Shelbie Medrano, Amber Stater
Las Vegas — Brianna Guzman
Legacy — Lorena Rios
Liberty — Breanne English
Palo Verde — Lauryn Stover
Rancho — Jesslyn Bley
Shadow Ridge — Mandy Harmon
Sierra Vista — Amelia McIntosh
Silverado — Mikayla Thielges
Spring Valley — Jasmine Wilson
Valley — Cristina Medina, Lorena Villamar