Two-out perseverance benefits Basic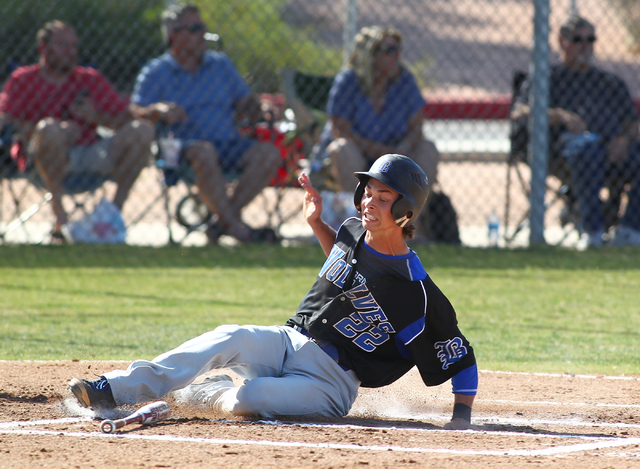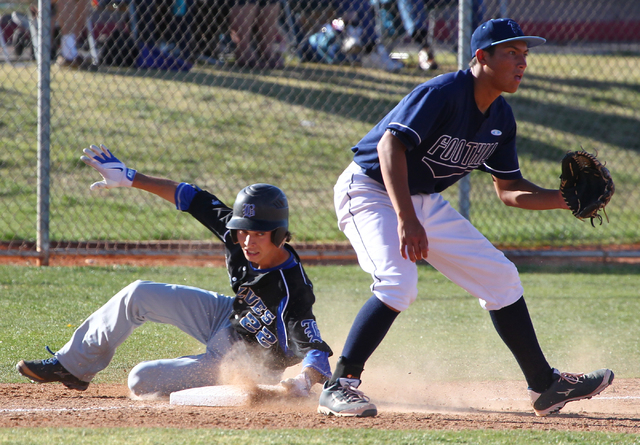 One of the traditional phrases of encouragement used by spectators at a baseball game is to "be tough with two."
Basic's baseball team took those words to heart on Thursday.
The visiting Wolves scored all of their runs with two outs — and did most of their damage with two strikes to boot — in a 5-0 victory over Foothill.
Josh McLean and Tanner Roundy combined on a five-hit shutout as No. 6 Basic (14-5, 4-0 Southeast League) won its sixth straight and will head into spring break next week alone in first place.
"We have a goal, for sure, and these guys want to win a state title," Wolves coach Scott Baker said. "But we really don't talk about the other stuff. Winning a league title, that'd be great. But we're just taking it game by game."
McLean went six-plus innings, allowing five hits and one walk while striking out one. He gave up back-to-back singles to Alec Mathis and Spencer Throgmorton leading off the bottom of the seventh before giving way to Roundy.
The left-hander issued a walk to Bligh Madris that loaded the bases for No. 4 Foothill (11-5, 3-1) with two outs, but Collin Dobrolecki grounded out to Jack Wold at first base to end the game.
"I felt the fastball was good all day," McLean said. "They're a very good team, and it's a good thing to beat them. Now, we have no one to fear, really."
Isaac Perez went 2-for-4 with a double and an RBI, and Cory Wills added two hits for Basic, which batted .400 (4-for-10) with two outs and runners in scoring position.
Basic took advantage of three first-inning errors to go ahead 1-0, and in the third inning, Mikey York fouled off one two-strike offering from Foothill starter Tyler Van Stone before grounding a run-scoring single to left.
In the fourth, Wills singled with one out and was sacrificed to second by Skyler Mahoney. Logan Green then lined a 1-2 pitch into center field to give Basic a 3-0 lead.
McLean helped himself with a run-scoring double in the fifth, and Perez singled on a 2-2 pitch in the sixth to score Mahoney, who tripled.
"We haven't had a lot of (two-strike hits)," Baker said. "A couple tough spots, we came up with some gigantic hits.
"We rely heavily on our pitching and defense anyway, and the hitting is just kind of whatever we get, we get. But that was the game, not only two outs but two strikes."
Madris went 2-for-3 for Foothill, which had a run taken off the board in the fifth when Daniel Hauck was called for interference at second base trying to break up a double play.
Contact reporter David Schoen at dschoen@reviewjournal.com or 702-387-5203. Follow him on Twitter: @DavidSchoenLVRJ.