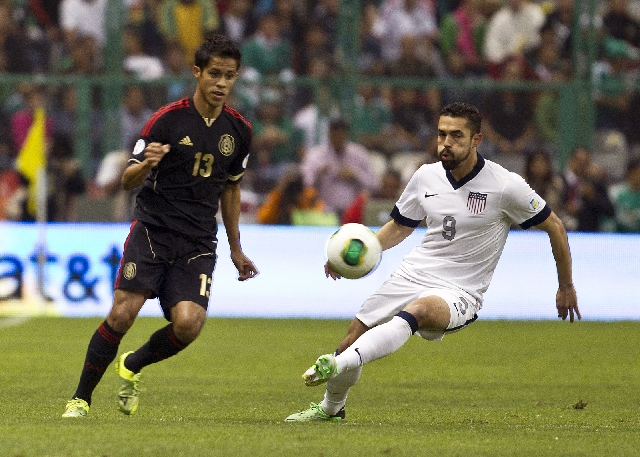 MEXICO CITY — Brad Guzan swatted away shot after shot as the Americans hung on for a 0-0 draw with Mexico on Tuesday night, earning only their second point in a World Cup qualifier at Azteca Stadium.
"It's always going to be a bit hectic and a bit crazy, especially late in the game," Guzan said. "You're never going to come to a place like Azteca and go out and have it nice and easy. So we knew at some point it was going to come, the pressure was going to come, and we were able to deal with it."
The tie moved the U.S. (1-1-1) into third place in World Cup qualifying for the North and Central American and Caribbean region after three of 10 matches, one point behind Panama and behind Costa Rica on goal difference. The Americans and Costa Ricans both have four points, but the Ticos are ahead on goal difference.
After playing at Jamaica on June 7, the U.S. will be at home for four of its last six qualifiers.
"We wanted to win, but we are pleased with the result," coach Jurgen Klinsmann said. "They gave us everything they have."
Mexico coach Manuel de la Torre is sure to come under fire after a third straight draw, which dropped El Tri (0-0-3) into second-to-last place in the standings. Mexico had plenty of chances with a 17-1 advantage in shots, but El Tri was plagued by poor finishing and dismal execution on set pieces.
Mexico had 15 corner kicks, including three in the last two minutes of stoppage time, and Guzan body-blocked a dangerous shot by Angel Reyna.
"Many people said it couldn't be done," said Herculez Gomez, a Las Vegas High School product who plays professionally in Mexico. "We showed just a tremendous attitude, a tremendous willingness to sacrifice for one another."
Azteca is one of the world's most imposing venues, and, like just about everyone else, the Americans have a miserable track record there. They are 0-13-2 in World Cup qualifiers in Mexico, with their only other point — also from a 0-0 draw — coming in 1997.
But Klinsmann never has lost to Mexico, either as a player or a coach with Germany and the U.S., and he has bolstered the Americans' confidence when it comes to their fierce rivals. The U.S. won at Azteca for the first time ever in an exhibition last summer, and the Americans talked repeatedly of making more history on this trip.
Not even a patchwork — and inexperienced — lineup could shake them. Steve Cherundolo and Carlos Bocagnegra, mainstays of the U.S. defense for a decade, were absent, and Clarence Goodson, who started Friday's game at center back, was out with a strained hamstring. Klinsmann gambled by starting Matt Besler, who had played only one game for the Americans, a friendly.
But Besler and Omar Gonzalez — the last two Major League Soccer defenders of the year — looked like grizzled veterans as they repeatedly snuffed out shots by Javier Hernandez, Javier Aquino and Jesus Zavala.
"The guys were outstanding," Klinsmann said. "Our back line, you know, many said they were inexperienced. They deserve a huge compliment. … If one guy is not here, that's a huge opportunity to the next one stepping in, and I think the guys that stepped in here, they took their chance."
Mexico dominated possession, and Aquino, Hernandez and Zavala repeatedly tested the inexperienced American defense, picking on left back DaMarcus Beasley in particular after he picked up a yellow card in the eighth minute. But Gonzalez came up with one big play after another, and Besler looked comfortable in the Azteca pressure-cooker.