UNLV boxers face long odds to repeat as national champs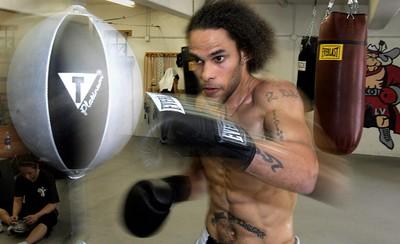 The odds are again stacked against the UNLV boxing team, but the Rebels have overcome them before.
Club coach Skip Kelp has shown a knack for getting the most out of his fighters around this time of year. His program won its first national championship last year and goes for a repeat this weekend in Reno at the National Collegiate Boxing Association Championships.
Chances of a second straight title appear remote, however.
Because of assorted injuries, illnesses, academic concerns and family issues, Kelp will take only six boxers to the national tournament. That's three fewer than last year, when the Rebels' margin of victory over Air Force and Army was a single point.
But the ninth-year coach believes anything is possible, especially because last year's team faced similar obstacles throughout the season.
"I love this team," Kelp said. "We have (six) guys going in and they're going to make a serious impact."
Though Kelp figured this would be a rebuilding year because of the loss of key fighters from last year, he says he sees a path to a repeat title.
"I hate to do the math, but there is a way we can win it," he said. "We'd have to get four guys into the finals, and three would need to win."
UNLV won the crown last year with two individual champions, breaking a streak of 15 straight team titles by service academies. This year he figures the Rebels will need some help from underdogs.
"We need some of the off-hand schools to win," Kelp said. "Like Cal-Berkeley."
Team captain Jason Crocco, a 175-pound junior and national runner-up last year at 185, sees no reason why the Rebels can't win it all again.
"I think our chances are really good," he said. "We lost a lot of veterans, but we've still got some good young talent."
Crocco barely qualified for the nationals this year, taking third in the Western Regional finals at UNLV this month. He doesn't think that automatically makes him an long shot.
"I'm not concerned at all," said Crocco, who must win two more qualifying bouts to reach the finals. "I'd rather take the rough road. I'd rather fight all three fights instead of getting a (first-round) bye."
Kelp shares that sentiment, pointing out that junior 156-pounder Greg Murrell has had great success coming from behind in the national tourney.
"Before this year, Greg had never won a regional championship," Kelp said. "But he's still won two national championships."
Murrell again looks like the strongest fighter for UNLV. He'll get a first-round bye, having beaten UNR's Francisco Torrez in the regional final.
Charles Blackwell, a newcomer to the Rebels, also will start with a bye after his 185-pound regional victory over Air Force's Boyce Loomis. Blackwell's emergence has brightened Kelp's hopes that his team can accomplish the improbable this week.
"If we do go down and we don't win another championship, we'll win it next year," Crocco said. "But we're going to win it this year."
Alex Nyakana (112), Nathan Wong (132) and Jeff Watkins (139) will accompany Crocco, Murrell and Blackwell to Reno and compete in the quarterfinals Thursday at the Eldorado Hotel. Championship bouts will be held Saturday.
UNLV SportsStory Index