UNLV pushes tempo, avoids silly mistakes in runaway victory over New Mexico
January 13, 2016 - 12:28 am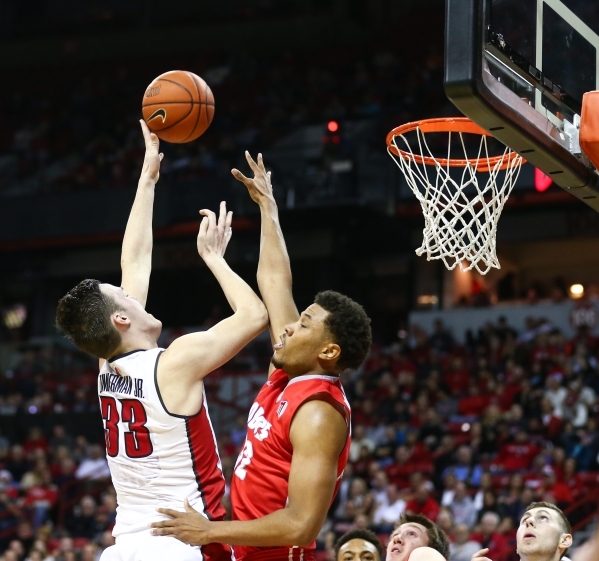 Whatever the message was that Todd Simon sent to his UNLV basketball team, it was received loud and clear.
Two days after their coach was fired, the Rebels played with accountability and sustained energy and broke into the win column in the Mountain West after an 0-3 start with an 86-74 victory over first-place New Mexico at the Thomas & Mack Center.
Sophomore guard Patrick McCaw remembered that he's the son of a coach and rediscovered his high basketball I.Q. with a team-high 18 points, three assists and two steals.
Freshman forward Stephen Zimmerman Jr. realized he's not really a freshman anymore, and the former Bishop Gorman High School star responded with his best performance as a collegian, collecting a double-double with 15 points and 15 rebounds along with four blocks.
UNLV (10-7 overall, 1-3 MW) played with renewed purpose for 40 minutes. The offensive lulls that accompanied losing never manifested itself Tuesday. And the joy the players and coaches experienced were shared by the announced crowd of 11,377.
For one night, the Thomas & Mack was an angst-free zone. The debate over whether Dave Rice should have been fired midseason and who should replace him was temporarily shelved thanks to Simon and his players who showed they can still play the game properly against a quality opponent and be rewarded for doing so.
"I think keep it simple was an effective way to play," Zimmerman said. "The big thing Coach Simon said was the first 10 seconds of the shot clock is ours, and we pushed the tempo."
Ike Nwamu, who had 15 points, said playing with freedom and simplicity went a long way.
"To have the reins taken off helped our confidence," he said. "We were able to go out and attack, which I think is our strength."
Simon said he wanted to see his players have fun again on the court. Yes, they were in an 0-3 hole in conference, but he acted as though it was opening night and the transgressions of the first three games were nonexistent.
"There's tremendous character in this group," Simon said. "They really want to win for each other. They want to do the right things."
UNLV led by as many as 22 points with 8:20 remaining, and the Rebels weren't about to let New Mexico (10-7, 3-1) back in the game.
"We kept executing and didn't make the same mistakes we've been making," Nwamu said.
The Rebels played like the superior team. They pressured defensively, shared the ball on offense and, more important, took care of the ball. They had just four first-half turnovers and wound up with seven overall, a marked improvement given their 19 per game average in the first three conference games.
The other point of emphasis — free-throw shooting — was also addressed. UNLV shot 82 percent from the line (27 of 33), the best since Dec. 4 when the Rebels made a season-high 86 percent in an 80-69 win over Oregon.
Simon said he was glad to see McCaw get back on track and was proud of how Zimmerman responded by staying out of foul trouble and delivering at both ends of the floor.
"He came out trying to facilitate, and we grabbed him by the shoulder and told him he was passing up some great looks," Simon said of McCaw. "But he started to attack, and he was the Patrick we all know and love.
Simon said of Zimmerman: "That's probably the best he's been all season. Fifteen, 15 and four? That's answering the bell."
The fact Zimmerman could stay out of foul trouble and find a rhythm was the real reason he came up big. He did a lot of damage in 32 minutes.
"It was fun out there," he said. "Just being able to play without foul trouble was great. Ike's been preaching to me that I need to be more aggressive, and I was able to do that."
Contact reporter Steve Carp at scarp@reviewjournal.com or 702-387-2913. Follow him on Twitter: @stevecarprj
Check our GameDay page for full coverage of the UNLV-New Mexico game.