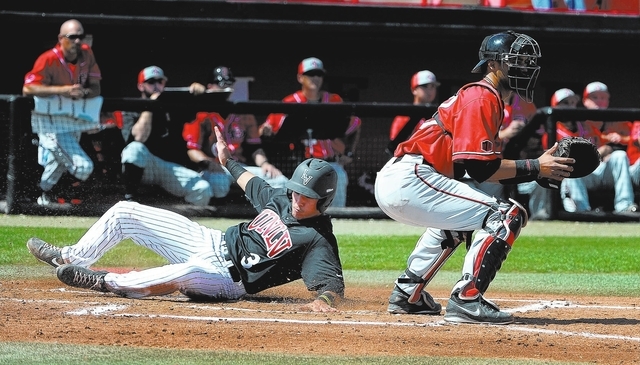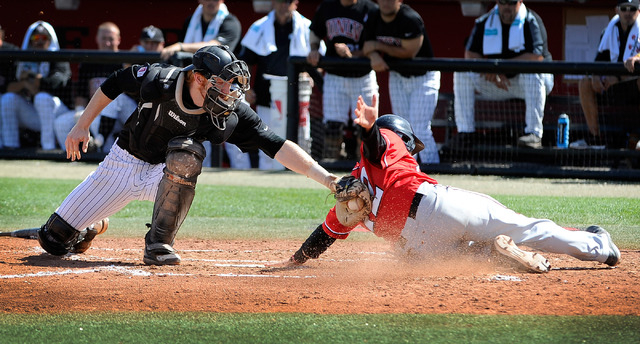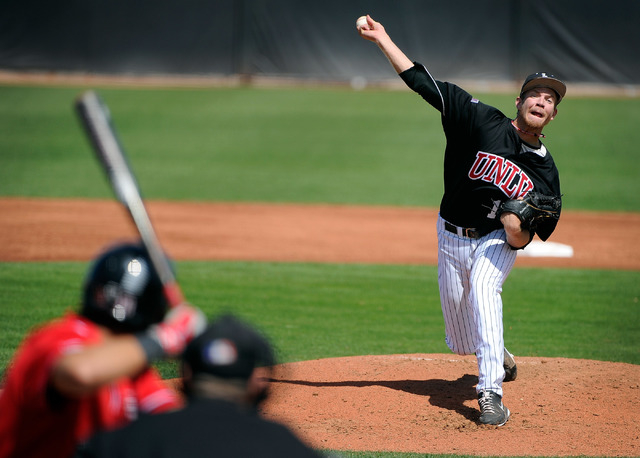 Sunday's Mountain West series finale looked like a strong pitching matchup, and it appeared the game would play out like that when UNLV's Bryan Bonnell needed only two minutes to work through the first half-inning.
Then came the bottom of the first, and the Rebels made any thoughts of a classic duel quickly vanish.
UNLV scored four runs to take control and never really stopped hitting in defeating San Diego State 9-1 to win the three-game series at Wilson Stadium.
"I felt like that was our most complete game of the year," Rebels coach Tim Chambers said.
The Rebels (16-7, 9-3 MW) remained in first place in the conference after the rout of San Diego State (17-6, 5-4), and they soon embark on a demanding road trip. After hosting Utah Valley on Tuesday, the Rebels play their following nine games on the road against Nebraska, Creighton, Fresno State and Arkansas.
If UNLV plays like it did Sunday, the Rebels will pick up some victories in that gantlet.
"We have a lot of momentum," UNLV right fielder Jon Torres said.
The Rebels have the starting pitching to keep the momentum going, with the right-handed Bonnell producing another top performance. He and Aztecs right-hander Mark Seyler entered the game with ERAs below 2.00.
Bonnell (3-1) lowered his to 1.55 by going the distance in the 2-hour, 6-minute gem, allowing seven hits and throwing 92 pitches.
"When I threw six pitches (in the first inning), I knew it would be a good day if I could keep my pitches at below 10 an inning," Bonnell said.
The only real trouble he ran into came in the fourth and seventh innings. UNLV center fielder Joey Armstrong ended the threat in the fourth by throwing out Tim Zier at the plate for a double play. San Diego State plated one run in the seventh, but Bonnell then induced two flyouts to end the inning.
Seyler (4-2) wasn't so fortunate, with the Rebels chasing him after five innings. He gave up nine hits and seven runs, all earned, as his ERA rose to 3.18.
UNLV didn't waste any time getting to Seyler, who had early trouble with his command by walking Justin Jones and hitting T.J. White with one out in the first. Then Patrick Armstrong delivered a one-run double, Erik VanMeetren an RBI sacrifice bunt and Morgan Stotts a two-run single to give the Rebels a 4-0 lead.
That run support was more than enough for Bonnell.
"It does help you relax a little bit," Bonnell said. "It gives you a little more room to work. You have a little more time to make adjustments and try stuff that you don't normally try."
The Rebels added four runs between the fifth and eighth innings, finishing with 14 hits, including four doubles.
Torres, who went 3-for-4 with two RBIs and a run, said the hitters were patient with Seyler's offspeed pitches.
"That's what we've been saying this whole week," Torres said. "I think we did a good job today of taking those pitches and hitting fastballs."
The Rebels certainly played with a purpose after a players-only meeting before the game.
"So, obviously," Chambers said, "they knew how important today was."
Contact reporter Mark Anderson at manderson@reviewjournal.com or 702-387-2914. Follow him on Twitter @markanderson65.