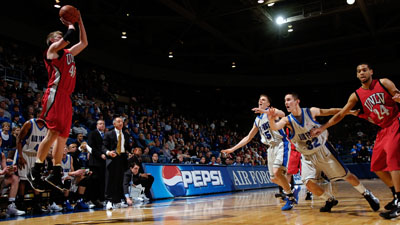 AIR FORCE ACADEMY, Colo. —Wink Adams, Joe Darger and Rene Rougeau had won at least once in every Mountain West Conference arena with one exception. The trio never had left Clune Arena a winner.
That changed Saturday, as Darger had 18 points and Adams 13 to lead first-place UNLV to a 59-38 victory over last-place Air Force, ending the Rebels' six-year drought at Clune Arena.
The 38 points scored by the Falcons, who dropped their eighth straight game, were the fewest by a UNLV opponent this season, surpassing the 48 Texas-Pan American scored Nov. 18, as the Rebels won their fourth straight game.
"It feels amazing," Adams said of finally winning in the league's smallest building. "Usually, the air kills you and I walk out of here sick. Not (Saturday). This is great."
Darger said he, Adams and Rougeau talked about completing the collection after beating Brigham Young in Provo, Utah, on Jan. 21.
"Here and BYU have been the two toughest places for us to play," Darger said. "It was definitely on our minds."
The three seniors got help from two sophomores. Kendall Wallace came off the bench to hit five 3-pointers and tie his career high with 15 points, and Tre'Von Willis had a career-high 11 assists, as many as Air Force had as a team.
Willis also did a great job of helping keep the Falcons' zone defense off balance with his drives and passes.
"My teammates did a great job of finding me, and we were real patient," Wallace said. "I was wide open most of the time."
The Rebels (17-4, 5-2 MWC) started slowly offensively and trailed 13-12 with 7:33 left in the first half. But with Wallace and Darger starting to find their range, UNLV outscored the Falcons 17-6 in the final 6:44 and led 29-19 at halftime.
Air Force (9-11, 0-7) has been struggling with its shooting in conference play, and that was evident again. The Falcons even switched to gray uniforms for the first time this season in an attempt to change their luck.
But Air Force shot 35 percent from the field, including a 5-for-20 showing from 3-point range. The Falcons trailed 46-26 eight minutes into the second half and by 24 points with 2 minutes left.
Matt Holland was the only Air Force player in double figures, scoring 13 points.
"We need to have more energy and more effort," Air Force coach Jeff Reynolds said. "I didnуt think it was there."
Credit UNLV's defense for a lot of Air Force's offensive woes, as the Rebels played with energy and intelligence, staying with their assignments. UNLV coach Lon Kruger also had Darger play in the middle and had him help near the baseline.
"We played with good awareness and good focus," Kruger said. "Our guys identified the drivers and shooters and played them appropriately.
"Joe did a good job when we moved him into the post, and it was a real good team effort."
Darger said having a week to prepare for the Falcons was key to the Rebels' win.
"When you play Air Force, there's so much you have to prepare for," he said. "But we had a full week to get ready, and the guys did a great job of executing the game plan.
"Everyone was talking and taking away the back doors and the switches."
Now the Rebels will prepare for a totally different style of play, as San Diego State comes to the Thomas & Mack Center on Tuesday.
"I think it'll be easy to adjust," Adams said. "San Diego State is a very good, athletic team. They're going to want to get up and down the floor like we do, so it won't be hard to play that style."