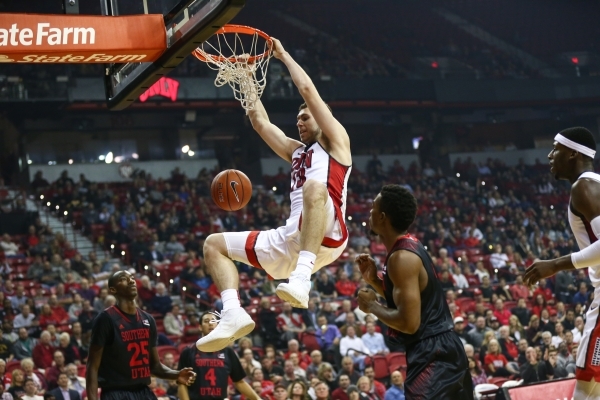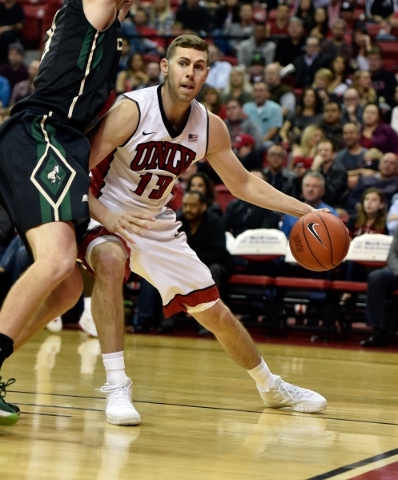 It's not a game about "bad blood," in the words of Ben Carter. He transferred home, any hard feelings have passed and life is good now.
"I had a great time in my two years at Oregon," the UNLV junior forward said. "I don't regret my time there at all."
At the same time, it's only human nature to want some measure of revenge against your ex-team and the coach who ran you off by sitting you on the bench, and Carter will get that shot tonight, even if he's reluctant to be the storyline.
The Rebels (6-1) face the 16th-ranked Ducks (6-0) at 8 p.m. at the MGM Grand Garden in an important nonconference game for both teams. And that's exactly what it is, Carter said, just a game UNLV needs to win and not a stage for him to settle a vendetta.
"It's definitely a stand-out game on our schedule, for me at least, but also for our team it's a chance to play another ranked opponent," Carter said.
The MGM Grand Showcase, which benefits Coaches vs. Cancer, will attract a crowd of around 12,000 that is expected to include a prominent Oregon booster (Nike co-founder Phil Knight) and a big UNLV fan (Bryce Harper of the Washington Nationals.)
Still, the spotlight belongs to Carter, who transferred from Oregon in the spring of 2014 and has become a leader for the Rebels. After two nondescript seasons with the Ducks, he left for a variety of reasons, one being his lack of playing time.
"I thought I would have a better opportunity here to show my skill set, and I'm happy about the move I made," he said. "What's most important to me is family and the opportunity for me to play in front of my family."
But when the Bishop Gorman High School graduate narrowed his college choices to three, Oregon won out over UNLV and Utah.
"I was as disappointed as I've been in terms of recruiting since I've been at UNLV as the head coach," Dave Rice said. "I understand how good a player Ben is and the stability he provides for a program. I was really excited about the opportunity to coach him."
Instead, Dana Altman got Carter, and Altman often ignored him. In 62 games for the Ducks, Carter started five times and averaged 11.3 minutes and 2.5 points.
No one was more upset about Carter's forgotten role than his father, Mike, who gets fired up at the mere mention of Altman and Oregon.
"Altman is a good coach, but I don't think he really believed in Ben," Mike Carter said. "He never got a chance. It was so frustrating for me. I don't know why he didn't play him. It was a mystery to me. He lost his confidence up there. Altman didn't give him confidence, and he lost it."
Mike Carter drove seven-plus hours from Las Vegas to Salt Lake City on Jan. 2, 2014, to watch his son play for Oregon against Utah. He recounts the trip as if it happened yesterday.
"I drove all the way up there in a snowstorm, and I literally got sideways on the road," Mike Carter said. "Ben played three minutes. That was disheartening. I drove all the way back after the game, mad all the way home."
Altman has won a lot of college games (539 in 27 seasons) and he's no fool, something both Carters repeatedly acknowledge.
"He's a great coach. He's been doing it for a long time. I always wish him the best," said Ben Carter, who was on two NCAA Tournament teams for the Ducks.
"I'm not going to speak on behalf of my father. He's entitled to his opinion. My father is very passionate about me. He raised me and taught me everything I know about the game of basketball, so I understand his frustrations."
Mike Carter played the game in college and for 17 years professionally, with stints in Argentina, Israel, Portugal, the Philippines and in the Continental Basketball Association. He also has coached on various levels. He says Altman never understood what his son was capable of doing.
"I'm all about proving the 'you don't know what you've got until it's gone' theory," Mike Carter said. "Altman is a good coach, but he just didn't use Ben."
Rice knows what he's got now, mostly because his younger brother, Grant, coached Carter at Bishop Gorman.
"There's something special about having a local guy in your program, especially someone like Ben," Dave Rice said. "There is no doubt in the two years under a great coach like Dana Altman that Ben came back a much better basketball player."
This is the third time Ben Carter has been involved in an Oregon-UNLV duel, with his recruitment being the first. In November 2012, Carter played a season-high 23 minutes and totaled 12 points and five rebounds in the Ducks' 83-79 victory over the Rebels at the Thomas & Mack Center.
After a redshirt year at UNLV, the 6-foot-9-inch Carter has emerged as the team's emotional leader. He's a high-energy defender and rebounder with a smooth shooting stroke. He exhibits the basketball IQ of a coach's son. He plays the game the way his dad used to play it.
"Ben has been through a lot. He's showing his experience and how good of a player he is," sophomore guard Patrick McCaw said. "It's good that he's stepping up and being a leader, and guys are going to follow. He's a team player, and he doesn't care about scoring or anything else. He just does whatever the team needs."
Before the Rebels' victory over Indiana in the Maui Invitational last week, Rice asked Carter to accept a reserve role for rotation purposes. Carter said he was happy to do it and then scored a season-high 16 points while his dad celebrated and pumped his fists from a courtside seat.
Mike Carter will be a standout fan in the Grand Garden tonight.
"I'm going to be hyped up. It's going to be exciting," he said. "I've been waiting for this. I'm more excited than Ben. Ben just wants to win."
Contact reporter Matt Youmans at myoumans@reviewjournal.com or 702-387-2907. Follow him on Twitter: @mattyoumans247
Check our GameDay page for full coverage of the UNLV-Oregon game.