UNLV women's track squad eyeing national strides
January 25, 2016 - 2:06 am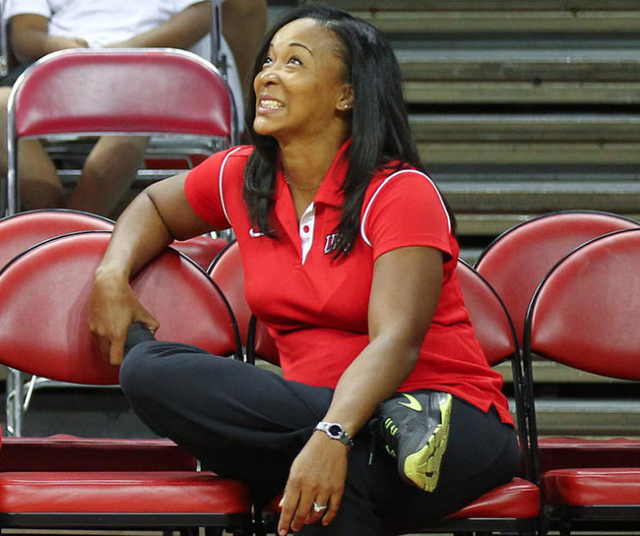 Since becoming the UNLV women's track and field coach in 2007, two-time Olympian Yvonne Wade has made steady progress in transforming the Rebels into winners on and off the track.
Wade has guided UNLV to academic All-American honors (team GPA of 3.0 or higher) in five of the last six years, and the Rebels produced U.S. Olympic hammer thrower Amanda Bingson, a Silverado High School product, on her watch.
"It took a while to change the culture and recruit the type of student-athletes we needed to change the overall program," said Wade, an NCAA All-American at the University of Colorado who competed in the 100-meter hurdles at the Summer Olympics in 1996 in Atlanta and in 2000 in Sydney.
"First and foremost for me was changing the academic culture," she said. "Now we're at the point where we can start recruiting higher-caliber athletes and go after the same student-athletes that some of the bigger (Southeastern Conference) and (Atlantic Coast Conference) schools get."
Wade has high hopes for the Rebels this season, led by junior newcomer Kaysee Pilgrim, who won three junior college national titles in the high jump at Pima Community College in Tucson, Ariz.; senior Auzsane Crowe-Carter, the two-time defending 800-meter Mountain West champion; and sophomore Drea Austin, the team's high scorer at last year's Mountain West championship and one of 11 local products on the squad.
"Our goal definitely is to win our conference, which we do have the athletes able to do that, and to be ranked nationally," Wade said. "I'm excited about it. We have good energy on our team, we're really focused and we work hard."
UNLV opened its indoor season in impressive fashion, winning six events Friday at Northern Arizona University. Pilgrim made a dynamic debut for the Rebels, winning the high jump with a school-record indoor mark of 5 feet 10¾ inches. The junior tied the junior college outdoor high jump record last year with a leap of 6 feet 1¼ inches.
"If she can do that, she should be able to win our conference and be nationally ranked," Wade said. "She's a fierce competitor and she works hard at it."
Austin, a sprinter from Foothill High School, won the 60-meter and 200-meter dashes in Friday's meet and excelled outdoors last season for UNLV in the 100-meter and 200-meter dashes and the 4×100-meter and 4×400-meter relays.
"She's just a beast. We call her 'The Hunter' because every time she gets on the track, she goes after somebody," Wade said. "If anyone can pull the team together, it's her. She just stepped up as a leader her freshman year. She's just fearless."
UNLV also features local products Mandy Chitwood (Canyon Springs), Micayla Coquia (Legacy), Kyra Day (Cheyenne), Lindy Eskin (Green Valley), Madison Johonnot (Centennial), Sydney Land (Sierra Vista), Cortney Miller (Calvary Chapel), Iris Munguia (Basic), Amari Norris (Silverado) and Shaye'e Swaine (Coronado).
The Rebels will return to Northern Arizona on Friday and Saturday for the Mountain T's Invitational.
YANG STARTS WITH BANG — Rebels newcomer Carol Zi Yang from China was named the season's first Mountain West women's tennis player of the week after going 5-2 in her UNLV debut at the elite Freeman Memorial tournament at the Fertitta Tennis Complex.
Yang upset two ranked players from the University of Florida in singles, defeating No. 25 Kourtney Keegan and No. 73 Spencer Liang. In doubles, Yang and partner Aiwen Zhu, also from China, won twice before losing in the semifinals to the nation's second-ranked duo from North Carolina.
The Rebels open dual-match play at 10 a.m. Friday, hosting New Mexico State. They'll host Weber State on Saturday and Pacific on Sunday. Admission is free.
REBEL GIRLS CLAIM CROWN — The UNLV Rebel Girls won their fourth college dance team national title in nine years at Disney's Wide World of Sports Complex in Orlando, Fla. The Rebel Girls won the Division IA Hip Hop Finals, which they also won in 2008, 2010 and 2013. They were runners-up in 2014 and 2015.
The Rebel Girls performed Friday on NBC's Today show in a segment that aired live from Caesars Palace.
— Contact reporter Todd Dewey at tdewey@reviewjournal.com or 702-383-0354. Follow him on Twitter: @tdewey33