Coach has seen improvement but not enough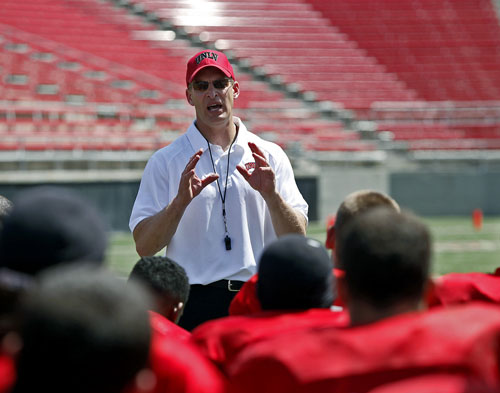 New UNLV football coach Bobby Hauck has seen improvement throughout spring practice, but not enough.
And not enough in today's spring finale scrimmage at Sam Boyd Stadium.
"We've learned to play hard in stretches," Hauck said. "I thought our game management and our attention to detail were pretty good in terms of play clocks, substitutions, all that. I thought our tackling has improved. So we've learned to play hard in stretches, but I don't think we've learned to play well yet. The execution isn't sharp enough. I mean certainly the way we played today wouldn't get us a win in the fall."
Hauck provided a similar assessment of the spring in general.
"I think we've improved dramatically since Day One," he said. "But I don't think we're playing well enough to play our schedule."
MISSING MIKE
Junior Mike Clausen, who is competing for the starting quarterback job, was not at the scrimmage. He has battled a concussion this week, and Hauck said Clausen went home to Southern California to deal with a family issue.
Redshirt freshman Caleb Herring took extra snaps this week, which helped him from a confidence standpoint going into the scrimmage. He completed 3 of 5 passes for 10 yards and rushed for a 9-yard touchdown.
"If today had been a surprise coming with the twos (second-teamers), it probably would've been a little more hard," Herring said. "But getting down the speed of the defense makes a big difference from ones to twos to threes."
Hauck said no one has separated himself to win the quarterback job. Senior Omar Clayton, who has been working with the first-team offense, was 6-of-16 for 70 yards and two touchdowns.
"Especially after we got the first couple of plays out of the way, I thought things started running really smoothly," Clayton said.
OTHER STATS
Senior tailback Channing Trotter rushed for 25 yards on five carries, and redshirt freshman Bradley Randle had 16 yards on seven rushes. Sophomore wide receiver Aaron Reed took a lateral 25 yards.
Sophomore wide receiver Mark Barefield caught three passes for 13 yards, and touchdown catches were made by junior tight end Austin Harrington from 24 yards and Trotter from 20 yards.
Sophomore linebacker Travis Trickey and senior defensive end Preston Brooks each made five tackles. Senior linebacker Starr Fuimaono and senior defensive end Daniel Mareko each made a tackle for a loss.
Senior kicker Ben Jaekle made 3 of 4 field goals, with a long of 41 yards. His one miss was from 51 yards. Redshirt freshman Allen Hardison made a 49-yarder, but missed from 23 yards.
BANGED UP
Senior defensive tackle Ramsey Feagai suffered what appeared to be a partial tear of the medial collateral ligament in his left knee. The injury shouldn't been an issue when training camp begins in August.
Among the players out injured included senior defensive tackle Isaako Aaitui, senior linebacker Ronnie Paulo and senior center John Gianninoto.