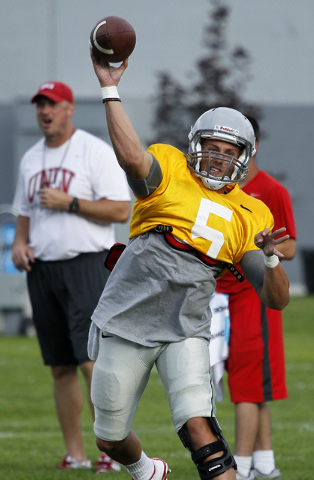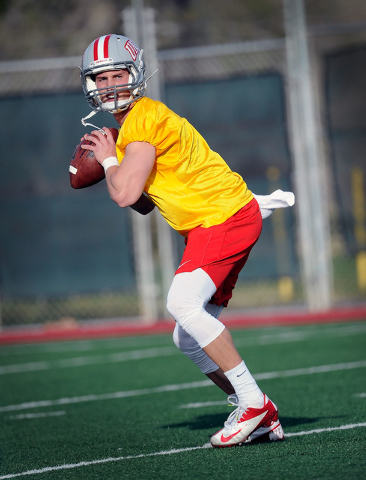 ELY — Blake Decker has been taking the first-team snaps in training camp this week.
Now he has been called upon to take those snaps when UNLV opens its football season.
Coach Bobby Hauck named Decker the starting quarterback on Friday, giving him the job over junior Nick Sherry.
"He's just played better," Hauck said. "He's made more plays in camp. We feel right now it's productive to move forward in that direction."
Quarterbacks coach and offensive coordinator Timm Rosenbach has placed the quarterbacks off limits to the media until the week of the Aug. 29 season opener at Arizona.
Decker (6 feet 2 inches, 205 pounds) is a transfer from Scottsdale (Ariz.) Community College who signed early and went through spring practices.
"He's a mature guy," Rosenbach said. "He's got an ability to make plays on his feet, run around do some things we like to see our quarterbacks do. He's been operating well for a guy that's only been here (since) the spring. We feel like he's earned the chance to be the guy."
Decker blew away the rest of the Arizona Community College Athletic Conference last season by passing for 4,241 yards and 47 touchdowns. He also rushed for 390 yards and four TDs.
His college career began at Brigham Young, where Decker walked on in 2009 and redshirted. He then chose the junior college route.
With his ability to run as well as pass, Decker appears to be a better fit for the spread offense the Rebels went to last year than Sherry, a more traditional dropback quarterback.
"Initially, you would say yes, but I certainly feel confident that we could adjust it to help suit Nick when Nick plays a little bit," Rosenbach said. "There's been thought put into that. Nick can do a lot of those things. People don't give him enough with his feet. For a big guy, he doesn't move that bad. He actually moves pretty well."
Sherry (6-5, 235) could draw inspiration from last season. He began that season as the starter, but a problem with turnovers led the coaches to go to Caleb Herring, who resurrected his career and UNLV's bowl hopes.
"Nick's a team guy," Rosenbach said. "He's a leader. He's a good person. I'm sure he's not extremely happy about it, but he also understands it. He's going to support Blake and help Blake get better. He's going to be ready to go if his time comes."
Hauck wants Sherry to be ready to go in, but the offense is Decker's.
"I think guys always have to be ready," Hauck said. "Our preference is to have a starter and a backup, and sometimes the situation means you have to play two, but that's not where we are."
Contact reporter Mark Anderson at manderson@reviewjournal.com or 702-387-2914. Follow him on Twitter: @markanderson65.