NCAA lifts UNLV football bowl ban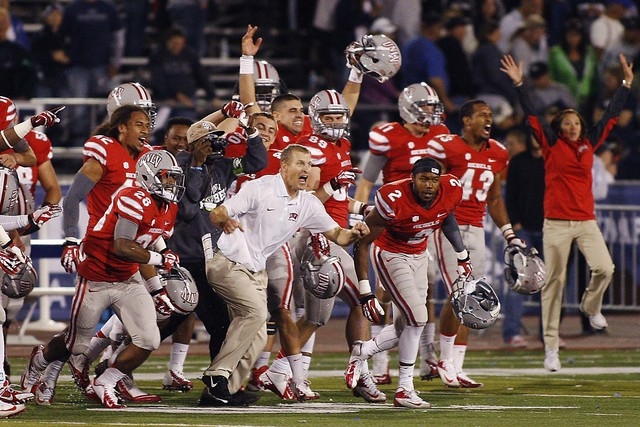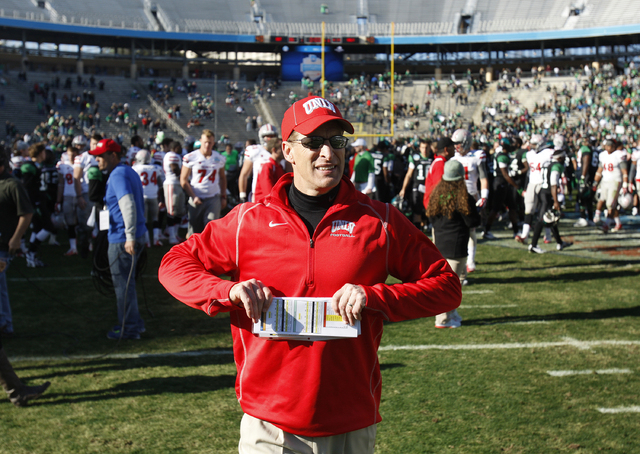 Upon further review, UNLV football coach Bobby Hauck's immediate future just got a lot brighter.
Hauck received some unexpected news Thursday. And in this case, it's finally positive. The NCAA lifted the Rebels' bowl ban for next season after the team's Academic Progress Rate score was adjusted.
"It is pretty remarkable," UNLV athletic director Tina Kunzer-Murphy said. "We're very appreciative of the NCAA for doing that. I think a lot of people are surprised and happy.
"UNLV and the NCAA working together, how great is that?"
In April, when the NCAA rejected UNLV's appeal of its case pertaining to postseason eligibility, Kunzer-Murphy called the news "devastating." But she continued to work on the issue with the school's academic support staff, which reviewed scores dating to 2009.
UNLV needed to average an APR score of at least 930 for the past four years, but it initially produced a 925. The school submitted an updated score of 930 on Friday, and the NCAA accepted the proposal this week.
Kunzer-Murphy said the scores of "six or seven" student-athletes were revised after records were thoroughly reviewed.
"I don't think it was a mistake," Kunzer-Murphy said. "From the time the appeal was denied, our academic support system has been working hard, never giving up."
Hauck, once faced with motivating a team that had no shot at the postseason, now has an opportunity to coach the Rebels to a bowl game in back-to-back years for the first time in program history.
UNLV went 7-6 last season and played in the Heart of Dallas Bowl, losing to North Texas 36-14 on Jan. 1. It was the team's first winning season and bowl appearance in 13 years.
"Obviously, we are excited to be eligible to play in the Mountain West championship game and a bowl this season," Hauck said. "Nearly every man in our program stayed together through this.
"That mental toughness and commitment to this school and each other says a lot about the people we have here, and I think is going to serve us well on the field. Academics have always been and will continue to be a priority for us."
Two players chose not to weather the storm. Because the Rebels were ruled ineligible to compete in a bowl, upcoming seniors were allowed to transfer to another program and play immediately.
Offensive guard Cameron Jefferson transferred from UNLV to Arkansas, and running back Adonis Smith left for Arizona. Jefferson, from Desert Oasis High School, started 33 consecutive games for the Rebels.
The Rebels open the season Aug. 29 at Arizona, a game to be televised by ESPN. Due in part to the NCAA sanctions, UNLV in May scheduled a 13th game for next season, Sept. 20 at Houston.
"From the day I arrived here last summer, the APR process has been a top priority," Kunzer-Murphy said. "After we received the decision in April, I asked our group to continue looking for ways to make us better in this area moving forward, but also to continue scrutinizing the numbers from the previous four years.
"This is great news, but also just the next step in continuing to improve our systems and helping give all of our programs the best possible APR results each year."
Contact reporter Matt Youmans at myoumans@reviewjournal.com or 702-387-2907. Follow him on Twitter: @mattyoumans247.