Amilon heads to New York for USTA/ITA National Indoor Championships
October 30, 2016 - 10:56 pm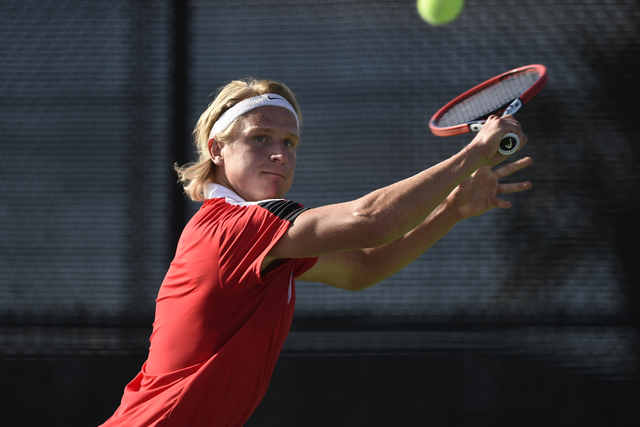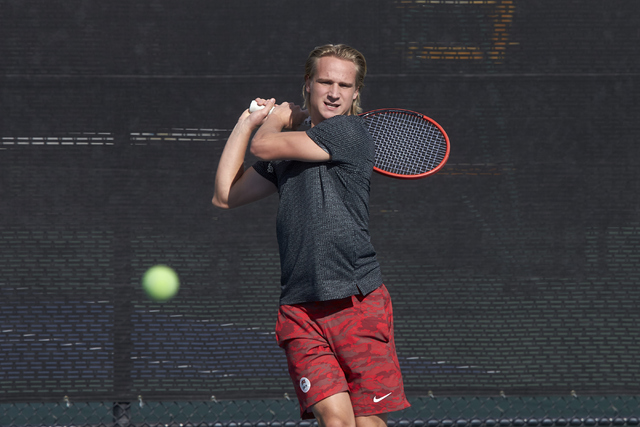 When Jakob Amilon arrived at UNLV, the Stockholm, Sweden, native played No. 6 singles for the Rebels.
A year later, No. 3. The year after that, No. 1.
Now, as a senior, Amilon returns as the team's top singles player.
And last week, Amilon showed once again just why, winning the ITA Regional and punching his ticket to the USTA/ITA National Indoor Championships, making him just the second Rebel in program history to do so.
Amilon will compete in the tournament in Flushing, New York — site of the U.S. Open — which begins Thursday and pits 32 of the best collegiate players against each other.
"He's improved every year he's been at UNLV," coach Owen Hambrook said. "I think he's a good example of someone that's worked hard, and as a result, it's paid off and he's seeing himself get better and better every year, (stepping) up to different levels."
Amilon, who came into the regional seeded third and ranked 124 nationally, ran through the tournament, not dropping a set.
"I always knew that heading into it, I felt like I was ready to go and I knew that if I played on top of my game, I would have a good chance of winning the whole thing, so that's how I went in and that's what I kept doing the whole tournament pretty much," Amilon said.
Only Henner Nehles (2004) had won a regional singles title before him.
"We definitely knew we had a couple guys capable of winning the tournament, but over the many years before we had other guys in that position as well that just fell short or for whatever reason didn't (win)," Hambrook said. "But he came through and he did it very convincingly without dropping a set."
Now, he'll head to New York, where he'll face a very high level of competition.
Earlier this year, Amilon competed in the ITA All-American main draw, dropping his first match to Ohio State's Hugo Di Feo, ranked 33rd.
This time around, he should see similarly difficult competition, including many of the same players.
"The All-American is a similar tournament and it was the first main draw I played over there, and so to see the level and play the guys, it was really helpful. It's definitely going to be easier, I think," Amilon said.
He said he feels good physically right now and is happy with how he is playing as he prepares to take on the tough competition.
"It's good for him. It gives him confidence, but obviously going there the goal is to hit his performance goals, and if everything happens well, he'll hopefully win a few matches," Hambrook said.
And while Amilon is excited for the heightened level of competition, he's also excited to play at the USTA Billie Jean King National Tennis Center.
"We play at Flushing Meadows, which is where they host the U.S. Open, so to see that facility, it's all very special," Amilon said. "I've never been there and I've never been to New York, so it's going to be just very exciting to be there."
WOMEN'S CROSS COUNTRY
The Rebels placed 11th at the Mountain West Championships on Friday in Idaho.
Spencer Moore led the Rebels with a 49th-place finish in the 6K.
New Mexico won its ninth straight Mountain West title.
SOFTBALL
UNLV will host a one-day Rebel Academy skills camp Dec. 3 at Eller Media Stadium.
The camp will feature defensive, offensive and pitching sessions. Each costs $50. Those interested can purchase all three for $125.
Contact Betsy Helfand at bhelfand@reviewjournal.com. Follow on Twitter: @BetsyHelfand