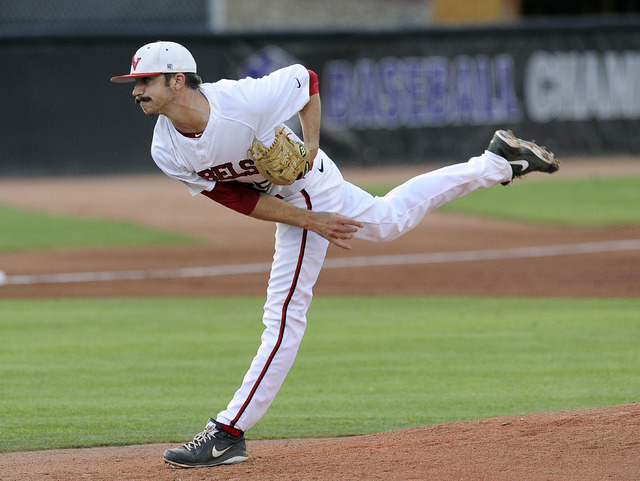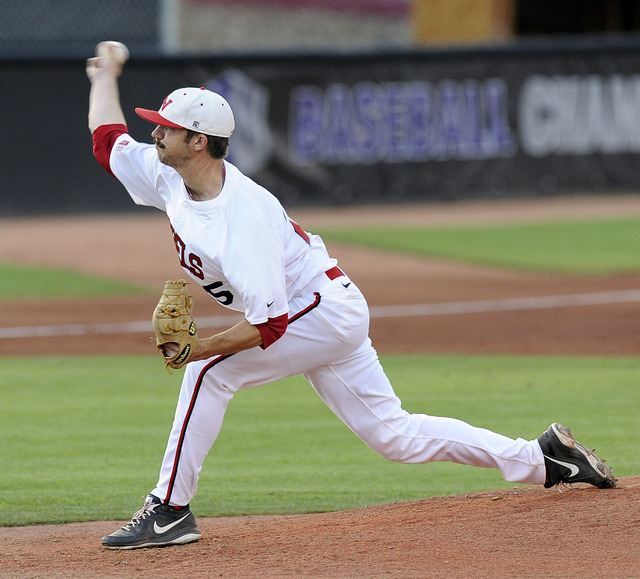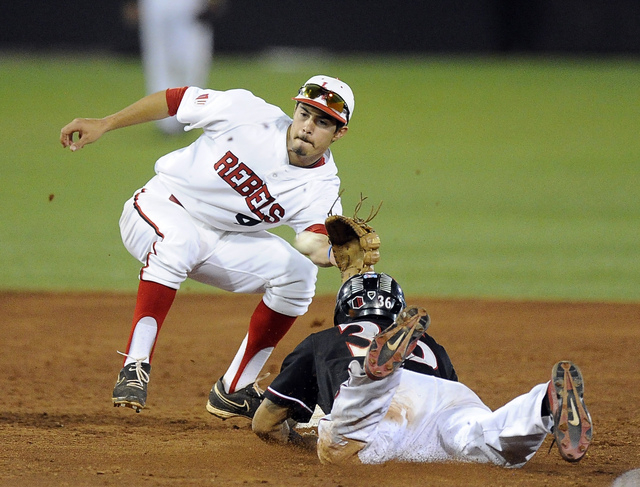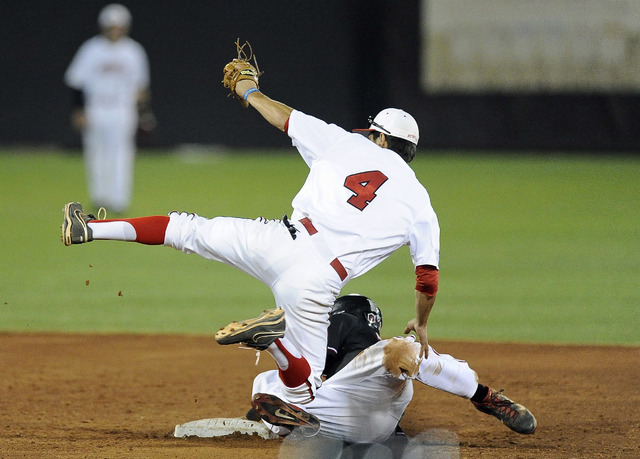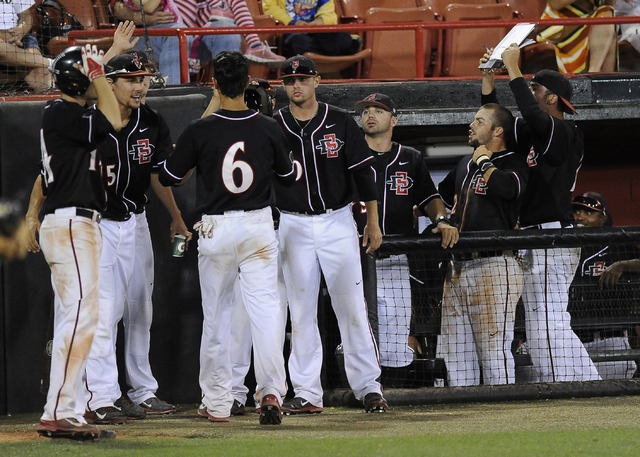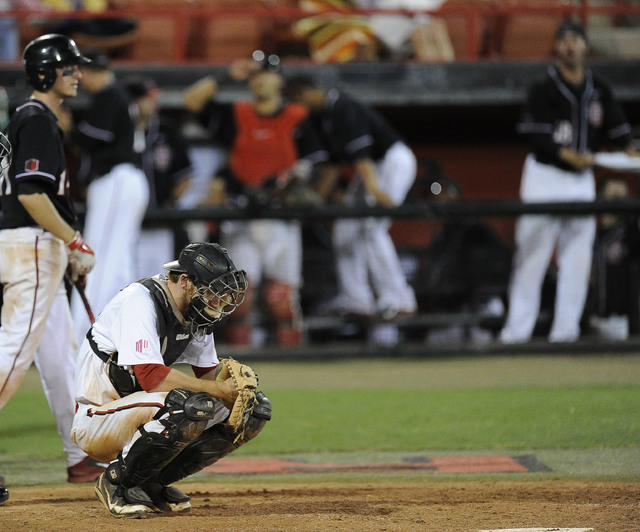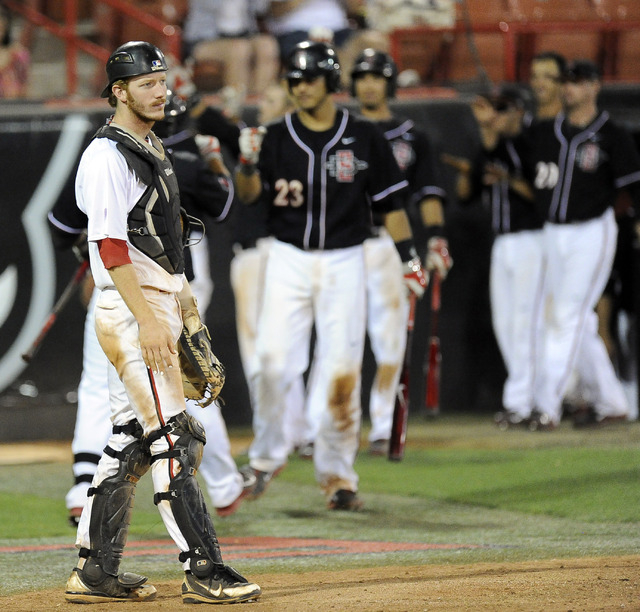 The hole was too deep this time, giving UNLV nearly no chance of engineering a miracle rally for the second night in a row.
San Diego State jumped on the Rebels by scoring four runs in the fourth inning and two more in the sixth to take the drama out and force another game.
After the Aztecs crushed the Rebels 9-1 on Saturday, the teams will meet again at 1 p.m. today at Wilson Stadium to decide which team will be the Mountain West tournament champion and receive the conference's automatic bid to an NCAA regional.
"We don't want to watch them dog-pile on our field," UNLV first baseman Patrick Armstrong said. "So for our seniors — me, (Craig) Shul and Matt (McCallister) — we want to win our last game here. We want to have good memories. The biggest key is flushing" this loss.
Even if top-seeded UNLV (35-22) loses again today, they should receive a bid Monday to a regional. The Rebels are ranked 26th in the Ratings Percentage Index.
Third-seeded San Diego State (41-19) is more on the bubble with an RPI that ranks 44th, but reaching the 40-victory mark should impress the selection committee.
Both teams hope to take the matter out of human hands and get the job done on the field today.
Neither side announced who would start, saying those decisions hadn't been made. Expect both teams to go in prepared to use several pitchers, and UNLV coach Tim Chambers didn't rule out using John Richy, who started Thursday, for an inning or two.
"We've got arms left to throw," Chambers said. "We'll mix it up a little bit."
The Rebels hoped to wrap up the tournament title Saturday, having put themselves in position of needing to win just one game after coming back from three runs down in the eighth inning the previous night to beat the Aztecs 5-4.
That was an emotional victory, and Armstrong said coming down off it "probably had something to do" with the loss Saturday.
"It's a game where you've got to have a short memory," he said. "Maybe we didn't have a short enough one, but we've got to forget about it and get back after it (today)."
San Diego State could have been demoralized by giving away what seemed to be a sure victory, but the Aztecs beat UNR 3-2 in 10 innings Saturday afternoon and then took it to the Rebels at night.
"They certainly outplayed us and out-energied and acted like they want it a little more than we did," Chambers said. "The tournament is still going on. We'll show up (today)."
UNLV right-hander Kenny Oakley (4-7) took the loss, giving up seven hits and seven runs — six earned — in five innings.
"I felt like there were a few times I was thinking a little too much about mechanics," Oakley said. "I was trying too hard to make sure I was perfect instead of just throwing my game, but I don't want to make any excuses. I didn't throw my best game, but they came out and they played well and they punished the mistakes I made."
He had particular trouble getting the third out, with San Diego State scoring six runs with two outs.
"It doesn't hurt to give up a two-out hit," Oakley said. "But when I've been pitching as long as I have, I can't afford to be walking as many people as I did, or hitting as many people as I did with two outs because those come back and hurt you."
Oakley issued two walks and hit a batter with two outs in the fourth and fifth innings, and all three scored.
If either pitcher was going to struggle, it didn't figure to be Oakley, who entered the game with a 2.81 ERA. Aztecs left-hander Brett Seeburger went into the game with a 3-0 record but a 6.31 ERA. He also was making only his third start of the season and first since March 4 against the University of San Diego.
But it was Seeburger who was tough to hit, looking like the one with a sub-3.00 ERA. He went 8 1/3 innings, giving up seven hits and one run while striking out six batters.
"He did a good job of keeping us off balance, and we didn't make adjustments," Armstrong said. "It killed us."
San Diego State reached the final by eliminating fourth-seeded UNR when Seby Zavala singled in Ty France with one out in the 10th to win the game for the Aztecs.
Zavala went 3-for-5 with three RBIs, and a night after blowing a save against UNLV, Michael Cederoth (6-2) picked up the victory. He allowed two hits and no runs in 2 1/3 innings. That backed a strong performance from starter Marcus Reyes, who gave up seven hits and two runs in 7 2/3 innings.
Bryce Barger went 3-for-5 with two RBIs for UNR (31-27).
Contact reporter Mark Anderson at manderson@reviewjournal.com or 702-387-2914. Follow him on Twitter: @markanderson65.