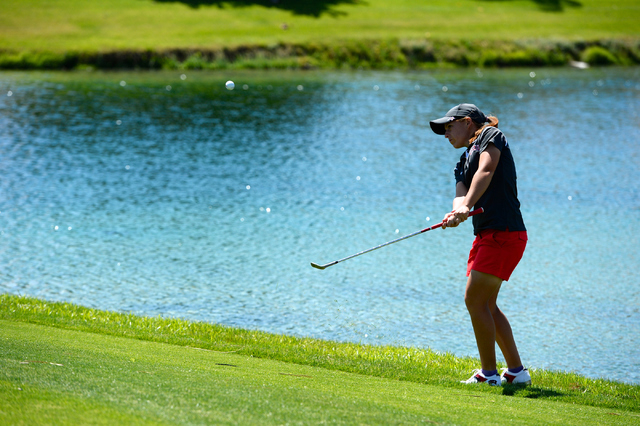 Coming off a season in which she sank her first hole-in-one at the NCAA Championship, UNLV senior Dana Finkelstein has helped the nationally ranked Rebels ace their fall schedule so far.
Finkelstein, who earned second-team All-American honors and won her second straight Mountain West Golfer of the Year award last season, notched her third career victory in September with a 9-under 210 (68-72-70) at the Branch Law Firm/Dick McGuire Invitational in Albuquerque, N.M.
She followed that up Oct. 14 by placing second, with a 1-under 215 (67-76-72), to help lead UNLV — ranked 14th in the country by Golfstat.com — to its first regular-season team title in four years at the Betsy Rawls Invitational in Austin, Texas.
"This is the best start we've had since I've been here," Finkelstein said. "It's just really exciting to finally get a win and not just second."
The Rebels, who were runners-up at their first two tournaments this season, ended the final round tied with Tulane at 31-over 895 (284-314-297), but won the title by a stroke on a scorecard playoff. Sophomore Vivian Hsaun Chen, the fifth golfer in UNLV's lineup, fired an even-par 72 in the third round to lift the Rebels to victory.
"We were just over the moon. That was the most fun we've had on a plane ride coming back here in a long time," fifth-year coach Amy Bush-Herzer said. "We have a really good squad this year. On any given day, any student-athlete can be in the lineup. It's really fun, as coaches, to be able to have that kind of depth."
In addition to Finkelstein, ranked the nation's No. 7 golfer by Golfweek, the Rebels have been bolstered this season by a pair of promising freshmen in Harley Dubsky and Mackenzie Raim.
Dubsky, ranked No. 51 in the country, finished tied for sixth in Texas with a 5-over 221 (69-76-76) and is second on the squad in scoring with a 73.11 average. One of the biggest hitters on the team, the Valparaiso, Ind., native's average drive is 265 yards.
"Harley's ball-striking abilities are a huge part of her success," Bush-Herzer said. "She's quite long off the tee. She puts herself in much different areas of the golf course than some of the other girls on the team."
Raim, a Palm Desert, Calif., native, is averaging 76 through her first nine college rounds.
"She is a very intense player," Bush-Herzer said. "She works hard on and off the course. She'll be a great leader for this program in the future."
Chen, a sophomore from Taiwan, finished the Texas tourney par-birdie-par to put UNLV over the top.
"Her short game is amazing," Bush-Herzer said. "She can make ups-and-downs and putts from all over the green."
Bush-Herzer and Finkelstein also credit first-year assistant coach Ryan Potter for the team's success. Potter spent the past four seasons as an assistant for the Ohio State men's golf team, which he helped to a sixth-place finish in the 2011 NCAA Championship.
"He knows how to take a program to an elite level," Bush-Herzer said.
The first Rebel to twice earn MW Golfer of the Year honors, Finkelstein posted the lowest scoring average in program history last season at 72.10 and entered her senior year with the third-lowest career scoring average at 73.84. The aspiring pro golfer from Chandler, Ariz., has a 71.33 average this season.
"Dana continues to improve every day. She's got a lot of talent and is a great team leader," Bush-Herzer said. "Dana's a hard worker who puts a lot of time into her golf game and she's seeing what her hard work is getting her.
"She's working on more of the mental side of the game and getting herself prepared for the next step to go and play pro golf next year."
Finkelstein said confidence is a big part of the mental side of the game.
"You've got to just believe in yourself," she said. "Trust is a huge thing. If you think you can pull off a shot, you'll be able to."
She believes she can make the LPGA Tour next year through qualifying school in September.
"I like my chances if I keep playing like I have been playing," she said. "Girls I've played with have made it through Q-school. If I play like I normally do, I should be able to make it."
Before she takes aim at the LGPA Tour, Finkelstein hopes to lead the Rebels to the NCAA Championship.
"If we keep playing like we're playing, our chances to get to nationals are really good," she said.
UNLV will wrap up its fall slate by hosting the Las Vegas Collegiate Showdown from Sunday to Tuesday at Boulder Creek Golf Club. The event is free and open to the public.
Contact reporter Todd Dewey at tdewey@reviewjournal.com or 702-383-0354. Follow him on Twitter: @tdewey33.