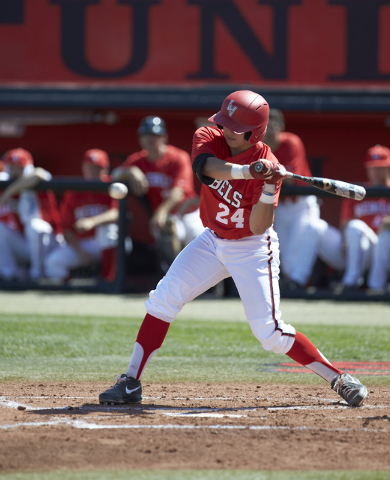 CORVALLIS, Ore. — The opportunities were few at first, chances to pinch hit here and there, occasional starts thrown into the mix.
As A.J. Hernandez delivered in those limited opportunities, though, his responsibilities increased until he became a full-time starter.
Now, as second-seeded UNLV (35-23) opens NCAA baseball regional play at 2 p.m. today against No. 3 UC Irvine (35-22), it's difficult to imagine Hernandez not being in the lineup. He not only has become a regular but also has emerged as one of the team's top producers, earning Mountain West player of the week honors at the end of the regular season.
"I like A.J. a bunch," coach Tim Chambers said. "I think he's going to be a really good player for us next year."
Hernandez, a junior infielder/designated hitter who went to Cimarron-Memorial High School and Western Nevada College, is playing his best baseball entering the regional.
In the final four games of the regular season, he batted .462 with nine RBIs. Then, in the conference tournament, he went 4-for-10 with two RBIs in the first three games before going 0-for-4 in the championship game.
With the production has come the challenge of facing different types of pitches.
Opposing pitchers fed him fastballs earlier in the season, but, particularly in the MW tournament, they came after him with more breaking pitches.
"I had to make an adjustment to their adjustments," said Hernandez, who is hitting .311 in 31 games, including 24 starts.
The fact he did so successfully is a good sign going forward, and his mental approach has been positive all season.
Hernandez prepared himself as if he was going to start every game. That approach especially helped him early in the season as a pinch hitter, when he hit a double at Tennessee and a triple at Creighton.
His teammates noticed, and that encouragement helped Hernandez build on those accomplishments.
"I won't admit it a lot, but I can definitely hear what people are saying in the dugout," Hernandez said. "So when you're in a big spot, and they're cheering you on and they're getting really loud and hyped up … it makes me feel tremendous. I feel like I can get the job done and do anything."
His preparation impressed the coaches, who took similar approaches with how they groomed other players, such as first baseman Patrick Armstrong. He also was brought along slowly last season before becoming an everyday starter, and this season he was named to the all-conference first team.
"Everybody's going to get a turn," Chambers said. "If you're going to stay, do something."
Whether Hernandez develops into an all-conference player is uncertain, but he at least has shown the potential.
He still has room to improve, such as his speed and physical conditioning. The lack of speed is why Hernandez hits near the bottom of the order.
But no one can doubt the positive impact he has made on his team during the stretch drive.
"He killed it the last 13 games of the year, just killed it," Chambers said.
■ NOTES — UNLV junior pitcher Erick Fedde was named to the Louisville Slugger All-America second team, selected by Collegiate Baseball. He went 8-2 with a 1.76 ERA, but his season ended May 10 because of an elbow injury and he will undergo Tommy John surgery Tuesday in Los Angeles. … UC Irvine has lost six in a row and eight of nine. The Anteaters ended the regular season getting swept by Cal State Fullerton and Long Beach State. … National No. 1 seed Oregon State (42-12) plays region No. 4 North Dakota State (25-24) at 8 p.m. today in the double-elimination tournament. The winners of today's games play at 8 p.m. Saturday, and the losers meet at 2.
Contact reporter Mark Anderson at manderson@reviewjournal.com or 702-387-2914. Follow him on Twitter: @markanderson65.