Not all wet: Kaui, women's golf team target MW crown
April 17, 2016 - 10:03 pm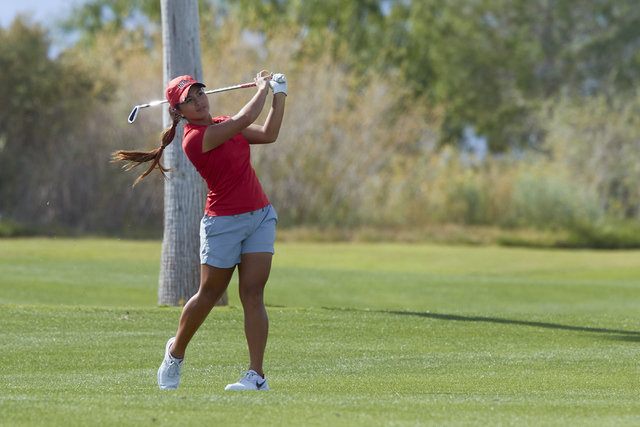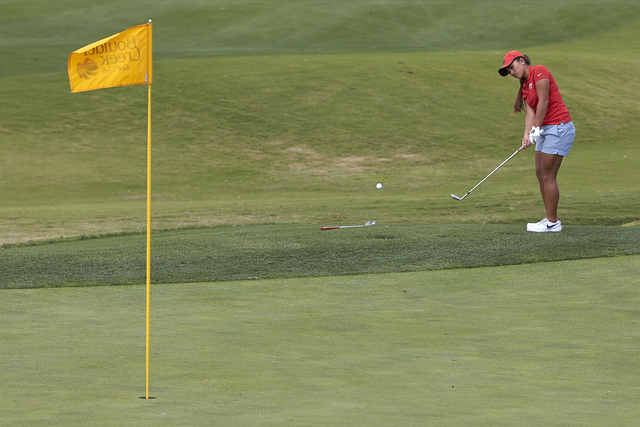 Never again. Those two words have served as a rallying cry this season for the UNLV women's golf team, which vowed last year to never again allow another Mountain West squad to jump into Poppie's Pond to celebrate winning the conference championship.
Plunging into Poppie's Pond after winning the LPGA Tour's first major at the ANA Inspiration, formerly the Kraft Nabisco, has long been a tradition on the Dinah Shore Tournament Course at Mission Hills Country Club in Rancho Mirage, Calif. Likewise, each winner of the Mountain West Women's Golf Championship has taken the celebratory leap in the three years the event has taken place there.
The Rebels were the first MW champion to jump into Poppie's Pond in 2013, but New Mexico claimed the conference crown in 2014 and San Diego State won it last year, when UNLV finished fourth.
The four-time MW champion Rebels, ranked 17th in the country by GolfStat, lead the league with a team stroke average of 291.40 entering this year's 54-hole conference tourney, slated for today through Wednesday at Mission Hills.
The Rebels' chief challengers are the defending champion Aztecs, ranked 22nd in the nation and led by senior Emma Henrikson, the country's top-ranked player.
"It's anybody's ballgame," UNLV coach Amy Bush-Herzer said. "I really do like our chances. We're putting it all together at the right time."
The Rebels are led by freshman Kaylee Benton, ranked No. 30 in the nation and second in the MW with a stroke average of 72.43.
UNLV also features freshman Elizabeth Prior (73.37), sophomores Mackenzie Raim (73.30) and Harley Dubsky (73.88) and junior transfer Alexandra Kaui (74.10), a Green Valley High School graduate.
ALEXANDRA THE GREAT
Kaui spent her first two seasons at Oklahoma, where she earned Big 12 Freshman of the Year honors and led the 2014 NCAA Championship after 36 holes before settling for 16th place.
Kaui said her coaches at Oklahoma blamed her third-round meltdown at the NCAAs on her swing and asked her to change it.
"My coaches said, 'You could've won the national championship as a freshman if your swing wasn't that way,' " she said. "I went through a really bad slump and swing change last year. I had to make a decision to stay with the Sooners or give myself a better chance to be able to turn pro when I leave college."
She chose the latter and returned home to play for the Rebels. Two years after contending for the individual national title, Kaui said she's finally regained her top form. She's had four of her five best finishes this season in the past four tournaments.
"It was definitely a very frustrating process. I'm just glad I was able to get through it and fix my swing to where it's very functionable," she said. "Now I have a lot of confidence for the postseason. I feel really good about my game."
A three-time state champion at Green Valley who competed in the 2013 U.S. Women's Open as a 17-year-old, Kaui also likes UNLV's chances to jump into Poppie's Pond.
"I have a really good feeling we're going to take this tournament," she said. "Not only because we're ranked in the top 20 but I know these girls are very motivated."
MEN'S GOLFERS GUN FOR CONFERENCE CROWN
Sophomores John Oda (71.78) and Shintaro Ban (72.50) will lead No. 30 UNLV into the MW Men's Golf Championship from Friday through Sunday in Tucson, Ariz.
The Rebels will be tested by No. 22 San Diego State and No. 40 New Mexico.
Ban was named the Outstanding Rebel of the Week by the school after winning the Robert Kepler Intercollegiate at Ohio State with a birdie on the fourth playoff hole. Ban fired a 2-over 144 (70-74) to win the event shortened by inclement weather and help UNLV capture its third tournament of the season.
The Rebels also feature seniors AJ McInerney (73.24) and Zane Thomas (72.82) and freshman Harry Hall (72.79).
WOMEN'S TENNIS TO CLOSE DREAM SEASON
The No. 53-ranked UNLV women's tennis team will wrap up its best regular season ever at 10 a.m. Saturday when it hosts San Diego State at the Fertitta Tennis Complex. The Rebels (20-1, 4-1 MW) won their first 19 matches this season before losing 4-3 at then-No. 39 Fresno State on April 8.
Contact reporter Todd Dewey at tdewey@reviewjournal.com or 702-383-0354. Follow him on Twitter: @tdewey33
SCHEDULE
Baseball
at Arizona State, Tempe, Ariz., 6:30 p.m. Tuesday; at Cal State Fullerton, Fullerton, Calif., 7 p.m. Friday and Saturday, 1 p.m. Sunday
Men's Golf
At Mountain West Championship, Tucson, Ariz., Friday-Sunday
Women's Golf
At Mountain West Championship, Rancho Mirage, Calif., today-Wednesday
Softball
at New Mexico, Albuquerque, N.M., 5 p.m. Friday, noon Saturday, 11 a.m. Sunday
Men's Tennis
vs. San Diego State, Fertitta Tennis Complex, 1 p.m. Saturday; vs. Southern Utah, Fertitta Tennis Complex, 4 p.m. Saturday
Women's Tennis
vs. San Diego State, Fertitta Tennis Complex, 10 a.m. Saturday
Women's Track and Field
at Bulldog Invitational, Fresno, Calif., Saturday