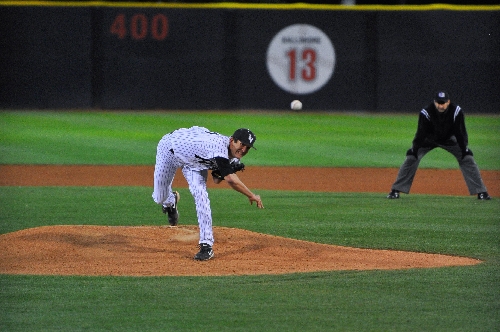 If it's true that good pitching wins championships, the UNLV baseball team could be looking at a big season.
Rebels coach Tim Chambers watched helplessly last year as his depleted pitching staff wore down, and he was determined to ensure the problem would not repeat itself this season. He brought in several big arms, and the results have been impressive.
"We knew before the season started last year that we were going to be short-handed," Chambers said. "By the end of the year, we had just 24 active players, so pitching was the first thing we went after in our new recruiting class."
The Rebels (7-6) managed only one win in a three-game home series against UNR last weekend, but Chambers could not fault his pitchers. And following a 14-3 win over Southern Utah on Tuesday night, UNLV leads the Mountain West Conference with a 3.24 ERA.
"Those numbers might be a little distorted," Chambers said, noting that New Mexico and Texas Christian have played particularly tough schedules. "But I'm happy. I didn't think there was any way we were going to be where we're at right now."
No one is happier about the improvement than Chambers' returning pitchers, who finally are getting adequate rest between appearances.
"We're very deep," said sophomore reliever Zack Hartman, an Arbor View High graduate. "I think it's going to come down to our pitching staff this year, and we're very good."
Hartman, who has two saves in three appearances, finished off the Wolf Pack on Friday by recording the last five outs to preserve UNLV's 5-4 win. He said the depth of the staff is bound to help him as the Rebels battle into conference play.
"If we keep going like this, our arms will be healthy later," Hartman said.
Senior right-hander Joe Robinson, a Green Valley High grad, shared that sentiment.
"Depth is going to make a huge difference as we get into those later months," Robinson said. "A lot of teams start out hot and fizzle at the end. I think we have enough guys to hold up."
Robinson, who picked up the win Friday, said the Rebels have all the tools necessary to compete for a conference title.
"We have hitters who have proven themselves," said Robinson, who is 1-1 with a 3.06 ERA. "We also have good pitching and defense. When all three of those come together, we're going to be a dangerous team."
The three haven't come together yet. Though UNLV's batting average is second best in the MWC at .272, Chambers hasn't gotten the timely hitting he needs. Four of the Rebels' losses have been by one run.
"It seems like everything we hit hard is right at them," Chambers said. "We've had bad luck on where we've hit the ball, but those will start to fall."
And when they begin falling, Chambers will have many reasons to believe his team will soar in the standings.
Among those reasons is Rancho High grad Zak Qualls, who leads the Rebels with two wins in three starts. The freshman has compiled a 1.42 ERA while striking out 14.
Erick Fedde, a Las Vegas High grad, is another talented newcomer. The 6-foot-4-inch right-hander is 1-1 with a 3.20 ERA. He tossed eight innings on Sunday against UNR but suffered a 1-0 loss.
"We expected (the new pitchers) to be nervous," Chambers said. "But they're competitors. They come right at you, and they're not intimidated."
Buddy Borden is the team's top returner. The sophomore from Arbor View is 0-1 with a 3.00 ERA and a team-leading 16 strikeouts.
"I feel good about where we're at," Chambers said. "Our offense has had some tough luck, but I think we're going to turn it around in the next couple of weeks."
The Rebels, who are in the middle of a 13-game homestand, host Washington State this weekend in a three-game series. The first game is at 6:05 p.m. Friday at Wilson Stadium.
Jeff Wollard is a freelance reporter for the Las Vegas Review-Journal. He can be reached at jwolly@aol.com.