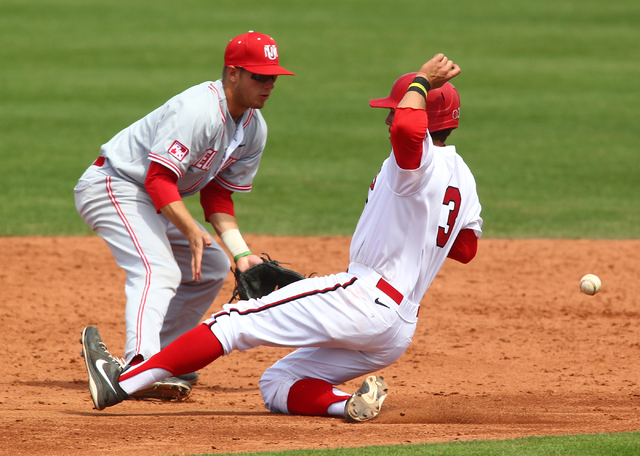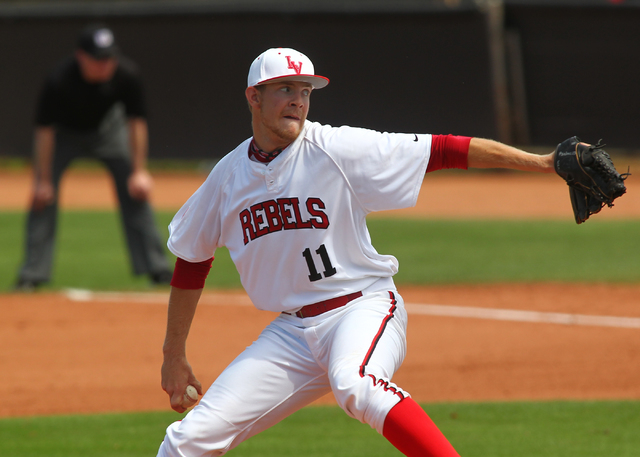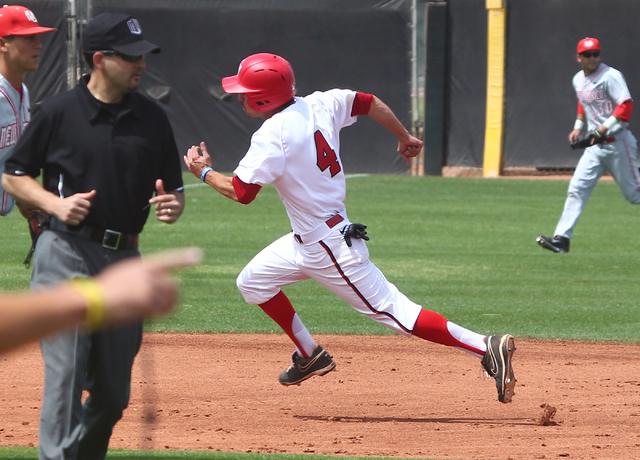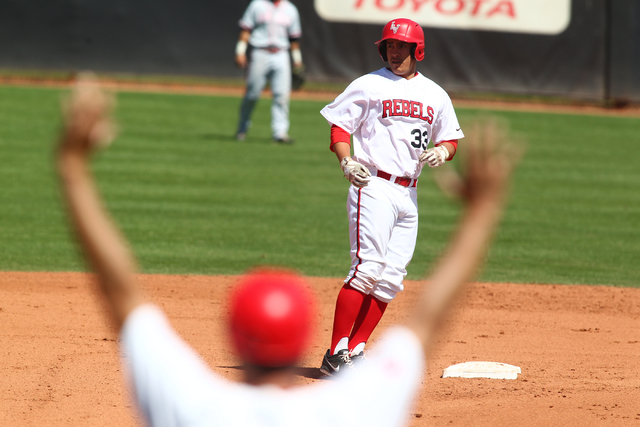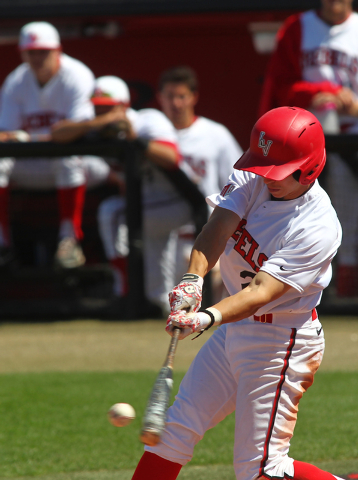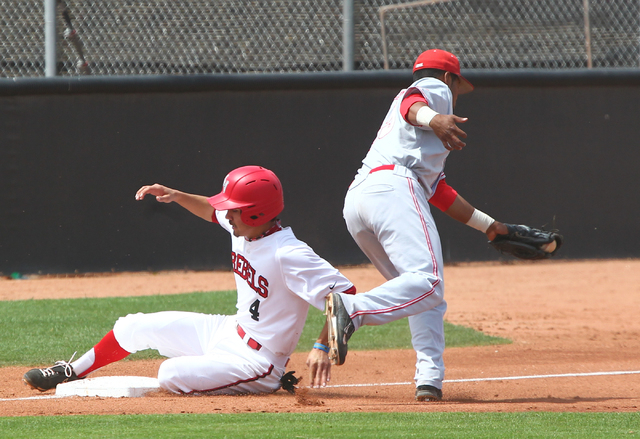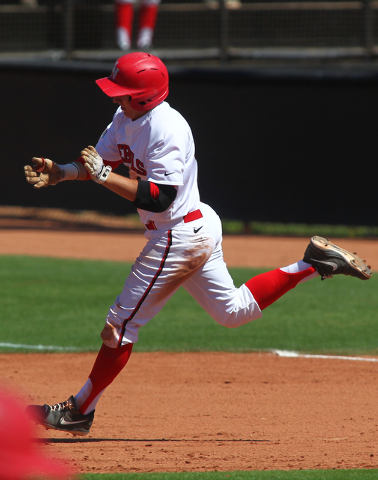 Almost lost in the three-game sweep at Air Force the week before, UNLV outhit the Falcons 43-40 despite failing to register a victory.
The Rebels hit the baseball so well that coach Tim Chambers didn't get on his team for losing three in a row to the Mountain West's last-place team.
They needed to up their game, not overhaul it.
UNLV did exactly that against New Mexico, putting together 55 hits over three games to outscore the Lobos 39-10.
The Rebels had a season-high 21 hits Sunday in their 14-2 victory at Wilson Stadium to sweep the series and tighten the conference race.
"If we don't get swept at Air Force, it probably doesn't light a fire under our rear ends," Chambers said. "Who knows what would've happened this weekend? A little humble pie is good once in a while. You always want to try to peak at the right time. That's really, really important, and without a doubt, we played our best baseball of the season this weekend."
UNLV (28-15, 16-8 MW) moved within one game in the loss column behind first-place New Mexico (31-14-1, 14-7). Finishing first or second is important because the top two seeds receive first-round byes in the conference tournament next month, allowing those teams to save their ace pitchers.
The tournament winner receives an automatic bid to an NCAA regional, and with a Ratings Percentage Index ranking of 26th, the Rebels are in excellent shape for at least an at-large berth.
That conference tournament also will be at Wilson Stadium, a place where UNLV is 18-2 this season.
Now, though, the Rebels take their game on the road for seven games, beginning Tuesday at UC Riverside. They also visit James Madison for a game, Clemson for two and San Diego State for three more.
UNLV needs to remember its bats and build on what was accomplished against New Mexico.
The Rebels not only hit, but hit for power. Morgan Stotts' grand slam in the sixth inning Sunday was the Rebels' eighth home run of the series. They had just 16 homers for the season before the series.
UNLV also pounded out 10 doubles against the Lobos, and batted .426 as a team.
"The offense is finally starting to click," said Stotts, who went 7-for-14 with two homers and six RBIs in the series. "One through nine, everyone's swinging the bat well, and it's a good time to have it rolling."
All that hitting made it easy to overlook the continued strong starting pitching, including right-hander Bryan Bonnell's performance in the series finale. He gave up just four hits and a run in 7 2/3 innings, leaving the game to a standing ovation.
The Rebels' pitching staff held New Mexico to a .230 average for the series, a Lobos team that came to Las Vegas batting .317.
This was New Mexico's first sweep by a conference opponent since 2011, and that also was to UNLV.
Now that the Rebels have done it to New Mexico again, maybe the Lobos can learn the lesson from how UNLV bounced back after getting swept at Air Force.
■ CHAMBERS NIXES OFFER — Chambers, who has a year left on his contract, said he turned down a five-year extension from athletic director Tina Kunzer-Murphy because it didn't include an increase on his $110,000 salary.
"I respectfully declined," Chambers said when asked about the deal. "I respect Tina tremendously and I understand the budget, but I felt I should be rewarded with a favorable contract. I'm going to ride out the one-year deal."
Contact reporter Mark Anderson at manderson@reviewjournal.com or 702-387-2914. Follow him on Twitter @markanderson65.