February 21, 2011 - 2:01 am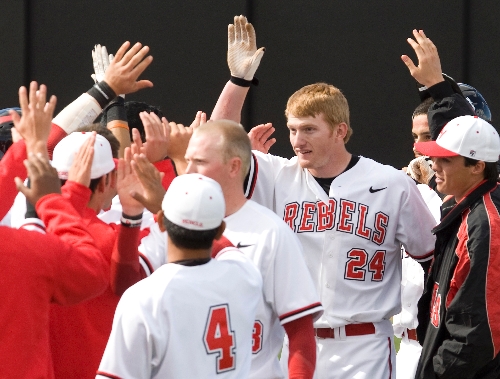 Tyler Iodence missed the entire 2009 season at the College of Southern Nevada because of back surgery and threw only 15 innings for the Coyotes last year.
But if Iodence continues to pitch the way he did Sunday against Maine, he will be a big part of UNLV's rotation.
The sophomore right-hander allowed three hits and two runs over eight innings to help give the Rebels an 8-2 victory and a sweep of the four-game season-opening series at Wilson Stadium.
"The guys are having fun, which is important," UNLV coach Tim Chambers said. "They believe that they have a chance to be good."
Iodence underwent back surgery after his senior season at Faith Lutheran High School and more than a year of rehabilitation.
Iodence said the intense pain he experienced "shooting out of my legs" made him seriously doubt his physical therapists' assurances that he'd pitch again.
"It was a pretty rough time in my life," Iodence said. "So to be able to come off that and be able to pitch again is pretty incredible."
He returned to the mound last season at CSN. Iodence logged just 12 appearances but made an important contribution out of the bullpen down the stretch, finishing with a 3.60 ERA and 24 strikeouts.
Iodence got off to a shaky start Sunday, allowing a single and a walk to the first two batters. He gave up a run in the first but didn't permit the Black Bears to do much else in a crisp 88-pitch outing.
"It gets the nerves out because it's my first college start," Iodence said. "There's plenty of room for improvement from here."
It was quite a contrast to the previous day when UNLV (4-0) outslugged Maine (0-4) in 15-14 and 16-11 victories.
Iodence's performance could be a big boost to the Rebels' staff and improve his chances of securing a spot in what will soon become a three-man rotation.
"He's making a push," Chambers said.
UNLV supported Iodence by taking control in the bottom of the first on Brandon Bayardi's grand slam to left field, his second home run of the season.
"Momentum swing," Bayardi said. "It got us all going."
The Rebels scored twice in both the fourth and sixth to extend the lead en route to a fairly routine victory.
"It seemed like all weekend every time they scored, we came back and scored," Chambers said. "That's kind of the making of what could be a good team —- a team that doesn't give up when they're down.
"There's not a lot of panic. A lot of that has to do with their age. We have a lot of juniors and seniors that understand their roles."
Contact reporter Mark Anderson at manderson@reviewjournal.com or 702-387-2914.
UNLV — 8 MAINE — 2
KEY: Tyler Iodence allowed three hits and two runs over eight innings.
NEXT: UNLV vs. Central Michigan, 6:05 p.m. Friday, Wilson Stadium