Stellar Aztecs pitching sends Rebels to another baseball loss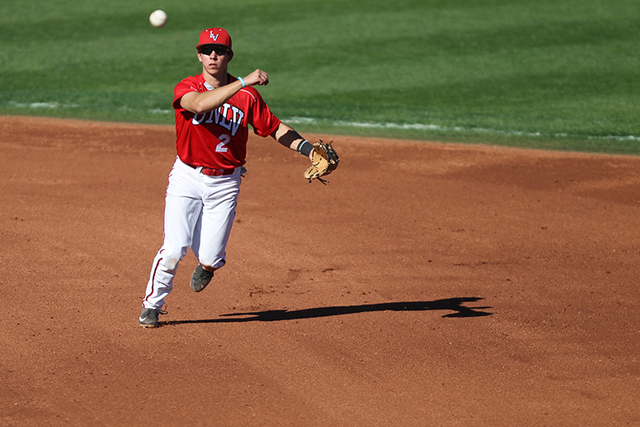 Cody Thompson gave up no earned runs while working into the ninth inning to outduel Dean Kremer and lead San Diego State to a 4-2 win over UNLV in a Mountain West baseball game Saturday in San Diego.
Thompson (1-5) was charged with two unearned runs on five hits and no walks and struck out five in 8 1/3 innings.
The junior right-hander exited with runners on the corners and one out in the ninth. Reliever Jacob Erickson then notched a strikeout, on which Justin Jones was caught stealing second to end the game.
Jones had an RBI single in the ninth, and A.J. VanMeetren had a two-out RBI single in the fourth for the Rebels (12-19, 5-10), who lost two of three in the series against the Aztecs (9-20, 4-8).
San Diego State took a lead it didn't relinquish with a three-run fourth, with one run scoring on an error and another on a wild pitch.
Tyler Adkison had an RBI single in the fourth, and Hunter Stratton had a run-scoring single in the fifth for the Aztecs, who had a 7-5 edge in hits.
Kremer (1-4) gave up four runs, two earned, on seven hits and one walk and struck out one in eight innings.
Andrew Yazdanbakhsh, who went 2-for-4, was the lone UNLV player with multiple hits.