UNLV baseball optimism not dimmed by season full of close defeats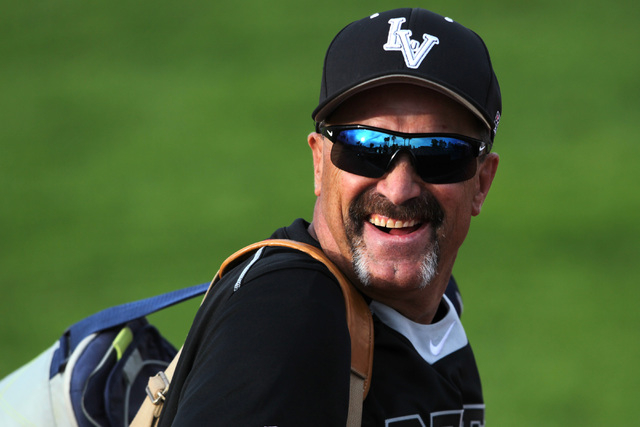 The baseball season was painful in the literal and figurative sense for UNLV coach Tim Chambers.
His team, beset by injuries and 12 one-run losses, underperformed while compiling a 25-31 record. Chambers missed most of the season, stuck at home following back surgery in March, but promised he would be back by the fall schedule.
Not only does Chambers plan to return, he believes the program will stage its own kind of comeback and return to more of the form that resulted in a total of 73 victories in the two prior seasons.
"The program's going up," he said.
Chambers has good reason for optimism, starting with all those close losses. The Rebels went 12-12 in one-run games, and in last week's Mountain West tournament in Reno, they lost 6-5 to Fresno State and 4-3 in 15 innings to Air Force. The margin between contending and finishing with a losing record was slim.
"That's a ton of one-run games," Chambers said. "For the young guys, that's pressure right there."
Playing so many close games doesn't mean those losses automatically will become wins in 2016, but Chambers thinks he has the pitching to get the job done.
Almost the entire staff is expected to return, including Kenny Oakley (4-5, 3.18 ERA), Blaze Bohall (6-3, 3.66), Ben Wright (1-2, 3.83) and D.J. Myers (2-4, 4.50). Oakley could go in the major league draft, as could Brayden Torres, who had five saves and a 1.71 ERA.
Two players who have signed for next season could greatly bolster the staff, provided they don't go pro after the draft, which is June 8 to 10.
Tevita Gerber of Cottonwood High School in Salt Lake City was 10-1 with a 0.97 ERA this season, with 112 strikeouts in 64 2/3 innings. Dean Kremer will have three seasons of eligibility after transferring from San Joaquin Delta College in Stockton, Calif. He went 13-1 with a 2.00 ERA, striking out 90 in 112 2/3 innings.
But it's not just the incoming pitchers who have Chambers excited. Another is middle infielder Kyle Isbel from Etiwanda High in Fontana, Calif., where he batted .387 with six home runs and 28 RBIs.
The class includes four locals who have outstanding resumes and the potential to be central figures next season.
"I think all 10 (signees) have a chance to contribute next year," Chambers said. "This is a really good class, it really is. It depends on which ones show up."
In other words, which ones don't go pro.
UNLV faces the challenge of replacing three outfielders and possibly a fourth if Joey Armstrong is drafted and leaves. Two of the outfielders — Dylan Ellis and Edgar Montes — hit over .300, though Ellis primarily was a designated hitter.
The Rebels' greatest challenge will be replacing catcher Erik VanMeetren, who was adept at handling the pitching staff and improved his other defensive skills over time. He hit .301 with a team-high five home runs to go with 28 RBIs.
VanMeetren's replacement might be Andrew Yazdanbakhsh, who showed promise in limited time, hitting .410. Incoming freshman Vince Taormina from Silverado High also could get a shot. He batted .440 with 34 RBIs this season.
UNLV again will face a demanding schedule. The Rebels open Feb. 19 with a three-game series at Texas, and they will play four-game home series against West Virginia and Ohio State and a three-game set at Cal State Fullerton.
Chambers learned the hard way two years ago when a 37-20 record didn't garner a regional bid because the team's strength of schedule ranked 184th, according to warrennolan.com. Last year's beefed-up schedule eventually ranked 43rd toughest, and the Rebels' 35-23 record earned them a No. 2 regional seed at Corvallis, Ore., where they went 1-2.
Rival UNR was left out of this year's NCAA field after going 41-15, but the Wolf Pack's strength of schedule was 192nd.
"The nonconference schedule is very, very important," Chambers said.
Now the Rebels want to quickly put this season behind them, and the future already has begun with work underway on the new $2.75 million, two-story clubhouse down the right-field line.
Chambers hopes that building serves as the imagery of better days to come, and noted the players' attitude remained strong even during a trying season.
"When (losses) start happening, people start pointing fingers and you get bickering going on," Chambers said. "We never had that."
Contact Mark Anderson at manderson@reviewjournal.com or 702-387-2914. Follow him on Twitter: @markanderson65.