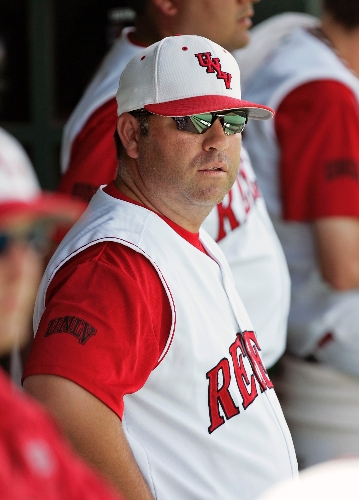 At the end of the past three UNLV baseball seasons, coach Buddy Gouldsmith was left hanging as he waited for a possible contract extension. Each time he got a one-year deal.
There will be no waiting game this year, because there will be no deal. Gouldsmith, nearing the end of his seventh season, has been fired.
UNLV athletic director Jim Livengood met Monday with Gouldsmith, and Livengood announced his verdict Tuesday before the Rebels' final home game of the season, an 11-8 loss to Cal State Northridge.
"It was an emotional day," said Gouldsmith, who called a team meeting at 11 a.m. to break the news.
Gouldsmith will remain with the team through the end of the season. UNLV opens a three-game series Thursday at San Diego State before next week's Mountain West Conference Tournament.
"I felt the decision needs to be made now instead of later," Livengood said. "The fewer things I say, the better it will be for the team and the players. Unfortunately, having been down this road a number of times, I want us to have a chance to play this season out.
"I'll talk about it more later, and I'll be pretty candid."
Livengood said a "national search" for a new coach will begin immediately, but several influential people are pushing for a local candidate, Tim Chambers of the College of Southern Nevada.
Chambers has built CSN into a junior-college power. But with his team in the midst of the postseason, Chambers said he did not want to comment on the UNLV situation.
A Rebels assistant for two years under former coach Jim Schlossnagle, Gouldsmith has spent nine years in the program, and he was one of the school's most successful coaches in his early years. He led UNLV to Mountain West titles and NCAA Regional appearances in 2004 and 2005.
But the Rebels (27-24, 11-10 MWC) are trying to stop a string of four consecutive losing seasons.
"Everybody looks at it and is going to measure your success in wins and losses, so I understand that," said Gouldsmith, who has a career record of 200-212.
Livengood was hired in December to replace Mike Hamrick.
"I think Jim has a vision. He has a vision for where the baseball program at UNLV needs to go. Obviously, I would think in his decision he didn't think that I or our staff was going to fulfill that vision," Gouldsmith said. "He certainly showed some respect for progress being made.
"Anytime there's a change in administration, certainly anybody in any coaching position wonders what your term will be because the people coming in aren't the ones who were responsible for hiring you."
Gouldsmith earned his 200th career victory Friday in the Rebels' 12-11 victory over Utah. He joined Fred Dallimore as the second coach in UNLV baseball history to reach the 200-win plateau.
Beyond wins and losses, Gouldsmith said he takes pride in his players' strong academic performances and the fact the program has been problem-free off the field.
"Where I'm not disappointed is when I began … under the constraints we had at the time, we needed to improve graduation rates," he said. "I would feel confident in telling you that 80 percent of our players graduate within a semester of when they exhaust their eligibility. That means a lot to me."
Gouldsmith said he also believes in the talent level in the program, pointing to outfielder Brandon Bayardi, who hit his eighth home run of the season Tuesday, as an example.
"I think he's the best freshman in the league, and there's something to be said for that," Gouldsmith said.
Bayardi is from Phoenix, and one complaint often heard about Gouldsmith is that he has not recruited enough Las Vegas talent.
"That hasn't been the case. Since the day I arrived here, we have recruited local players. We've signed local players," he said. "But quite honestly, UNLV has got some things they need to do if they want to compete for those kids."
The funding for the baseball program, Gouldsmith said, has declined considerably since 2005, leaving him fewer resources for recruiting and facilities in need of an upgrade.
"There are so many things that run through your mind," he said. "For me, it's all about the relationships created over the last seven years, and more importantly the relationships that you have currently with the guys who are on your team and wanting the best for them."
Contact sports reporter Matt Youmans at myoumans@reviewjournal.com or 702-387-2907.