UNLV pitcher Dean Kremer brings MLB history into home-opening series
February 26, 2016 - 1:16 am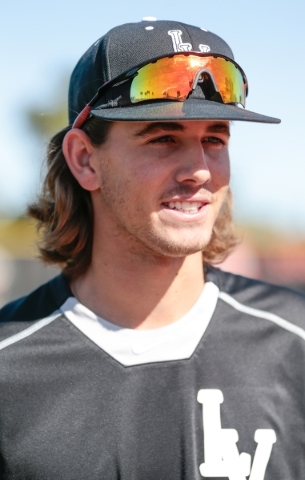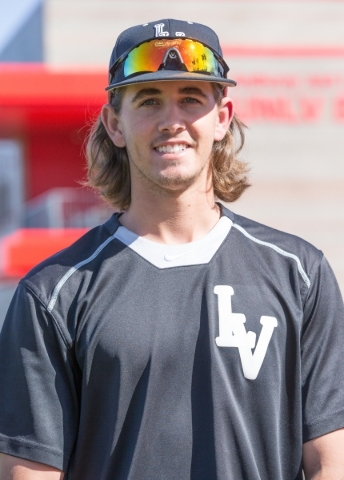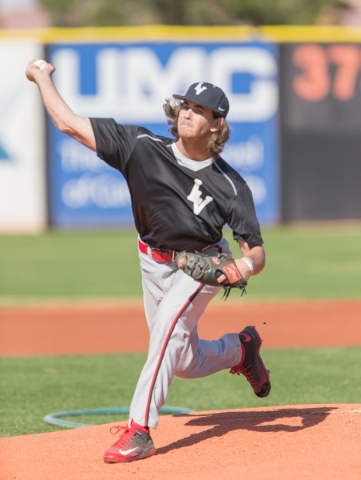 There has been a long line of Jewish baseball stars, from Hall of Famers Hank Greenberg and Sandy Koufax to All-Stars Ian Kinsler and Ryan Braun. But the distinction of being the first Israeli citizen ever selected in the Major League Baseball draft belongs to UNLV pitcher Dean Kremer.
"Anytime you can be the first to do something is pretty cool, especially representing my country," said Kremer, who was born and raised in Stockton, California, but has a dual American and Israeli citizenship because his parents are from Israel. "I was born here in the United States, but I go back and practically live (in Israel) for two months out of the year in the summer, so it's definitely home."
Kremer, a sophomore transfer from San Joaquin Delta College, was picked by the San Diego Padres in the 38th round of June's draft but was projected to go much higher had he not already committed to UNLV.
"I told them I wanted to come back to school and get more experience at this level," he said. "It's definitely different than junior college. You definitely see better hitters."
That didn't stop Kremer from making a nearly flawless debut for UNLV (1-2) in its season-opening 4-3, 12-inning victory over No. 23 Texas on Feb. 19 before a crowd of 5,305 at Austin's UFCU DischFalk Field. The 6-foot-3-inch right-hander allowed one hit and one walk in 5 2/3 scoreless innings of relief, allowing the Rebels to erase a 3-1 deficit and force extra innings.
"I've never thrown in front of that many people and definitely not people screaming at you the whole time," Kremer said. "But I liked it. It was kind of fun. It gave me confidence."
The outing also gave UNLV coach Stan Stolte the confidence to insert Kremer into the team's starting rotation for its three-game series against West Virginia. D.J. Myers will start today's 6:05 p.m. home opener against the Mountaineers (2-1) at Wilson Stadium. Kremer will start Saturday's 2:05 p.m. game, and Kenny Oakley will start Sunday's 1:05 p.m. series finale.
"Playing at Texas is never easy, but being behind 3-1 is not as pressure-filled as being ahead 3-1," Stolte said. "Sometimes it's easier to pitch in that situation, but even after we tied it 3-3, he responded very well in those two innings for us, too. He can handle the speed of the game. He's just kind of calm and loose, and nothing bothers him. He's got good stuff with good control. He's got a chance to pitch professionally one day."
Kremer, who went 13-1 with a 2.00 ERA last season for Delta College, already has established himself as the ace of Israel's national baseball team. After playing for the U.S. at the 2013 Maccabiah Games, aka the Jewish Olympics, he was invited to play for Israel and has proudly embraced the opportunity.
He helped the Israelis win the European Championships C Pool in 2014 to advance to the B Pool in 2015 and was named the tournament's Most Valuable Pitcher last summer in Vienna. He also hopes to play for Team Israel in a World Baseball Classic qualifier from Sept. 22 to 25 in Brooklyn, N.Y.
Kremer's father played college tennis at Pacific, but Kremer said his extended family in Israel doesn't know much about baseball, as it still pales in popularity there in comparison with soccer and other sports. Kremer, who speaks Hebrew at home with his family, said there isn't even a Hebrew word for baseball.
"Soccer is definitely the No. 1 sport," Kremer said. "Baseball is one of the more expensive sports, like golf. That could be a reason it hasn't caught on and it's not a fast-paced game for guys getting into it."
Kremer, whose great-uncle is American-Israeli billionaire businessman Haim Saban, hopes to help increase baseball's popularity in Israel.
"It's definitely improved over the years," he said. "A couple of buddies and I go there, and we try to develop it more and more every year.
"After I'm done with baseball, I can totally see myself living over there and trying to improve the atmosphere of baseball."
Kremer has made huge strides in the game himself. He wasn't recruited by anybody coming out of high school as a 6-foot, 140-pound outfielder who pitched a little but has quickly developed into a big-league pitching prospect after growing 2 inches, gaining 35 pounds and raising his velocity to the low-90s.
"I realized I couldn't hit, so they moved me to pitcher," he said jokingly.
* NOTE — To help celebrate the 50th year of UNLV baseball, former Rebels coaches Fred Dallimore and Rod Soesbe and former players Steve Moser, Eric Nielsen and T.J. White will throw out ceremonial first pitches at the home opener. Each alumnus will represent one of the five decades of Rebels baseball.
— Contact reporter Todd Dewey at tdewey@reviewjournal.com or 702-383-0354. Follow him on Twitter: @tdewey33