UNLV promotes Stan Stolte to head baseball coach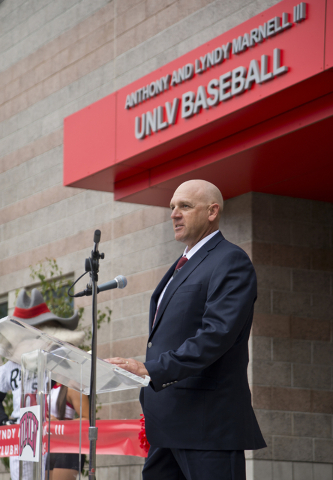 The UNLV baseball coaching search was over before it began.
Less than a week after the Rebels wrapped up their season under Stan Stolte — who became acting head coach Dec. 18 when Tim Chambers resigned following his arrest for driving under the influence — Stolte was hired as head coach.
UNLV, which gave Stolte a three-year contract with a $105,000 annual salary, didn't interview any other candidates.
"We didn't have a search," athletics director Tina Kunzer-Murphy said. "The season ended, and we made some determinations and decided that we had the right guy in place.
"We really like Stan and (associate head coach) Kevin Higgins. They've been with the program for a long time, they're well respected in the community and having continuity in our program is really important at this time as we move ahead."
Stolte, the sixth head coach in program history, guided the Rebels to a 24-32 record, 14-16 in the Mountain West.
Two years removed from winning the league's regular-season title and advancing to the NCAA Regionals, UNLV finished fourth in the conference before suffering two lopsided losses at the MW Tournament — 15-7 to Air Force on May 25 and 18-8 to San Diego State on May 26.
"This year was a tough year. Stan came in late in the game in December as the interim, and it's difficult being the interim," Kuzner-Murphy said. "None of us were pleased with a fourth-place finish and the outcome of the tournament.
"We hope to get back into contention for regionals, and we're really excited that Stan is going to lead the charge. Baseball in this community is very special, and our program needs to be very special, too."
Stolte was an assistant coach at UNR for 14 years before joining the UNLV staff in 2010 as an associate head coach who oversaw the pitching staff and the team's recruiting efforts.
To help UNLV rise again, Stolte said he plans to step up recruiting in Southern Nevada and Southern California, in large part by hiring an assistant to fill the role he vacated when he replaced Chambers.
"Recruiting is a must. We've got to get a guy for Southern California because coach Higgins and I are going to hit Las Vegas hard. We want the best Las Vegas kids to stay home," Stolte said. "We're just going to be relentless and get it going. We've got to keep developing kids and get better players every year.
"When we get fully staffed, I think we'll do a better job of developing kids than we did this year."
UNLV's recruiting should be bolstered by the $2.75 million Anthony and Lyndy Marnell III Baseball Clubhouse that was unveiled this season.
The Rebels opened the season with a win at then-No. 23 Texas before losing their next five to the Longhorns and West Virginia. They evened their record at 6-6 before a 20-3 defeat by Ohio State started a 3-11 slide. The low point was a three-game sweep at home by UNR.
The team finished near the bottom of the league in several key offensive, defensive and pitching categories, but featured two bright spots in sophomore left fielder Payton Squier and freshman third baseman Kyle Isbel. Squier led the team in batting with a .375 average, and Isbel hit .319 en route to becoming MW Freshman of the Year.
If they don't get drafted and signed by a big league team, juniors D.J. Myers and Dean Kremer should return next season to anchor the pitching staff.
Stolte said he is looking forward to his first full season as head coach.
"I'll incorporate my style in the fall. That's a crucial time," he said. "I couldn't really change things in the spring, when you only have three weeks going into the first game.
"I'm just excited. We really haven't slowed down since the season ended. I want to emphasize that nobody is going to be more relentless and work harder than our staff to do things right on and off the field. We're going to get this thing going."
NOTE — According to multiple sources, Chambers recently met with Kunzer-Murphy in an effort to reclaim his old job at UNLV. Kunzer-Murphy declined comment, but it's a moot point. Chambers' contract settlement contains a provision barring him from employment at UNLV for five years from the date of his Dec. 18 resignation.
Contact reporter Todd Dewey at tdewey@reviewjournal.com or 702-383-0354. Follow him on Twitter: @tdewey33
RELATED
Tim Chambers resigns as UNLV baseball coach after troubled leave