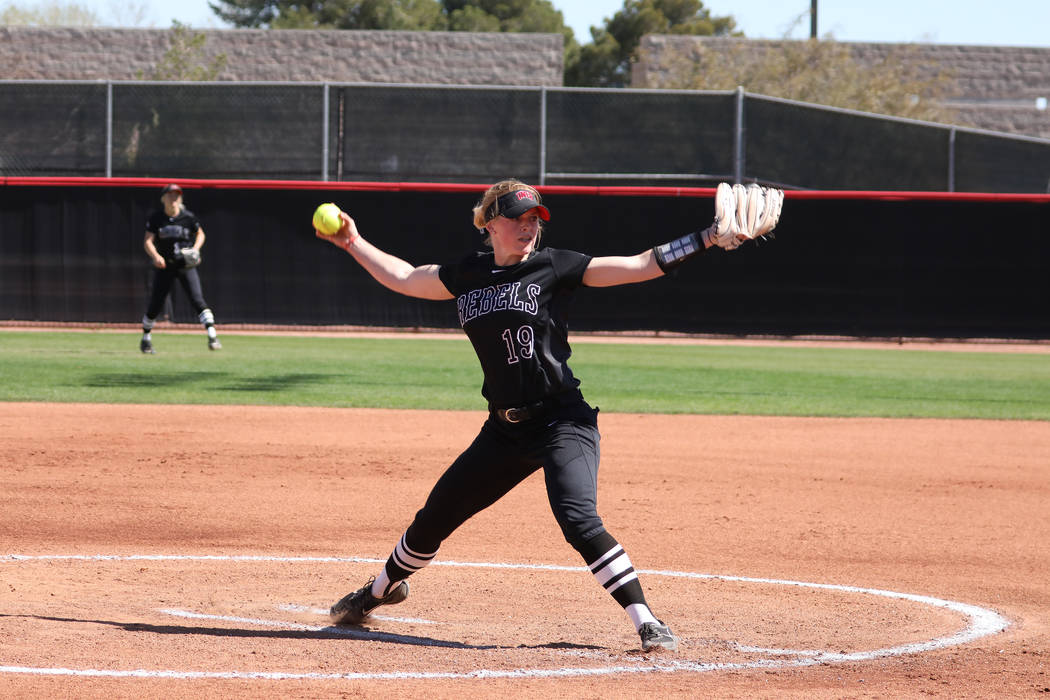 Morgan Ettinger pitched a one-hitter but was outdueled by San Jose State senior Katelyn Linford in UNLV's 1-0 loss in a Mountain West softball game Thursday at Eller Media Stadium.
The lone hit for the Spartans (36-15, 16-6) drove in the lone run. Cassidy Clark hit a one-out single to right in the sixth inning to score Mackenzie Drake, who drew a leadoff walk and was sacrificed to second.
Ettinger (12-17) walked three and struck out five as the Rebels (23-27, 6-16) lost their eighth straight.
Linford (23-7) blanked UNLV on seven hits and no walks and struck out five in seven innings as San Jose State won its ninth straight.
Janine Petmecky went 2-for-3. Neither team had an extra-base hit.
TRACK AND FIELD
At Logan, Utah, Stella Clemens moved up two spots to finish second in the heptathlon at the Mountain West Outdoor Championships.
Clemens placed first in the javelin with a throw of 131 feet, 2 inches and placed seventh in the 800-meter run in 2 minutes, 25.76 seconds to conclude the seven-event discipline.
Also for the Rebels, Nikki Regalado placed 17th in the 10,000-meter run in 38 minutes, 50.15 seconds.