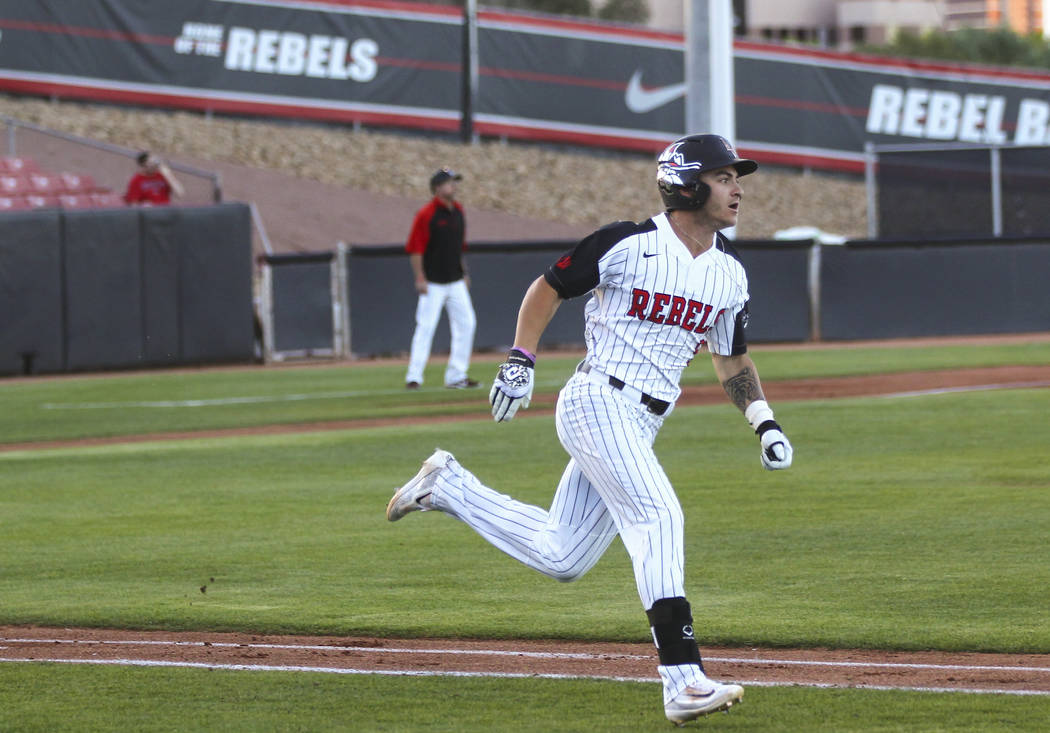 Bishop Gorman product Cole Krzmarzick scored the winning run on a two-out, full-count, bases-loaded walk to Kaleb Foster in the ninth inning of host UNR's 4-3 win over UNLV in a Mountain West baseball game Friday.
Krzmarzick, who finished 2-for-3, had an RBI double and scored in a two-run seventh by the Wolf Pack (16-31, 10-14), who overcame a 3-0 deficit.
Green Valley product Keaton Smith hit a leadoff double in the seventh to kick off UNR's rally.
In the ninth, Krzmarzick hit a leadoff single off Bryan Menendez (2-2). After a groundout and a strikeout, Menendez issued an intentional walk and then an unintentional walk before Foster drew the winning free pass.
Arbor View product Evan McMahan (3-4) recorded the victory with two shutout innings of relief of Trevor Charpie, who gave up three runs on six hits and one walk and struck out eight in seven innings.
Rebels starter Alan Strong was charged with three runs on four hits and two walks and struck out nine in 6⅓ innings.
Grant Fennell went 2-for-3 with a leadoff home run in the sixth for the Wolf Pack, who matched UNLV's eight hits.
Kyle Isbel hit a leadoff home run, and Cody Howard went 3-for-4 with an RBI double for the Rebels (18-33, 8-17).
SOFTBALL
At Eller Media Stadium, Myranda Bueno went 2-for-3 with a home run and scored three runs to back five strong innings of pitching by Breana Burke and lead UNLV to a 9-1 victory over San Jose State.
The Mountain West-champion Spartans (36-16, 16-7) had their nine-game win streak halted, and the Rebels (24-27, 7-16) ended an eight-game slide.
San Jose clinched its first league championship with San Diego State's 5-4 loss at UNR.
Burke (4-4) worked around seven hits to hold the Spartans to one run. She walked none and struck out two.
Brianna Gatlin went 2-for-3 with two RBIs, and Alyssa Navarro had a double and an RBI for UNLV, which had a 14-7 edge in hits in a game shortened to five innings.
San Jose State starter Colette Riggs (10-4) gave up nine runs, six earned, on 11 hits and no walks in 4⅓ innings. She struck out one.
Kristen Heffley went 2-for-2 for the Spartans, who committed three errors while the Rebels had none.
TRACK AND FIELD
At Logan, Utah, Destiny Smith-Barnett won her preliminary heat in the 100-meter dash in 10.94 seconds, setting a Mountain West record, at the league outdoor championships.
Smith Barnett's time topped her previous personal best by 0.26 seconds.
Taylor Pegram posted a program-best time of 13.11 seconds in the 100-meter hurdles preliminaries, which was the second-fastest qualifying time and the third best in league history.
Mandy Chitwood had the fastest qualifying time in the 800-meter run (2 minutes, 10.10 seconds).
Najia Hudspeth won her 200 heat in a personal-best 22.89 seconds and secured a spot on the 100 final with her third-place time of 11.43 seconds.
Earning points for the Rebels were Vanessa Sierra in the hammer throw and Stella Clemens in the long jump. Sierra placed seventh with a personal-best throw of 181 feet, 2 inches, and Clemens took seventh with a personal-best distance of 19 feet, 1½ inches.
UNLV stands 10th in the 11-team field with 12 points.
Colorado State leads with 56 points, followed by San Diego State (40½), UNR (38½), San Jose State (25), Fresno State (24), Boise State (22), Air Force (20), Wyoming (17) and New Mexico (13). Utah State has five points.