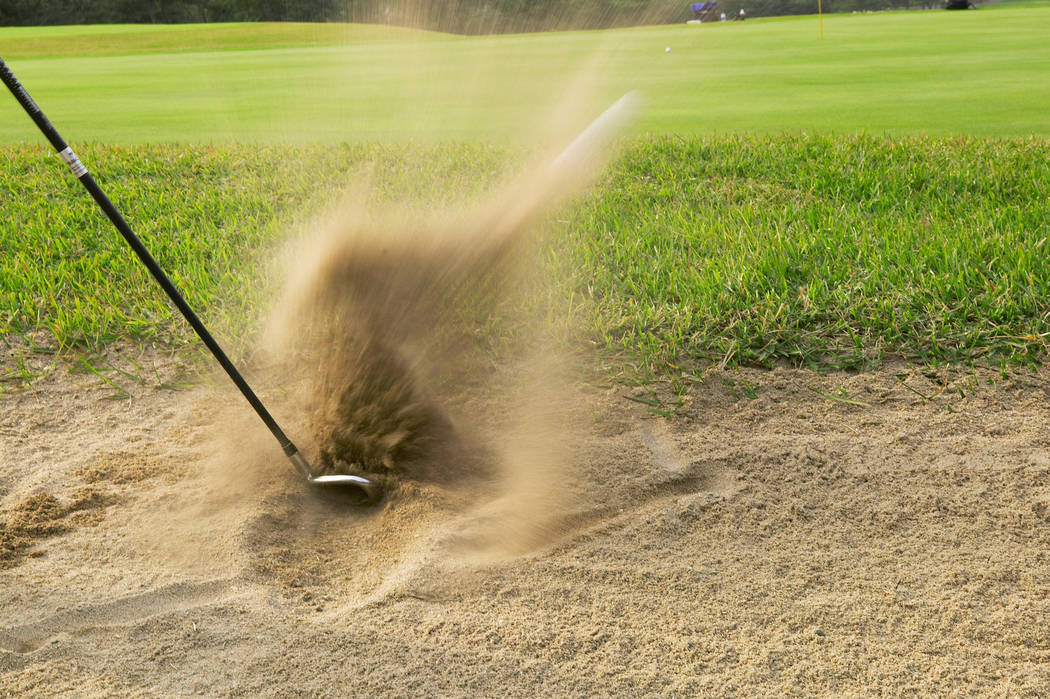 Leading by 17 strokes after one round and by six after two, the UNLV men's golf team shot 9-over-par 297 in the final round of the 20-team John Burns Intercollegiate on Saturday to finish in a tie for second in Lihue, Hawaii.
No. 4-ranked Texas A&M, buoyed by medalist Chandler Phillips, closed with a 14-under 274 for a 29-under 835 total, 17 strokes better than UNLV and North Carolina.
Rebels senior Shintaro Ban, the sole individual leader through two rounds, shot a team-worst 7-over 79 on Saturday to finish at 4-under 212, tied for seventh and nine strokes behind Phillips – who was three shots clear of the field.
Also for UNLV, junior Harry Hall tied for 14th at 3-under 213, freshman Garrick Higgo tied for 26th at 216, freshman Jack Trent tied for 31st at 217, and sophomore Justin Kim tied for 64th at 222 in the 122-golfer field.
Sophomore Justin Chong, playing as an individual, tied for 90th at 227.
Virginia and Arizona tied for fourth in the team standings, six strokes behind UNLV and North Carolina.
SOFTBALL
At Eller Media Stadium, Justine Federe had a home run, a double and three RBIs to back Janine Petmecky, who struck out eight over seven innings, leading the Rebels to a 6-2 victory over South Dakota in the Marucci Desert Classic.
In UNLV's first game of the day, freshman Samantha Diaz went 3-for-4 with a two-run, seventh-inning homer and a double for the Rebels in their 8-7 loss to Texas-El Paso.
Against the Coyotes (1-9), Petmecky allowed no earned runs on nine hits and five walks. She also went 3-for-4 and drove in a run.
Brooke Stover had a double and scored twice for UNLV (7-2), which outhit South Dakota 13-9. Alyssa Fernandez went 2-for-3 for the Coyotes.
Against the Miners (3-6), Stover hit a two-run double in the Rebels' four-run fourth inning, and Mia Trejo went 2-for-2 for UNLV.
Kaitlin Ryder and Ariana Valles each had three hits and two RBIs for UTEP (3-6), which held a 13-9 edge in hits.
BASEBALL
At Wilson Stadium, Nick Ames had a triple, and double and three RBIs to power the Rebels to a 9-3 victory over Oregon in the Marucci Desert Classic.
Kyle Isbel went 2-for-3 with two RBIs, Bryson Stott 2-for-3 with a double and two runs and Max Smith 2-for-2 with a sacrifice fly and a run for UNLV (2-0), which held an 11-9 edge in hits.
Rebels starter Larry Quaney (1-0) allowed three runs, two earned, on six hits and two walks and struck out three in 5 2/3 innings.
Kyle Kasser went 3-for-5 for the Ducks (1-1).
WOMEN'S SWIMMING AND DIVING
At San Antonio, Sofia Carnevale placed third in the 200-yard breaststroke in 2 minutes, 12.74 seconds, the third-fastest time in program history, as the Rebels finished eighth in the 10-team Mountain West Championships.
Kyndal Phillips took seventh in the 200 backstroke in 1:57.04, and the Rebels' 400 freestyle relay team of Carnevale, Katsiaryna Afanasyeva, Sydney Schuette and Ida Schutt placed sixth in 3:22.67.
Boise State won the team title with 1,250 points, followed by San Diego State (1,105.5), UNR (1,033.5), Wyoming (981) and Colorado State (709) in the top five.
New Mexico (673.5) was sixth, followed by Fresno state (644), UNLV (624.5), Air Force (572) and San Jose State (571).
WOMEN'S SOCCER
The Rebels added five newcomers with local ties, including four Division I transfers — midfielder Malika Markham (Oregon, Bishop Gorman), midfielder/forward Jadyn Nogues (Arizona State, Palo Verde), forward Mckenna Sullivan (Washington State, Gorman) and defender Patty Weingartner (Houston, Green Valley) — and goalkeeper Emberly Sevilla (Green Valley, Odyssey Charter School).