UNLV roundup: Men's golf team seventh at Olympia Fields
September 17, 2017 - 11:30 pm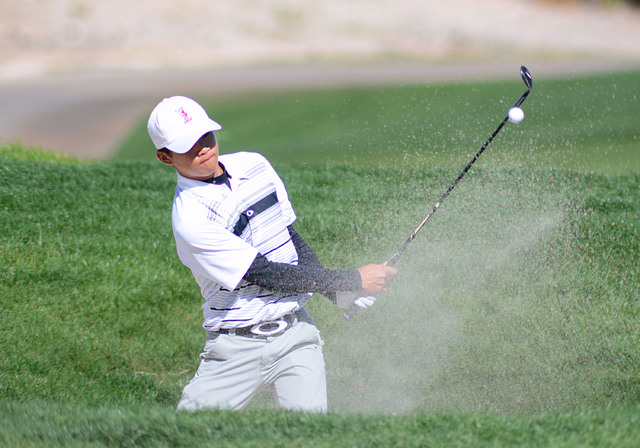 Senior Shintaro Ban finished at 6-under-par 204 Sunday to place third and help the 12th-ranked UNLV men's golf team take seventh at the Fighting Illini Invitational in Olympia Fields, Illinois.
The 15-team tournament included 10 teams ranked among the nation's top 20. No. 16 Texas A&M won the title by nine strokes at 3-under 837 after a final-round-low 9-under 271. No. 19 Alabama placed second. The Rebels were 27 strokes off the pace, at 24-over 864.
UNLV junior Harry Hall tied for third at even-par 210 in the 78-player field.
Also for the Rebels, freshman Jack Trent tied for 53rd at 13-over 223, freshman J.J. Gresco tied for 63rd at 228, sophomore Yash Majmudar tied for 71st at 231, and sophomore Justin Kim tied for 73rd at 233.
WOMEN'S SOCCER
At Johann Memorial Field, Amanda Galbraith scored her fourth goal of the season, on assist from Paige Almendariz, in the 76th minute to break a tie and lift the Rebels past UC Riverside 2-1.
Sophie Cortes opened the scoring with her seventh goal of the season, on a penalty kick, in the 47th minute for UNLV (8-1).
Isabella Lee scored her first goal of the season on a header in the 59th minute for the Highlanders (2-6-2), who held a 12-9 edge in shots but lost their fourth straight.
Rebels goalkeeper Jordan Sallee made a save on Amanda Apelian with 26 seconds left to preserve the outcome.
MEN'S SOCCER
At Johann Memorial Field, freshman Marco Gonzalez scored his first two goals, and Oscar Velazquez had a goal and an assist to send the Rebels past Gonzaga 3-0 to cap the Johann Memorial Classic.
Gonzalez opened the scoring in the 13th minute on an assist from Timo Mehlich and scored again in the 66th minute. Velazquez's goal came in the 69th.
The Bulldogs (4-3) were outshot 15-10. UNLV (2-5) didn't allow a shot on goal until the 88th minute and held a 9-1 edge in shots on goal.