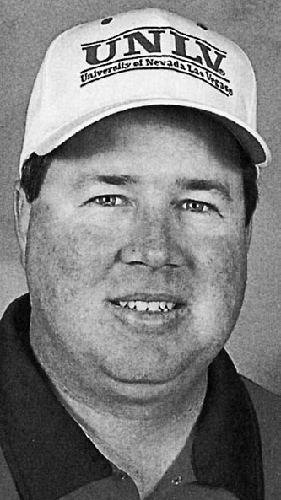 UNLV women's tennis coach Kevin Cory never talks about rebuilding seasons.
Somehow, year after year, Cory finds a way to assemble a team capable of competing for the Mountain West Conference championship while climbing steadily in the national rankings.
By the looks of things, this season's squad will be no exception. Cory lost three starters to graduation in the spring, but he already has replaced them with players who appear to be just as good or better.
"We like to think that, instead of rebuilding, we're reloading," the coach said. "In tennis, if you recruit well, you can have a good team every year. We've been fairly fortunate at that end."
Adrienn Hidvegi, Anna Maskaljun and Jana Albers no longer will be on the roster when the Rebels open their season at home with the three-day UNLV Invitational beginning Friday. Though Cory said there might be an adjustment period, he expects this season's squad to be at least as good as last season's.
"I have a really solid team this year," said Cory, whose squad finished the 2010-11 season ranked 38th at 20-6. "But we're going to be very young. We've only got one senior."
The top of Cory's lineup remains intact. Lucia Batta, last season's Mountain West freshman of the year, will return to play No. 1 singles. The native of Budapest, Hungary, went 25-11 last season, surprising several ranked players along the way.
Macedonia native Aleksandra Josifoska will play at the No. 2 spot. She went 20-12 last season and finished as the fourth-ranked player in the region.
Cory returns three other players, and he has added freshmen Annet Ferenczi-Bako and Manon de Lanlay.
"Both are very good players," said Cory, who will bring in another top recruit for the dual-match season, which begins in January. "They're equal to or better than the players we lost, so we expect them to contribute right away."
The fall schedule will feature competition against top players from several elite programs, but Cory is unconcerned.
"This is one of the toughest schedules we've ever had," he said. "But we'll be able to hold our own against anyone in the country."
Though Cory expects Texas Christian to open league play as the favorite, he said the Rebels' goal will be the same as it is each season.
"We want to compete for another conference championship," said Cory, whose team won the regular-season Mountain West title last year. "We've brought home trophies the last two years, and we'd like to add another."
This weekend's tournament will feature Mississippi, Long Beach State, New Mexico State, Northern Arizona and Florida Gulf Coast. Team scores are not kept in fall play, but individuals have much to gain.
"You want to give your kids a chance to move up in the individual rankings," Cory said. "So these are important events."
Batta and Josifoska will follow the tournament by competing in the elite Riviera/ITA All-American at Pacific Palisades, Calif., on Oct. 1, and the full team will return to action against several of the region's top teams when the Rebels host the USTA/ITA Mountain Regional at the Fertitta Tennis Complex beginning Oct. 12.
Cory said the benefits of his team's rigorous fall will extend beyond singles play. "This will also give us a chance to work with our doubles teams," he said. "It's better to find out what you want to do in the fall than waiting until the spring."