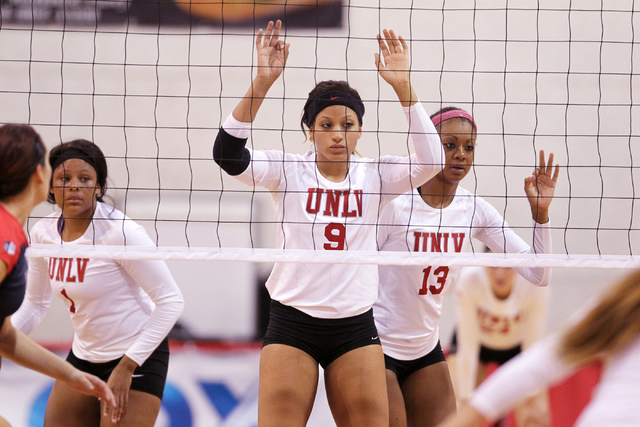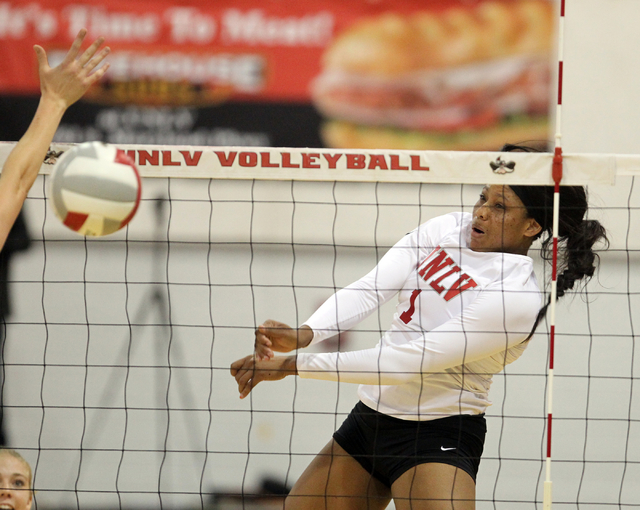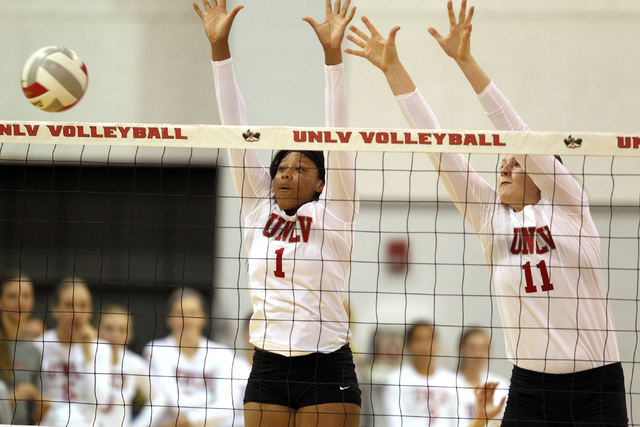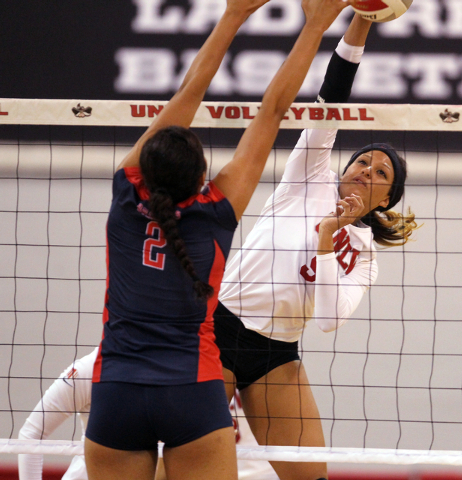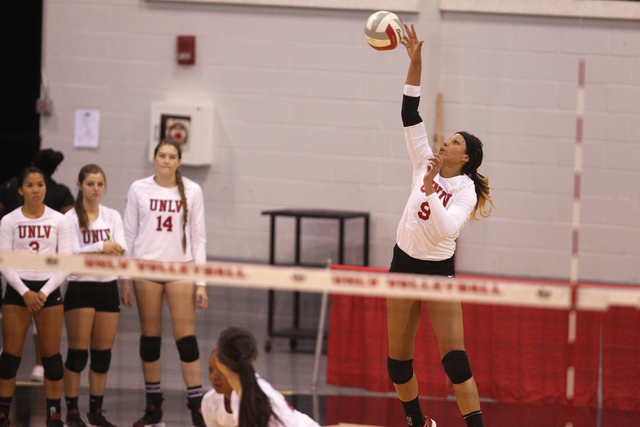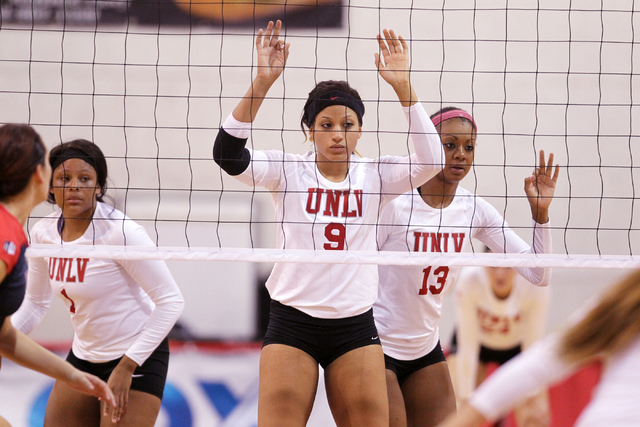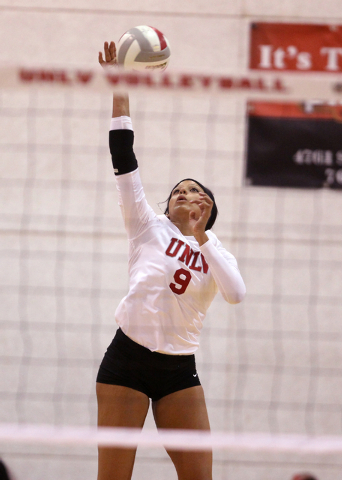 One of Bree Hammel's best attributes on the volleyball court is her ability to get off the ground quickly.
"That's a big key in volleyball," UNLV coach Cindy Fredrick said. "It's not how high you jump — and she has a great vertical — it's how fast you get off the ground, and she gets off real fast."
A redshirt sophomore middle hitter out of Bonanza High School, Hammel and the Rebels are off to a fast start this season, taking a six-game win streak and 13-3 record into Thursday's Mountain West showdown at No. 7 Colorado State (14-1).
Even though Hammel gets off the ground quickly, her collegiate career was slow to launch.
After earning Sunset Region most valuable player honors as a senior outside hitter at Bonanza — where she also was a track star — Hammel redshirted her freshman year at UNLV and saw limited action last season as she struggled to adjust to a new position and the advanced college game.
"It's a huge difference. It's way more fast-paced," Hammel, 19, said. "Last year, I was very nervous to come on the court. This year, I know how it feels on the court to play in front of a big crowd. I don't get as nervous as last year."
This season, the 5-foot-11-inch Hammel has made her opponents feel nervous as she has regained her swagger while earning all-tournament honors in UNLV's first four tourneys of the season.
"The turnaround in Bree has just been fantastic," Fredrick said. "She's become the kind of player she was when we recruited her. She's matured so much and really taken care of herself fitness-wise. There's nothing she hasn't improved on.
"She's a force to be reckoned with on the court now."
Along with improving her work ethic and attitude, Hammel said she finally feels comfortable at middle blocker, where she leads the team in blocks (85) and is third in kills (129).
"Coming from outside hitter to middle was really difficult for me, but I was up for the challenge," she said. "The coaches have been so helpful and so supportive and so have my teammates. I'm growing as a player and growing into my position."
Hammel also credits her teammates for helping her build her confidence when it was down last season and said the camaraderie on the squad — which has a Twitter-themed motto: #PowerOfTeam — is a big key to its success.
"The chemistry on the court is the same as it is off the court," she said. "We're all like a family. We're with each other 24-7 and the chemistry shows on the court."
Despite losing three key seniors from last year's squad, the Rebels are off to their best start in seven years. Excelling at tournaments in New Jersey, Seattle and Arkansas, UNLV has won 11 of its last 12 matches, with its lone loss at No. 5 Washington.
"The biggest thing for me is mental toughness — to have grit, perseverance and resilience. I think we've shown all those qualities during the preseason," Fredrick said. "We've had a couple of blips, but other than that, we've really shown a lot of strength traveling three straight weeks from one corner of the country to the other."
Senior outside hitter Daryn Glenn leads the Rebels in kills, with 147, and sophomore Alyssa Wing is second, with 145.
"Daryn Glenn has really raised her level of play as well," Fredrick said. "She's one of our leading hitters in every match we play and she plays six rotations, which is a big deal."
UNLV also has been led by fifth-year senior middle blocker Katlin Winters, senior defensive specialist Allison Davies and freshman setter Alexis Patterson.
"Alexis Patterson has been a key to making this offense run," Fredrick said. "Her sets are on the money and she moves the ball around."
Hammel is one of three local products on the deep team, along with junior transfer Taylor Price — a 5-11 middle blocker from Sierra Vista — and Madison Harper, a freshman defensive specialist from Centennial.
A two-time Sunset Region triple jump champion, Hammel turned down several track scholarship offers, including ones from Navy and UNLV, to focus on her favorite sport.
"I had a lot more scholarship (offers) for track, but I have a huge passion for volleyball and really wanted to stay in Vegas to play in front of my family and friends," she said.
The Rebels returned home Sept. 23 to sweep Southern Utah 3-0 and also blanked Fresno State 3-0 on Thursday in their conference opener at Cox Pavilion.
After its road match against the Rams, UNLV will travel to Wyoming on Saturday before returning home Oct. 9 to host Air Force.
"Every team in our conference is really strong this year," Fredrick said. "It's going to be a knockdown, drag-out battle again."
Contact reporter Todd Dewey at tdewey@reviewjournal.com or 702-383-0354. Follow him on Twitter: @tdewey33.