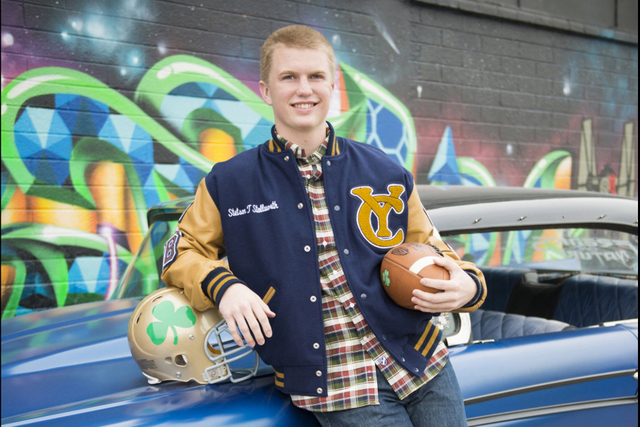 Jerry Reynolds, the former NFL offensive lineman from UNLV, was sitting in his pal Steve Stallworth's office at the South Point equestrian arena when his cellphone rang.
It was his wife, Kelli. She said she had made it as far as Santa Fe, New Mexico. She was traveling with Reynolds' son, JD. They were headed for Adams State University, an NCAA Division II school in Alamosa, Colorado, where JD hopes to play football.
It was agreed they were making good time.
This was a conversation that probably wouldn't have occurred had young Reynolds committed to play football at Alabama or Ohio State. But not every kid is big enough or fast enough or talented enough to play football at Alabama or Ohio State.
For the overwhelming percentage of high school athletes who fall into those categories, there are schools such as Adams State that are looking for a few good young men to play football, and to play the other sports, and for a few good young women to play sports, too.
Many of these smaller schools also offer football scholarships. Division II schools are limited to 36 scholarships that can be full or partial rides. It's 53 in Division I-AA.
No, it's not as easy to make the pros from Adams State as it is Alabama or Ohio State.
But if you can play, they will find you.
They even found a young man at Adams State named Don Cockroft, who played 13 seasons in the NFL as a punter and a place-kicker for the Cleveland Browns when pro football was just starting to get big.
Jerry Reynolds and Steve Stallworth are delighted Adams State found their football-playing sons and vice versa — Stallworth, who played quarterback at UNLV after Randall Cunningham set the gold standard, has a son, Stetson, who also signed with the Grizzlies of the Rocky Mountain Athletic Conference.
Their sons are on a growing list of local aspirants who soon hope to be part of the football program in the majestic cool pines of the San Luis Valley. Arbor View High's Devin Short, Cheyenne's Ashton Lawson, Desert Pines' Vasa Hansell, Cimarron Memorial's Antwuan Riley and Moapa Valley's Sterling Simmons also are on the list. Another local, David Overstreet of Green Valley, is a senior defensive lineman after having transferred from UNLV. Even the Adams State equipment manager has a local connection — Quintin Kohorst also played football at Green Valley.
The Las Vegas-to-Alamosa pipeline was primarily laid by Jay Staggs, a former UNLV defensive back, who is defensive ends and secondary coach at Adams State. Timm Rosenbach is the Adams State head coach. Rosenbach was a Heisman Trophy candidate at Washington State and a starting quarterback in the NFL who was offensive coordinator at UNLV under Bobby Hauck.
These connections were paramount to the local kids continuing their football careers and education in south-central Colorado. Call them the Adams Family, Steve Stallworth said.
SECOND CHANCE FOR MANY
Schools such as Adams State are an option for players such as Stetson Stallworth, who dreamed of playing for Alabama or Ohio State or at least Southern Methodist, his father said.
"I was one of those parents — I sent my kid to Gorman; I thought he was going to be the whole D-I thing," the elder Stallworth said. "For whatever reason, that didn't work out. I even tried him in another position."
Stetson Stallworth transferred to a smaller high school in his father's hometown of Yuma, Arizona, to play quarterback again. He had a mammoth senior season. By then, the college recruiters already had moved on to 2017.
"By the time my son took his first snap his senior year, everybody's committed already," Steve Stallworth said. "So the goal is to just keep playing. You want to go to some place that really wants you, where you're comfortable, where you feel you can make a difference and help your team win. With Stetson, it was a no-brainer. That's the way I tried to explain it to him."
JD Reynolds was a lineman at Foothill. At 5 feet 11 inches tall and 225 pounds, he wasn't nearly as big as his old man, who stood 6-6 and weighed 320. JD would spend most of his freshman year at college at home on the couch before deciding he wanted to play football again. Schools such as Adams State offer hopefuls like him a second chance to keep playing.
The rosters at Division II schools and their ilk are rife with second-chance guys — guys who have stories to tell, as Steve Stallworth put it.
"Adams State has a 26-year-old freshman linebacker who was recruited by Colorado," he said. "He'd been in prison for five years. This kicker, he's a South Carolina kicker. Everybody's got a story. You get a lot of different deals; you get a lot of kids at D-I schools who aren't happy where they're at. They can drop down to D-II and still play."
Jerry Reynolds said Bobby Hauck took a lot of grief after losing to Southern Utah, which moved up from Division II to I-AA, now known as the NCAA Football Championship Subdivision.
"They had this receiver who (transferred from) Utah, that receiver from somewhere else, the quarterback was BYU," Reynolds said. "They did what Hauck did at Montana. They (essentially) had a Division I team."
Jerry Reynolds said he could relate to his son's situation. He wasn't sure what he wanted to do out of high school, either. He had attended Fort Thomas Highlands in Kentucky, which has produced seven NFL players. He thought he might play at Kentucky, or at least sit on Jerry Claiborne's bench for a couple of seasons. Until a foot injury put him on the couch, too.
He ultimately would walk on at UNLV. He went from being an afterthought to playing five seasons in the NFL, mostly with the Giants. He even started a couple of games for New York.
If you can play, they will find you.
MULTISPORTERS WELCOME
Another advantage to playing at a smaller school is that smaller schools usually are more enthusiastic about their student-athletes playing more than one sport.
Two-sport athletes have become a rare breed at the D-I level. USA Today found only three players during the 2015 NCAA men's basketball tournament who had played multiple sports in college. They were called exceptions in an era of one-sport specialization.
There once was an era where young athletes were encouraged to play multiple sports — football, basketball, baseball. Maybe track and field in the spring, if you could duck away after the seventh inning. Maybe even a little kick the can or kick the bucket at night, or some other made-up pastime, if there was nothing else going on, said Larry Brown, a Clark County commissioner.
It was under these conditions that Brown would become a two-sport star at Harvard. He played quarterback for the Crimson football team and pitcher for the baseball team. He almost made it to the majors with the San Diego Padres.
"It's changed so dramatically," Brown said of the mentality of most parents today, a mentality that is passed down to their sports-playing offspring. "To have these parents talk about their 7-year-old son, what does he need to do to get to the big leagues? The mentality is scary.
"The era I grew up in, there was support to play (multiple sports). You stayed engaged, and then you let the cards fall where they may."
Brown's daughter, Johnna, was a three-sport star in basketball, softball and volleyball at Centennial. She wanted to play basketball and softball in college; the major schools wanted her to concentrate on one. So instead of going to Florida State to play softball, she went to Dixie State in St. George, Utah, where she was allowed to play basketball, too.
She finished her basketball career as Dixie's career leader in points, steals, field goals made and free throws made. In softball, she was among Dixie's career leaders in batting average, slugging percentage and on-base percentage.
She would sit out one basketball season at Dixie, which allowed her to finish her playing career at Grand Canyon in Phoenix, which was making the transition from Division II to Division I. Johnna Brown received her master's degree from Grand Canyon. She also averaged 10.4 points and 9.0 rebounds during the 2013-14 season.
She's now an assistant basketball coach for the Urban Knights of Academy of Art University, a Division II member in San Francisco.
"When you look at the cream of the crop, less than 5 percent (of high school athletes) wind up starting at offensive tackle for Ohio State or safety for Notre Dame," Larry Brown said. "The other 95 percent are good, solid players.
"Do they want to try to walk on at Ohio State or Notre Dame and sit on the bench for three years, or are they a kid who loves to play sports, who can continue to play at a Division II school, or Division III, and still get a quality education?"
Las Vegas Review-Journal sports columnist Ron Kantowski can be reached at rkantowski@reviewjournal.com or 702-383-0352. Follow him on Twitter: @ronkantowski.