Rebels guard Patrick McCaw heading to NBA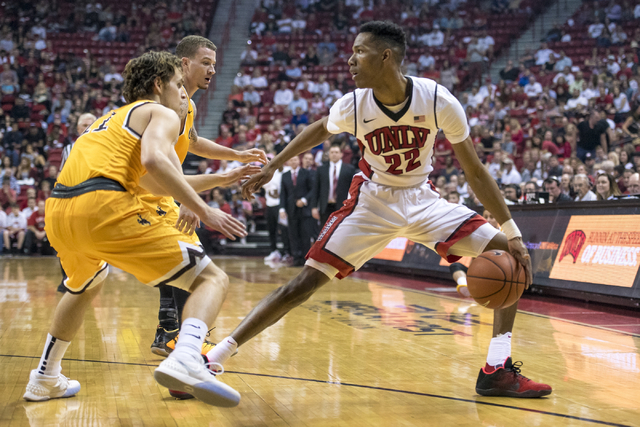 Patrick McCaw thanked so many people he sounded like he was accepting an Academy Award.
But he wanted to recognize the help that led him to make Monday's announcement he was turning pro, and McCaw made it clear this wasn't a solo effort.
He thanked coaches, teammates, staff, the university and the fans for helping him get to this point.
"No matter where this journey may take me, I will always be a Rebel," McCaw said in the statement.
McCaw, a 6-foot 7-inch sophomore guard, is the second Rebel to declare early for the NBA Draft. Freshman 7-foot forward Stephen Zimmerman Jr. also has announced he would turn pro.
This is a time of transition for the program, which in November lost Goodluck Okonoboh, who left the team. Jordan Cornish and Dwayne Morgan are expected to transfer, but neither has applied for a release from UNLV.
Athletic director Tina Kunzer-Murphy, who because of student privacy laws couldn't name the athletes, said two players have been granted permission to speak with any school that inquires about them.
McCaw led the Rebels with 14.7 points per game. He also averaged 5.2 rebounds and 3.9 assists, and was named second-team All-Mountain West.
"I feel that I have accomplished what I wanted in collegiate athletics and it is time to take the next step in my basketball career," he said. "I would like to thank my coaches, Dave Rice, Todd Simon, Stacey Augmon, Ryan Miller, Max Good, Kreigh Warkentien, Jason Kabo, Rich Hilliard, Dave Tomchek, Curtis Terry and all staff & managers associated with the UNLV Men's basketball program for their support and guidance during these past two years. It is their assistance in helping to refine my skills that has given me the added confidence to embark on this journey.
"No matter where this journey may take me, I will always be a REBEL!" So thankful for the past two years … UNLV ❤️ pic.twitter.com/uzt3Wlpg9v

— Patrick McCaw (@22gang_) April 4, 2016
"I would like to thank my teammates, my brothers, for their friendship and dedication to the game — which inspired me to take the court with my best foot forward every game. I would like to thank UNLV, the institution who believed I was worth the investment and gave me the platform to showcase my skill, talent, and teamwork. Last, but not least, to the UNLV Rebel fans who have made my time in Vegas an experience I'll always remember. I appreciate the love & support."
His mother, Teresa, said in a text message that McCaw hasn't hired an agent, but he is in discussions with them.
Contact Mark Anderson at manderson@reviewjournal.com or 702-387-2914. Follow him on Twitter: @markanderson65