Smith's debut for Rebels finally at hand
December 19, 2011 - 1:59 am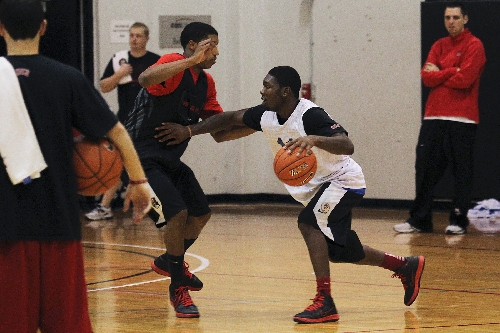 Final exam week at UNLV brought Reggie Smith to his knees. He was concerned about grades, but not because his five classes were too much to handle.
If Smith's grades were not posted by Friday morning, he would not be allowed to travel with the basketball team to his hometown of Chicago, where the Rebels played Illinois on Saturday.
Last week, Smith said, he was "praying every night" that he would be eligible to play. But when the team flight departed, the prayers went unanswered and his homecoming was canceled.
"I was really hurt and disappointed," he said. "But I got over it pretty quickly."
After a two-day delay, Smith is set to take flight when UNLV (11-2) hosts Louisiana-Monroe (1-10) at 7 p.m. today at the Thomas & Mack Center. The sophomore, who transferred from Marquette in January, will see minutes as a backup point guard.
Before the Rebels defeated 19th-ranked Illinois 64-48, coach Dave Rice talked to the team about dedicating the game to Smith.
"Think how you would feel if we were playing a game in your hometown and not only could you not play, you couldn't get on the plane," Rice said. "It would have been a really special time for Reggie. It was important for our guys to play hard for Reggie. We have a really close-knit group."
After the game, junior Justin Hawkins said UNLV's players contacted Smith.
"We did feel bad," Hawkins said. "We really thought he was going to make the trip with us."
Smith, who had planned for a large contingent of family and friends to join him at the United Center, watched the game on TV with Bryce Jones, a transfer from Southern California.
"We were so excited, rooting and screaming for our teammates like cheerleaders," Smith said after Sunday's practice.
Jones is expected to play a major role next season. But the wait is over for the 5-foot-11-inch Smith, an explosive leaper who can push the ball in transition and help crank up the Rebels' pressure defense. He also has been shooting with improved accuracy during practices.
"I want us to play faster," Rice said. "We feel like Reggie can be a game-changing player for us."
Smith will primarily back up senior point guard Oscar Bellfield, who averages a team-high 32.3 minutes, but he also will relieve junior Anthony Marshall. Rice is uncertain how he might distribute minutes to his guards, but he's sure Smith's impact will be significant.
"Those guys are workaholics," Smith said of Bellfield and Marshall. "They work hard in practices and games all the time. My game plan is to be aggressive on defense and offense at the same time, and I believe I can fit in right away with this system."
Working a player into a rotation in the middle of the season can be tricky, but Marshall said Smith is a welcome addition.
"I think the transition for him to get in and play is going to be smooth," Marshall said. "He's a quick guard who can get out in transition and push it, and he can also defend. He's going to help us out a lot. I don't think it's going to be a problem. Reggie is a very intelligent ballplayer."
Smith said his decision to leave Marquette, where he played in eight games and started five last season, was a wise one. He appears tailored for Rice's plan of attack on both ends of the floor.
As difficult as it was for him to sit a season — and miss his homecoming game Saturday — Smith survived tougher circumstances growing up in Chicago. He lived on the city's east side and also was a prep star in the south suburbs at Thornton High School.
"Tough neighborhood. You see a lot," Smith said. "I saw so many people get killed, and I saw a lot of robberies. I saw my best friend get shot. The drive-by shootings and stuff like that, it was an everyday thing to the point it was second nature.
"For me coming out of there, I'm blessed. I never was like a follower anyway, so I tried to make my own path, and my path was playing basketball."
Rice said he anticipates Smith will be a popular player with UNLV fans, and Smith is hyped for his debut game, even after waiting another 48 hours or so for it to happen.
"I think it's going to be amazing," he said. "It's going to be a very special moment."
Contact reporter Matt Youmans at myoumans@reviewjournal.com or 702-387-2907.
LOUISIANA-MONROE VS. UNLV
■ WHEN: 7 p.m. today
■ WHERE: Thomas & Mack Center
■ RADIO: KWWN (1100 AM, 98.9 FM)
■ LINE: UNLV -29 1/2; total 139 1/2