UNLV blown out again in 82-65 loss at Utah State
February 2, 2019 - 3:33 pm
Updated February 2, 2019 - 6:05 pm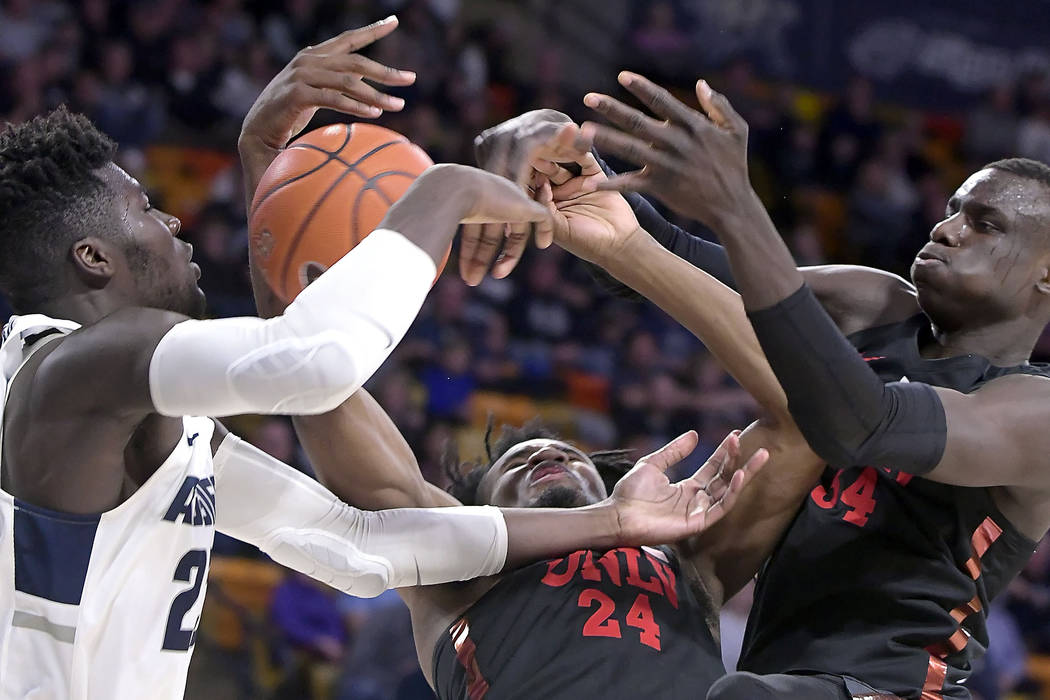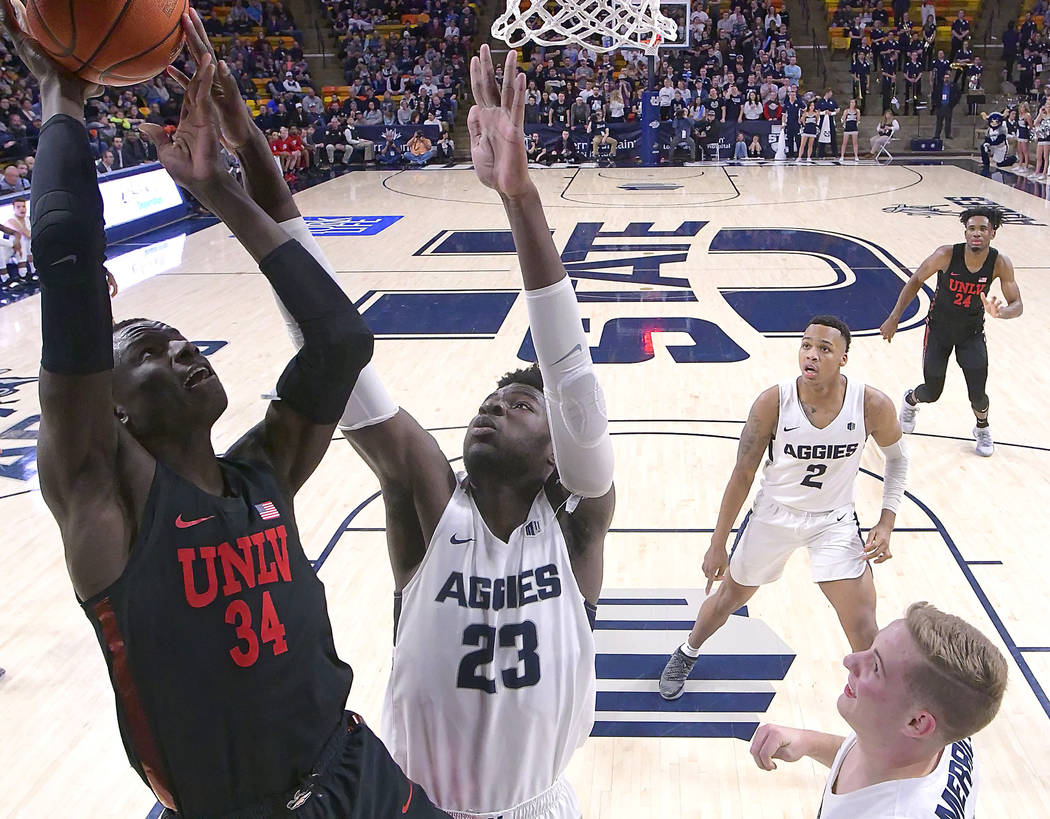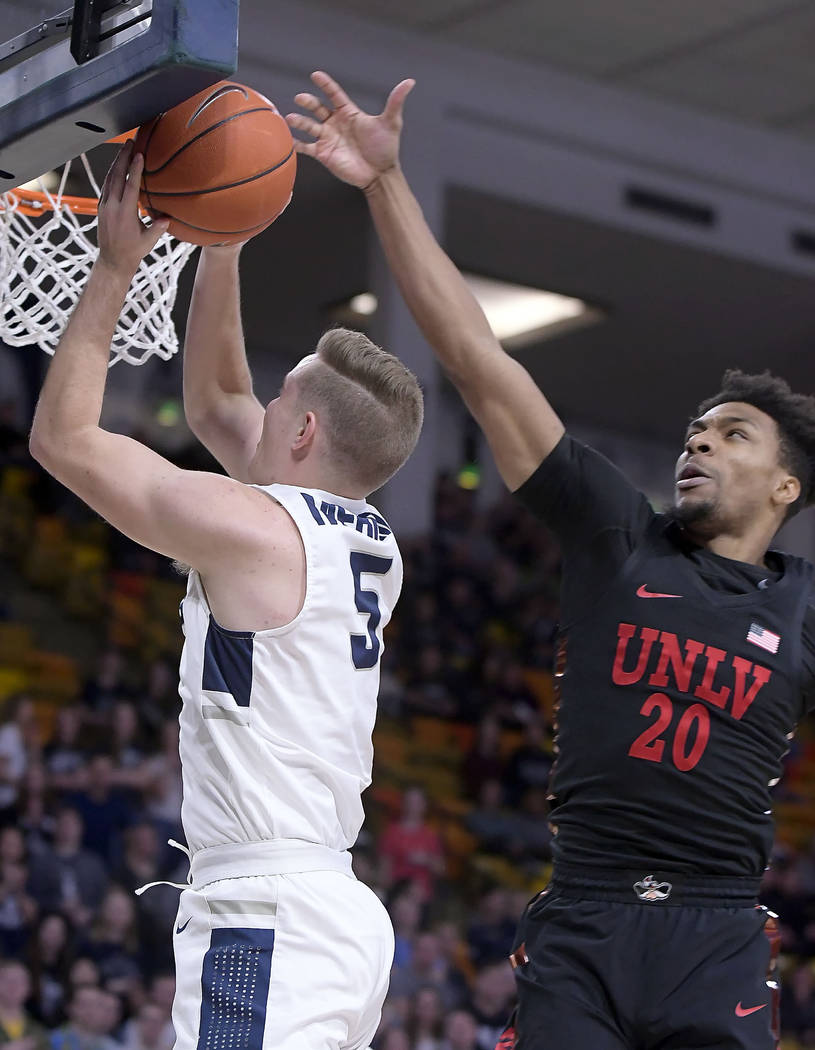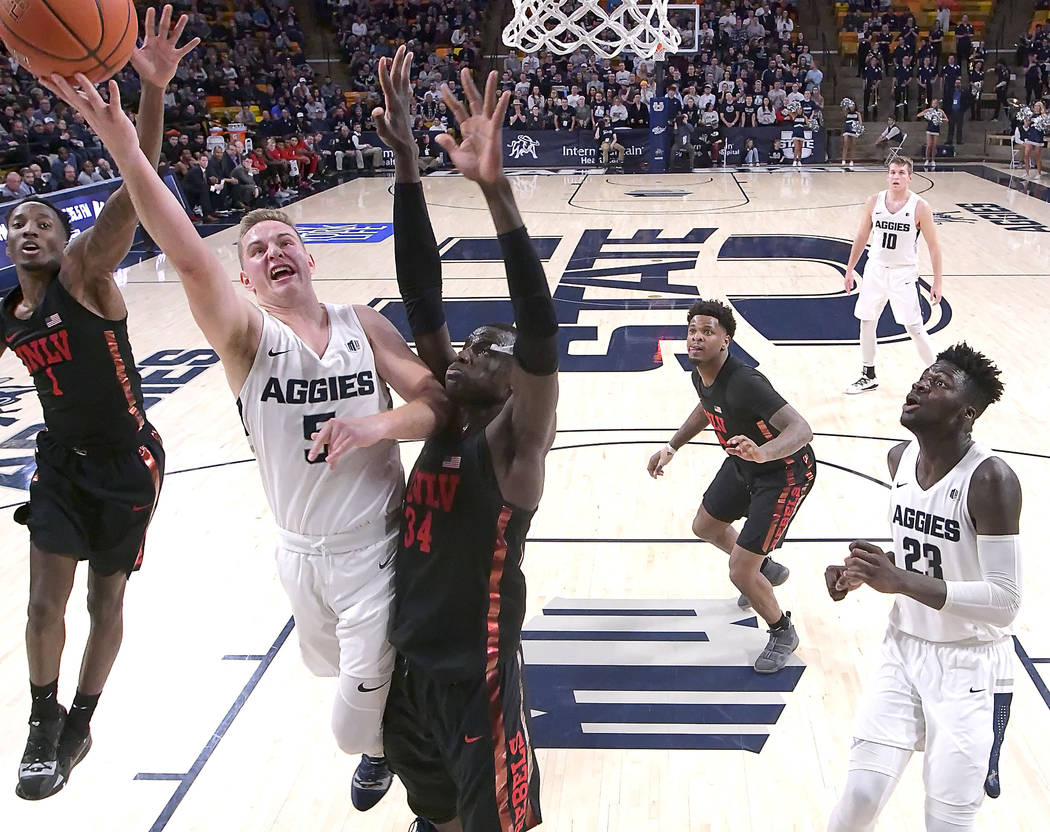 LOGAN, Utah — The Mountain West very well could be a one-bid conference for the NCAA Tournament, but at least second place in league play gives that team a fighting chance.
On Saturday, UNLV took a step back in that regard by falling 82-65 to Utah State at the Dee Glen Smith Spectrum. It was the team's third consecutive loss by 17 points.
The Rebels (11-10, 7-2 MW) had a chance to move into a tie for second in the conference with a victory, but played from behind most of the game. Utah State (17-5, 7-2) jumped to a 14-point lead eight minutes into the game and led by as much as 29 in the second half in winning its sixth straight game.
"They came out and dismantled us in the first half, and it was pretty much over then, as much as we tried to scratch and claw to get back in it," UNLV coach Marvin Menzies said.
After the Aggies took a 19-7 lead, UNLV made its most impressive rally. A 3-pointer by Noah Robotham was followed by two straight Robotham steals that led to a 3-pointer by Kris Clyburn and two free throws by Marvin Coleman.
That made the score 19-15, and the margin stayed in single digits until Utah State's Justin Bean hit a shot with 7:09 left in the first half for a 32-22 lead. Ahead by 13 late in the first half, the Aggies scored the final seven points of the half for a 48-28 lead.
Utah State's Sam Merrill led all scorers with 20 points, and Aggies reserve Diogo Brito added 13.
Joel Ntambwe scored 18, 14 in the second half, to lead the Rebels. Clyburn and Amauri Hardy each scored 14.
"Merrill is just at the helm of everything, and he made some good plays getting downhill," Robotham said. "And they got their big guy (Neemias Queta) rolling, so it kind of forced you to suck in — they could throw the ball out for a wide-open 3."
Queta established his presence immediately, grabbing five rebounds and blocking two shots in the first five minutes. The 6-foot-11-inch freshman finished with 10 points, 16 rebounds and three blocked shots.
UNLV's Nick Blair, who is 6-5, drew the assignment against Queta, but Blair was called for his second foul with 17:23 left in the first half. He had four fouls in the first half and fouled out with 12:17 to play.
"As crazy as it sounds, I still think they're giving me some effort. They are playing hard, they are trying to fight," Menzies said. "However, we're just making too many mental efforts, too many miscues, and there's just a lot of immaturity in that realm."
The Rebels play at Boise State on Wednesday.
"We couldn't get into any rhythm defensively. I think that was the reason for the loss," Menzies said. "I don't think you're going to win with 65 points very often anyway. But you're never going to win in this conference giving up 82."
More Rebels: Follow at reviewjournal.com/Rebels and @RJ_Sports on Twitter.