UNLV close to deal with Marvin Menzies after losing Chris Beard
April 15, 2016 - 10:33 pm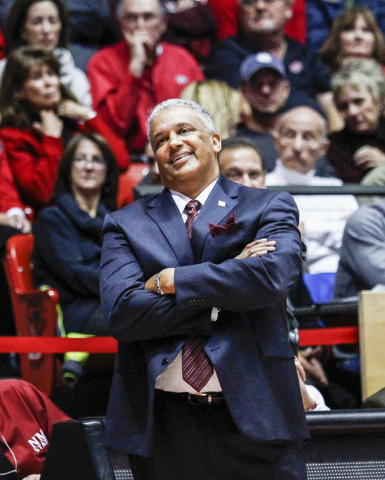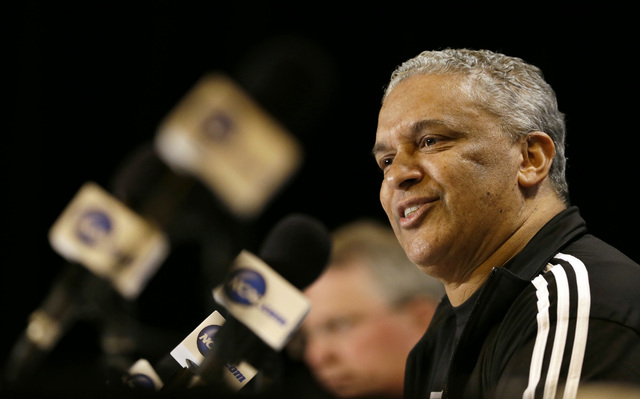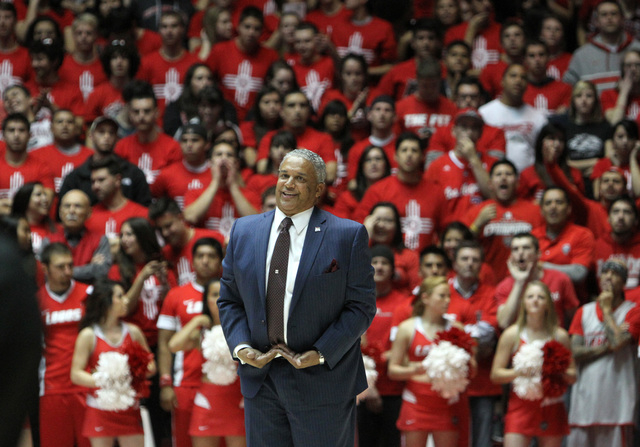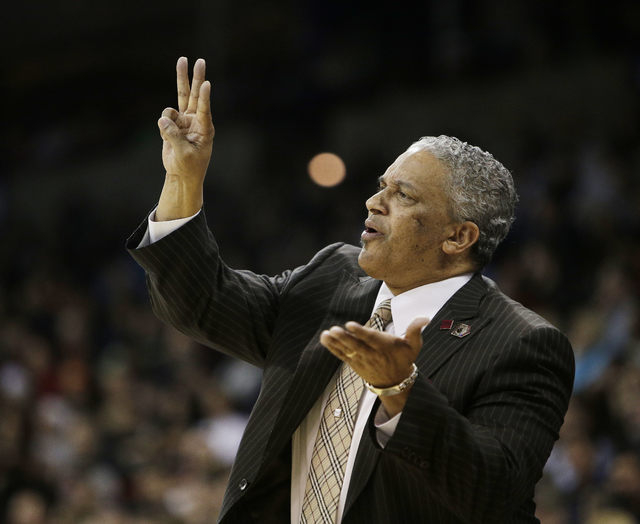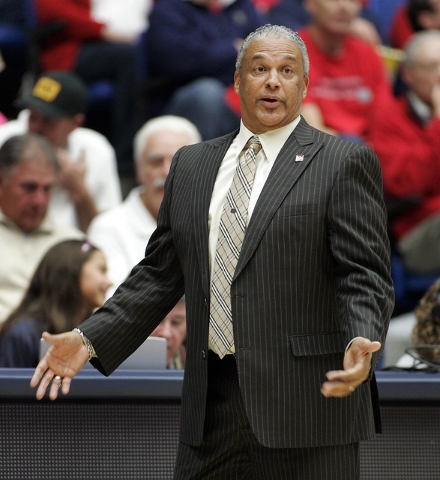 UNLV officials moved quickly Friday to hire a new men's basketball coach, and by the end of the night they were closing in on an agreement with New Mexico State's Marvin Menzies, sources said.
The university was forced into action shortly after Chris Beard shocked the college basketball world by accepting Texas Tech's head coaching position after just one week leading the Rebels.
An agreement with Menzies could be reached today, one source said. Negotiations with Menzies, who was a UNLV assistant in the 2004-05 season, were conducted over the phone.
Menzies, 54, was nearly hired to lead UNLV about three weeks ago. After being interviewed in person Easter weekend, he withdrew his name from consideration on March 27, when it became obvious Beard would be hired away from Arkansas-Little Rock.
Menzies has won five consecutive Western Athletic Conference regular-season or tournament championships at New Mexico State. Menzies is 198-111 in his nine seasons with five NCAA Tournament appearances.
Beard accepted a five-year deal from Texas Tech, a week after being confirmed April 8 by the University of Nevada Board of Regents.
Athletic director Tina Kunzer-Murphy made the announcement about Beard in a statement issued at 11:11 a.m.
"This unprecedented move is extremely disappointing to the president (Len Jessup) and I, for our program and to our fans," Kunzer-Murphy said. "Our search process allowed us to develop a deep pool of qualified candidates, from which we will select a great coach who really wants to be here and who will honor his commitments in leading the Runnin' Rebels."
Should talks with Menzies break down, UNLV could turn to assistants Stacey Augmon or Ryan Miller.
Another former Rebels assistant has emerged as a candidate, according to a source close to the search. Heath Schroyer, who was on the staff from 2011 to 2014, has been Tennessee-Martin's coach the past two seasons and has gone 41-28 over that time. He also went 50-69 from 2007 to 2011 at Wyoming and 35-47 from 2002 to 2005 at Portland State, winning the Big Sky Conference regular-season title his final season.
USA Today reported that UNLV reached out to former NBA coach George Karl on Thursday night to gauge his interest. Karl, who was recently fired by the Sacramento Kings, came close to becoming the Rebels' coach in 2004 when the job went to Lon Kruger.
Also, Steve Lavin has shown an interest in the job.
Beard's decision to leave comes at a particularly troubling time for UNLV. The spring signing period began Wednesday, and the first day coaches could contact recruits during this time was Friday. UNLV has many roster spots to fill after a series of defections that has left the roster at four, or three if Ben Carter transfers.
UNLV also had a recruiting class of three players, but Findlay Prep's Carlos Johnson announced Friday night on Twitter he was reopening the process because of "the uncertainty of the program right now."
"I am still considering UNLV," Johnson wrote.
— NoGoodLoso (@WITNESS_THIS3) April 16, 2016
Another Rebels recruit, Justin Jackson, has been wavering, and Jaylen Fisher hasn't provided insight into his thoughts.
The search process been bumpy for the Rebels. UNLV first offered the job to Cincinnati's Mick Cronin, but he turned it down on March 25. UNLV officials received the news on Twitter.
That led to a busy Easter weekend in which Menzies and then Beard were flown in. After Beard agreed to take the job on March 27, his contract wasn't approved by the Board of Regents until 11 days later. Four regents even voted against the contract in a meeting that lasted longer than two hours.
Texas Tech came into the picture when Tubby Smith left the Red Raiders for Memphis on Thursday. Beard met with Texas Tech officials that night after they arrived at Henderson Executive Airport, then met with Kunzer-Murphy after those talks.
Beard then had breakfast with Jessup at 6 a.m. Friday and expressed his concern about the Academic Progress Rate, which had been strong under Rice. But after Rice's firing and with high number of players leaving the program, UNLV is expected to take a major hit in the next two or three years because it's a four-year average, and the Rebels could be kept out of postseason play.
This wasn't the first time Beard had quickly left a program. He became the coach at Lamar State College-Port Arthur in 2012 only to leave less than a week later for McMurry.
Contact Mark Anderson at manderson@reviewjournal.com or 702-387-2914. Follow on Twitter: @markanderson65
RELATED
Here are five coaching candidates for the UNLV basketball job
Here are the best tweets about Chris Beard leaving UNLV for Texas Tech today
Chris Beard meets with Texas Tech about coaching job
This time, it's not UNLV's fault if Chris Beard leaves for Texas Tech
Social media chatter ties UNLV's Chris Beard to Texas Tech