UNLV contacts Big 12, wants to be considered for expansion
August 12, 2016 - 11:36 pm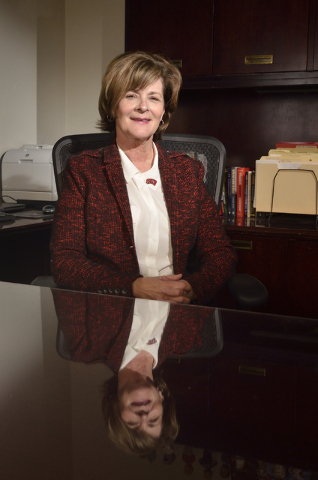 UNLV has submitted a letter of interest to the Big 12 about being considered as an expansion candidate for the Power 5 conference, UNLV athletic director Tina Kunzer-Murphy told the Review-Journal on Friday night.
"Our long-term goal has always been to become a member of a Power 5 conference, and it's important that we're part of the conversation," Kunzer-Murphy said. "We're proud members of the Mountain West conference, but we're always looking to better our situation, and it behooves us to do that as an athletic department and a university."
ESPN first reported Friday that Big 12 commissioner Bob Bowlsby will conduct video conferences with 17 schools that have contacted the league about being considered as expansion candidates. The Dallas Morning News later expanded that list to 18, including favorites Houston and Cincinnati, and Mountain West schools Boise State, San Diego State, Air Force, Colorado State and New Mexico.
The others are Memphis, Central Florida, Brigham Young, Connecticut, South Florida, Southern Methodist, East Carolina, Northern Illinois, Temple, Tulane and Arkansas State.
Kunzer-Murphy wouldn't confirm or deny if UNLV will be able to make a video presentation. But, according to the Dallas Morning News, sources indicated the Big 12 thinks that if a school has expressed interest, it should have a chance to state its case.
Sources told ESPN that it's "becoming less and less likely" that the league will expand to 14 teams. The most likely scenario is that the Big 12 will only add two schools for a 12-team league with two six-team divisions. The league is expected to make a decision on expansion between mid-September and early October.
Kunzer-Murphy said UNLV submitted its letter of interest to the Big 12 shortly after the conference announced July 19 that it was exploring the idea of expansion.
On the day of the announcement, Kunzer-Murphy initially told the Review-Journal that the school needed a stronger football program and that the proposed 65,000-seat domed stadium in Las Vegas had to be approved before making any pitch.
UNLV already can boast a TV market of more than 2 million in the entertainment capital of the world, a tradition-rich men's basketball program and a young university that is adding a medical school.
"UNLV offers a great athletic department, a great institution and a wonderful city," Kunzer-Murphy said.
Contact reporter Todd Dewey at tdewey@reviewjournal.com or 702-383-0354. Follow him on Twitter: @tdewey33
RELATED
UNLV taking wait-and-see approach with Big 12 expansion