3 takeaways from UNLV's 50-14 loss to New Mexico
Updated October 7, 2018 - 7:58 am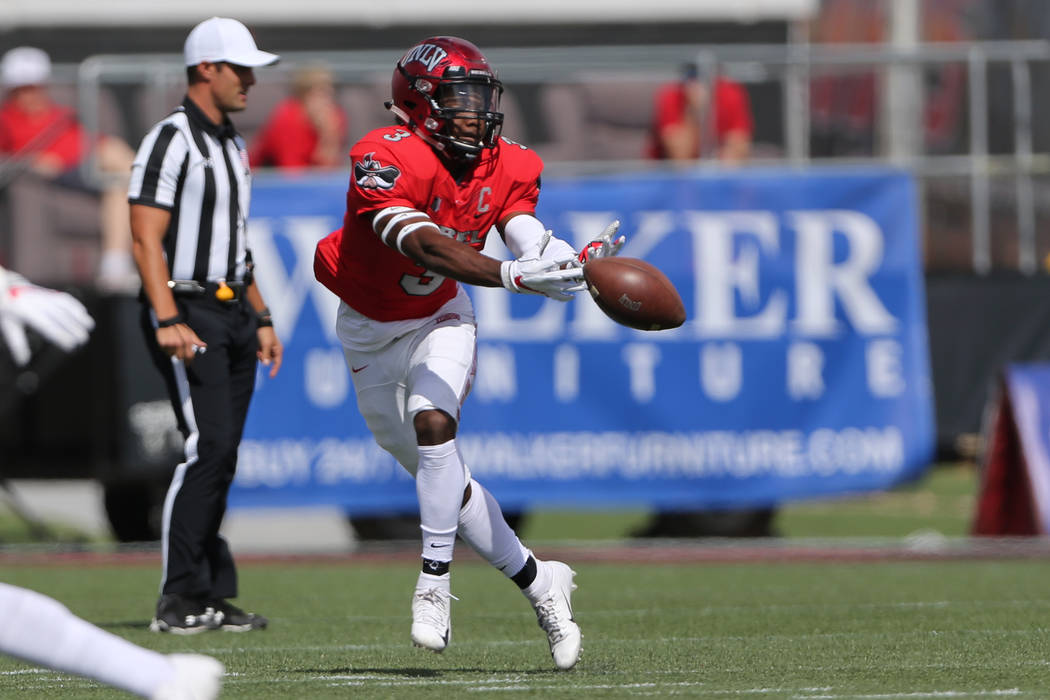 Three takeaways from UNLV's 50-14 loss to New Mexico on Saturday at Sam Boyd Stadium:
1 UNLV is in trouble.
This was supposed to be the season to take the next step and make a bowl and set the stage to compete for the Mountain West title in 2019, and then UNLV could take momentum into the new stadium the following year.
Getting blown off the field by New Mexico changes the entire picture, because even without quarterback Armani Rogers (toe), this is a team the Rebels should have beaten if they were serious about making a bowl.
San Diego State took a backup quarterback and running back into Boise State and beat the defending conference champion 19-13 on Saturday.
UNLV's loss was bad on many levels, from coming out flat after a bye week to being out of sync in all three phases.
"We know we're a better football team than that," Rebels coach Tony Sanchez said. "It doesn't feel like it right now. We feel like we're a pretty damn bad football team right now. We're all embarrassed. I'm embarrassed, and our players are embarrassed.
"We've got to figure out where our leadership's coming from. It starts with me, and it goes to our senior class, and there wasn't a lot of it today."
A season of hope quickly became one of despair and doubt about where this program is heading. This is not where UNLV should be at this point in a coach's fourth season, getting dominated by a team led by a coach whose job has been in question.
"We're all disappointed by this loss," Rebels athletic director Desiree Reed-Francois said. "You heard coach say it. We have a lot of football left to play when we look at the program and the season in its entirety. We're only in game five, so we've got to regroup, and we're going to focus on Utah State."
2 No Rogers, no ground game.
Opponents had to account for whether Rogers (averaging 122 yards rushing) or Lexington Thomas (116.2) would carry the ball. Without Rogers, New Mexico wasn't worried about what Max Gilliam would do at quarterback and loaded the box.
UNLV rushed for 43 yards; the Rebels were averaging 336.5. Thomas rushed for 36 yards on six carries, but 26 came on one run.
"You've got to run harder, and I talked to him about that," Sanchez said. "It's not only him, it's everything, and we talked to our guys about it."
3 UNLV must consider playing Kenyon Oblad.
Sanchez said once the game got away, he didn't want to insert the freshman backup quarterback in case he could still redshirt. Players can appear in four games and preserve a season of eligibility.
"Kenyon's probably going to play at some point this year," Sanchez said. "If (Rogers) doesn't (return), he may end up playing more than four games. We'll see. If Armani does, you can use Kenyon in four games and not have to get into the fifth. That's the best-case scenario for the program."
More Rebels: Follow all of our UNLV coverage online at reviewjournal.com/Rebels and @RJ_Sports on Twitter.
Contact Mark Anderson at manderson@reviewjournal.com. Follow @markanderson65 on Twitter.