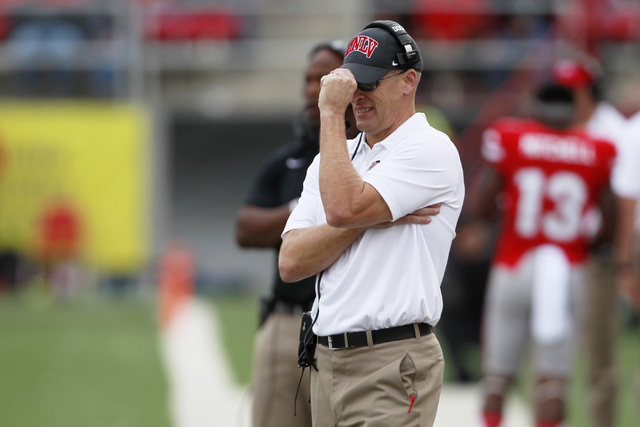 These are the five key questions as UNLV's football team prepares to play Air Force at 1 p.m. Saturday at Sam Boyd Stadium:
1. Does UNLV have much of a shot? Yes, this is a game the Rebels have a legitimate chance to win. What they can't do is fall into a 17-0 hole like they did Saturday against New Mexico, but the Rebels have the talent to give Air Force a game. Whether they do is another matter.
2. How did Air Force go from 2-10 last season to 6-2 now? A variety of factors are in play, such as changes to the defensive coaching staff, a favorable schedule, quarterback Kale Pearson remaining healthy, surprising play from inside linebacker Jordan Pierce, and the growth and maturity of players who struggled a year ago.
3. Can UNLV stop Air Force's triple option offense? Stopping that offense is probably out of the question. What UNLV must do is not allow that attack to go crazy and put up a point total its offense can't match. More than likely, if the Rebels are to win, it will be in a shootout.
4. Is wide receiver Devante Davis ever coming back? Probably at some point. Maybe this weekend. Coach Bobby Hauck didn't have an update on Davis' wrist injury, just noting he hopes his top player gets back soon.
5. Is there an update on Hauck's coaching status? No, and there probably won't be one until after the season. With two years left on his contract, Hauck can help himself if UNLV finds a way to win two of the final four games. A victory over UNR wouldn't hurt, either. The speculation about a potential successor is taking place, though, with Jim Fassel and June Jones most commonly mentioned, and Chris Ault's name also has surfaced. But knowing what's real and what isn't is difficult at this point.
Check our GameDay page for all the news leading up to the UNLV-Air Force game.