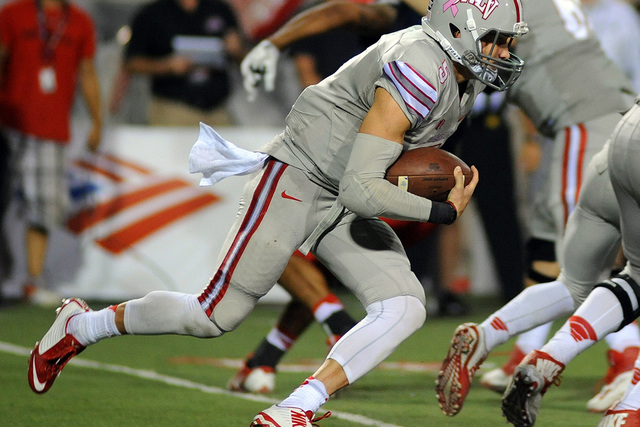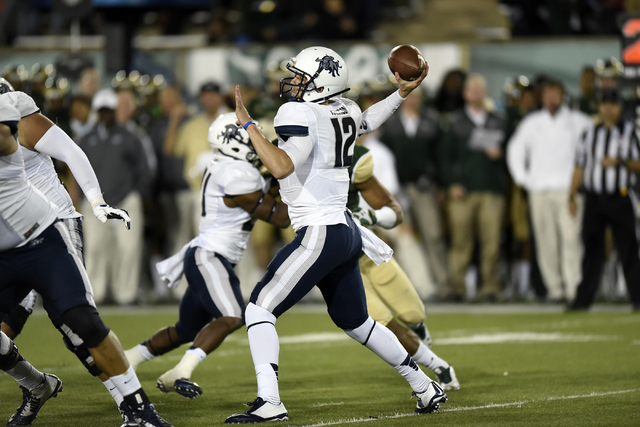 Five burning questions as UNLV's football team prepares to play at Utah State at 1 p.m. PDT Saturday.
1. Why are the Aggies 18-point favorites? It's a big line for a team that will be starting its third-team quarterback. And it's not like Utah State's offense was scoring 50 points per game even before the injuries at that position. The Aggies average 25.6 points, and they are likely to go with a conservative plan that relies on their running game and defense. Not the recipe for a blowout victory.
2. Can UNLV quarterback Blake Decker replicate his performance against Fresno State? Decker has shown flashes this season, but often made poor decisions that led to interceptions. His decision making was much better in the 30-27 overtime victory over Fresno State on Oct. 10, and he threw the ball with authority while making several key plays in the fourth quarter. Maybe that game was his turning point.
3. Is there hope in the Rebels' season? The victory over the Bulldogs and the injuries at quarterback at Utah State provide a path. Should UNLV repeat its performance against Fresno State and beat the Aggies, the Rebels then have winnable games at home against New Mexico and Air Force to get to .500. They still have a difficult road to bowl eligibility with games remaining at Brigham Young and Hawaii and the finale at home against UNR, but the opportunity is more realistic than it was two weeks ago. Lose to Utah State, though, and there is no path worth discussing.
4. When will wide receiver Devante Davis return? Probably not this week, but perhaps by the Nov. 1 game against New Mexico. Especially if UNLV wins Saturday, getting Davis — expected to miss his fourth game in a row because of a wrist injury — would be a massive boost for a team trying to get on a late-season roll.
5. Does UNLV have a realistic chance to beat Utah State? Because the Aggies probably will go conservative, the Rebels should at least be in the game. If the Rebels, and more specifically Decker, don't make mistakes and build on their play against Fresno State, there is no reason they can't be in the position at the end to try to win a close game.
Check our GameDay page for all the news leading up to the UNLV-Utah State game.